Grab a sweater, brew a fresh pot of tea, snuggle up under a blanket watching the fall foliage, and get your favorite Young Living Diffusers prepped for these Young Living Fall Diffuser Recipes!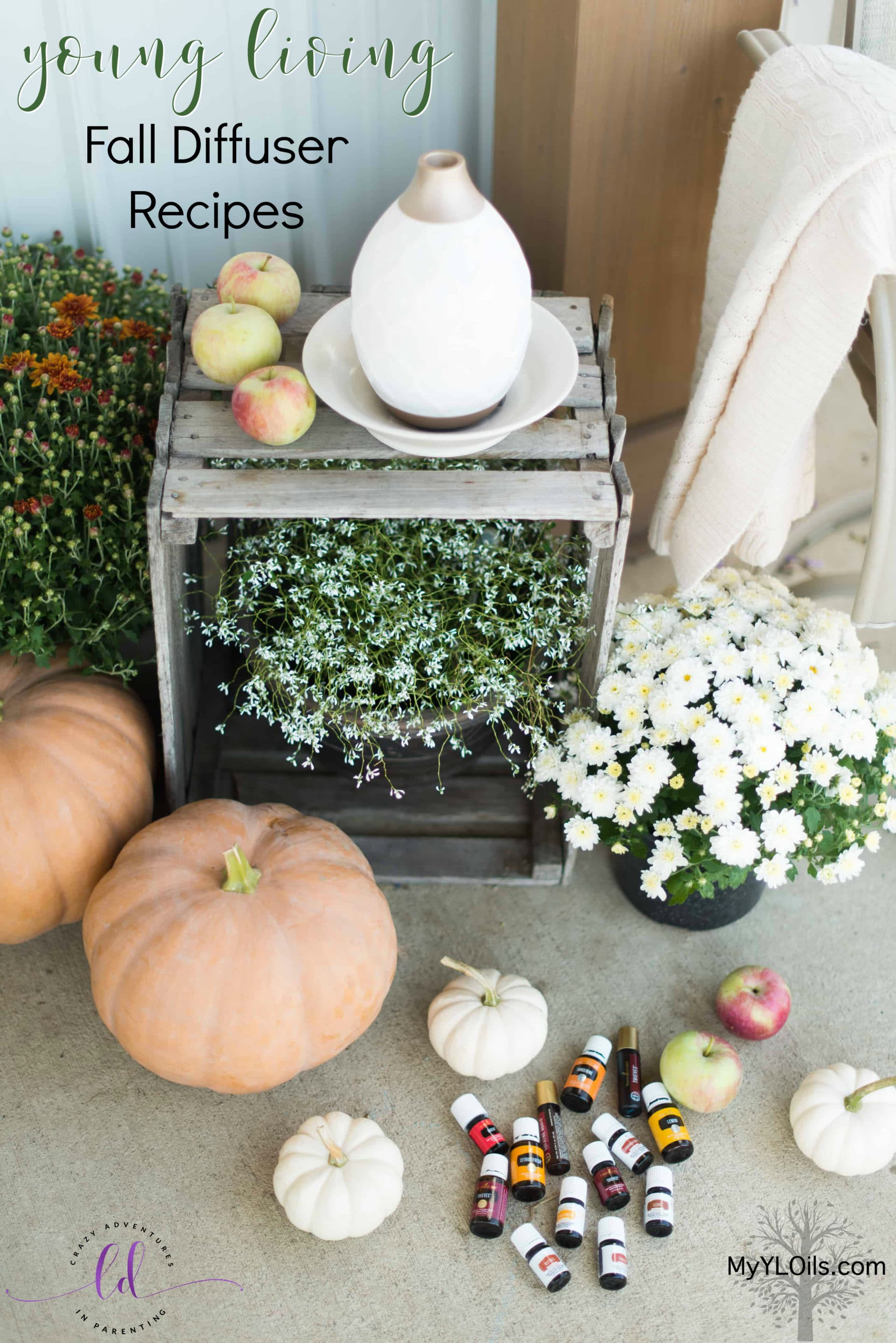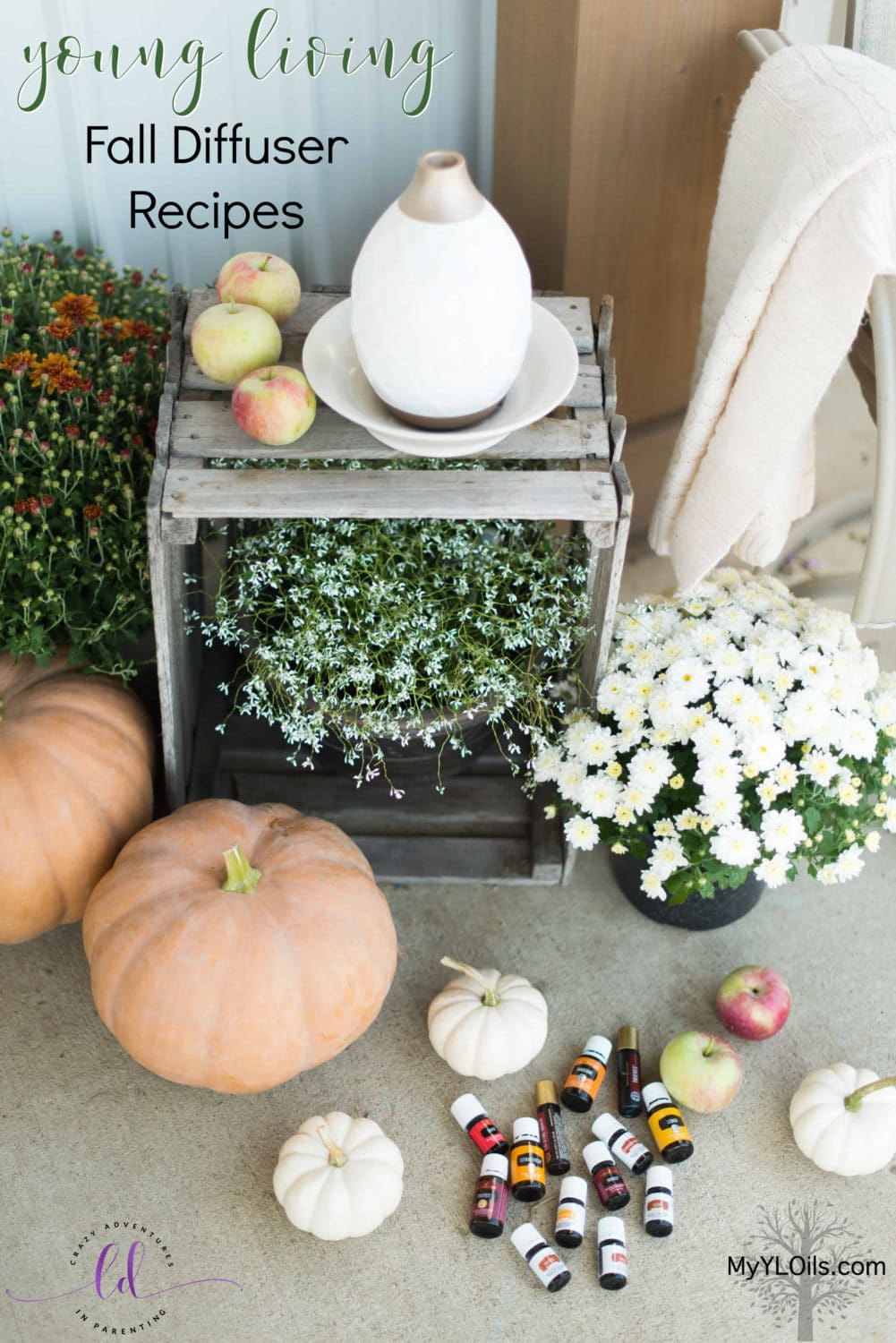 Young Living Fall Diffuser Recipes
Fall is finally here! The time change "fall back" is approaching (nooo! I don't want it to be dark for so long)! Right now, we're enduring our third snow (already!) in October here in Colorado where I'm dreaming of actual fall foliage, not an early Christmas, ha! Maybe Mother Nature has blessed you with gorgeous foliage (if so, can you please send me pics?) and some delicious fall temps. I love that initial cool down after the heat of the summer, don't you?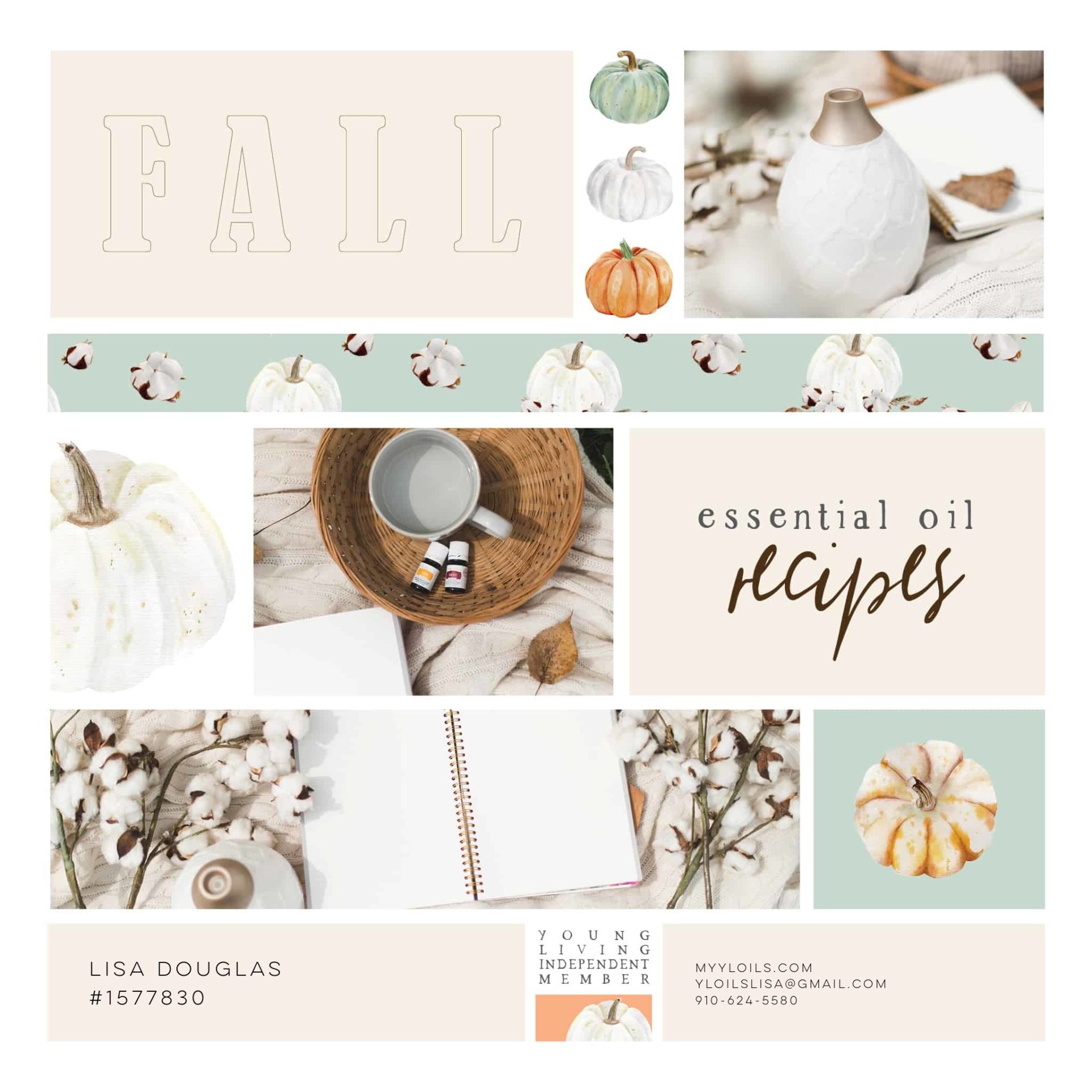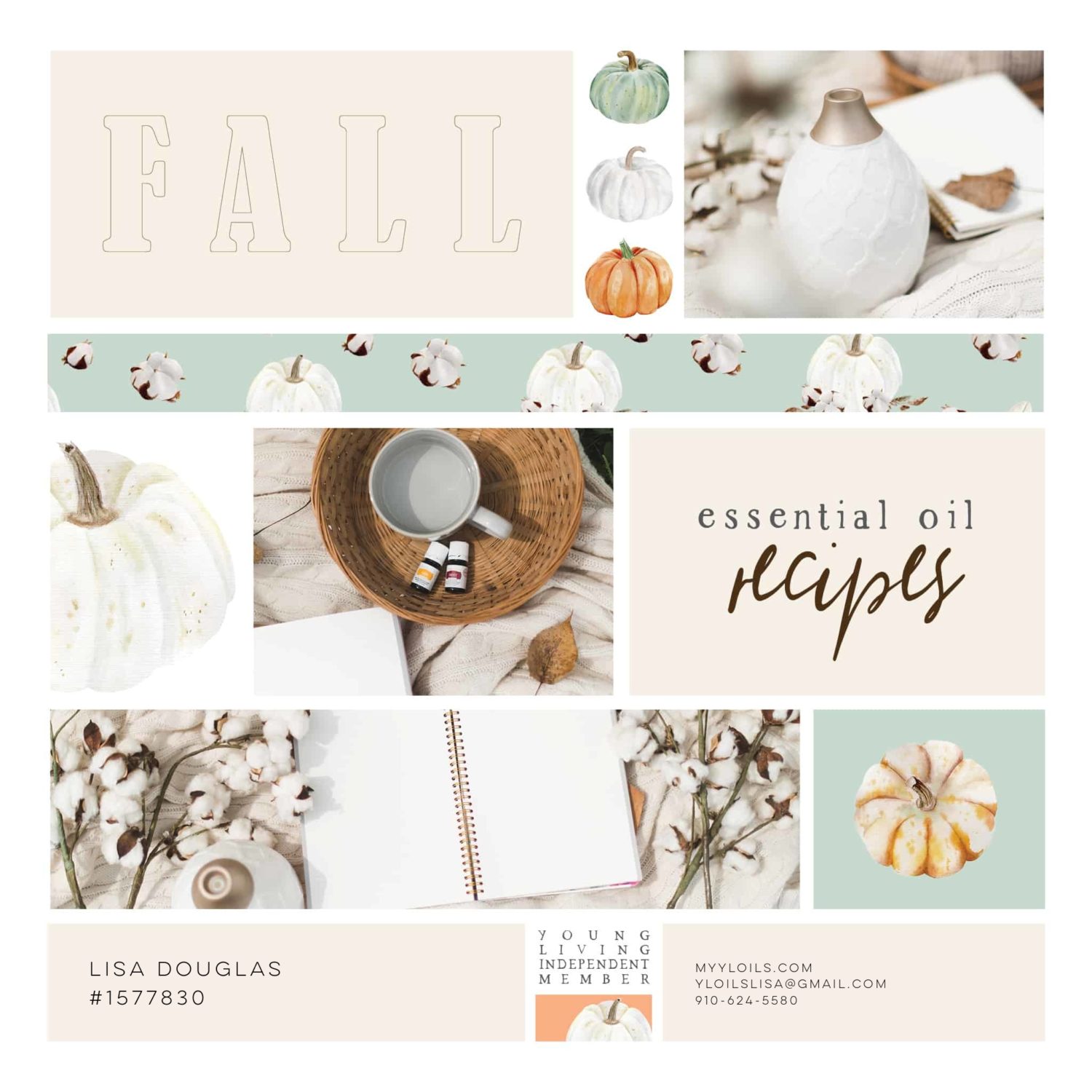 With autumn arriving, this cooler weather has gotten me in the mood to do a deep cleaning around the house! So yeah, it isn't spring, but a good deep fall cleaning does wonders as you head into the holidays! Not only am I offering you wonderful fall diffuser recipes for you and your family to enjoy, but below is a recipe not only for a brewed Thieves Tea blend but also for a gorgeously fragrant DIY Fall Room Spray!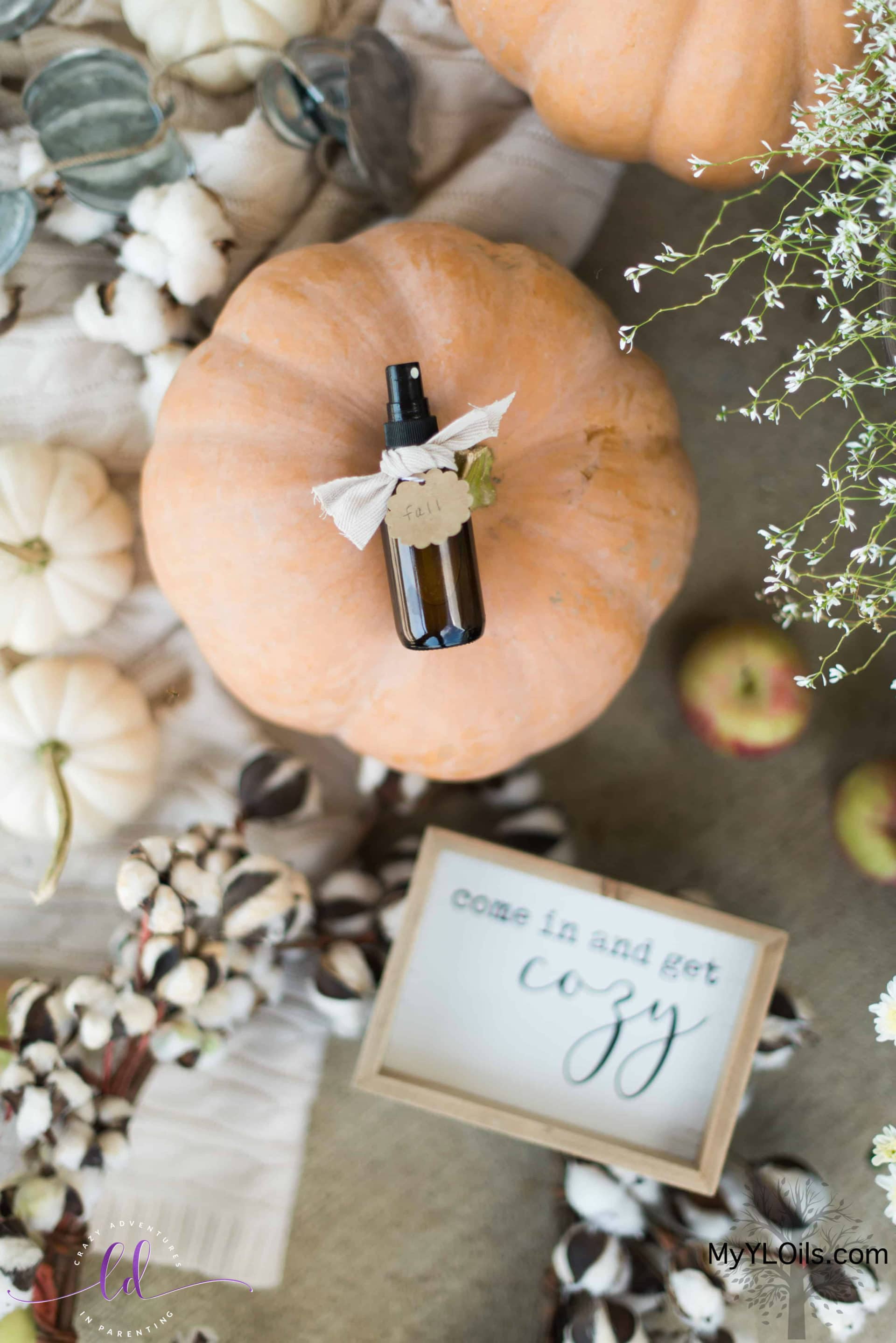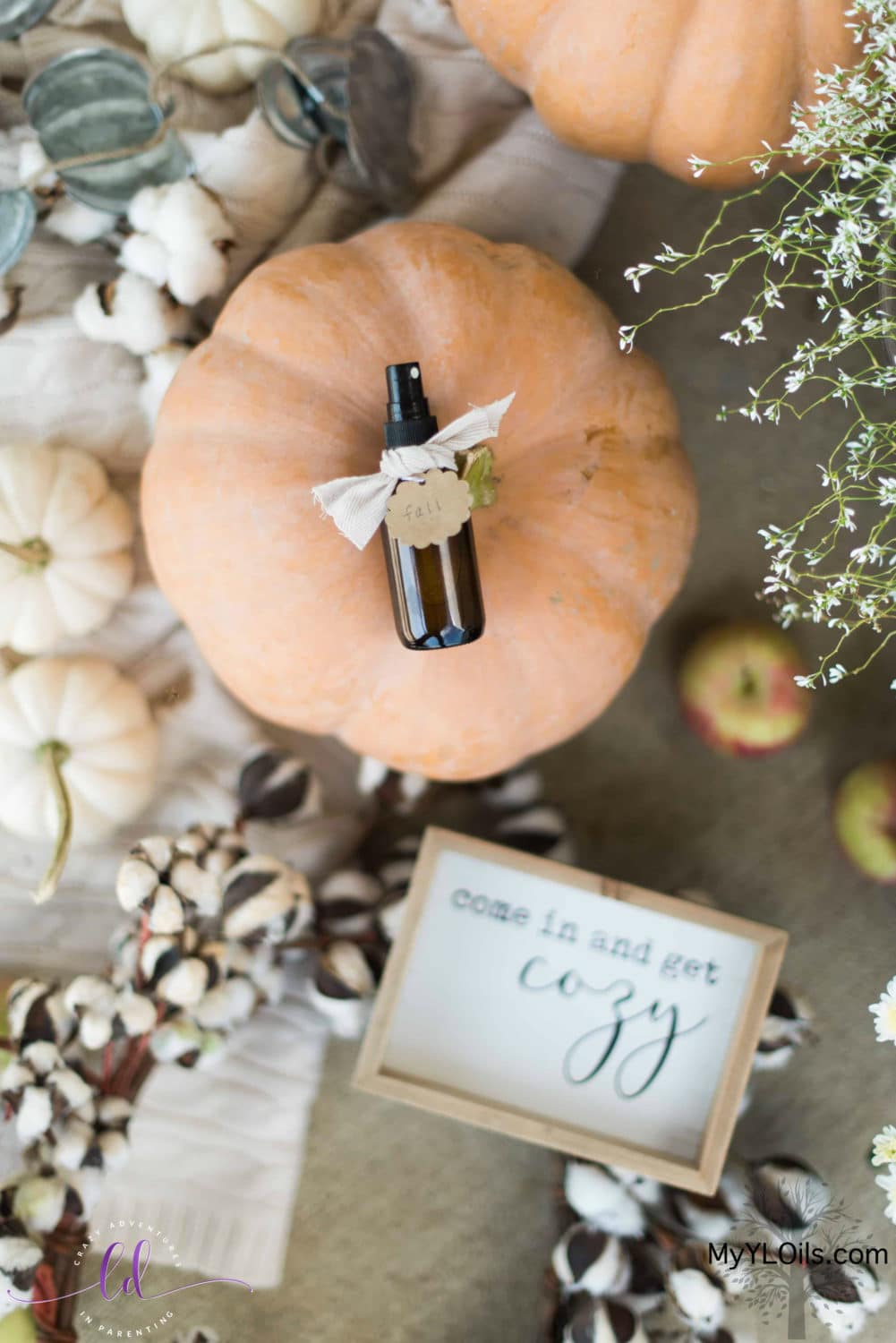 Fall Diffuser Recipes with Young Living Essential Oils
Break out any and all of your favorite Young Living diffusers for all these delightful fall diffuser recipes! Chock-full of lovely autumn favorite scents, like cinnamon, clove, ginger and more! These invigorating autumn scents will make you fall in love with the season! It's making me even more excited for the upcoming holidays! I hope they do the same for you and your family, too!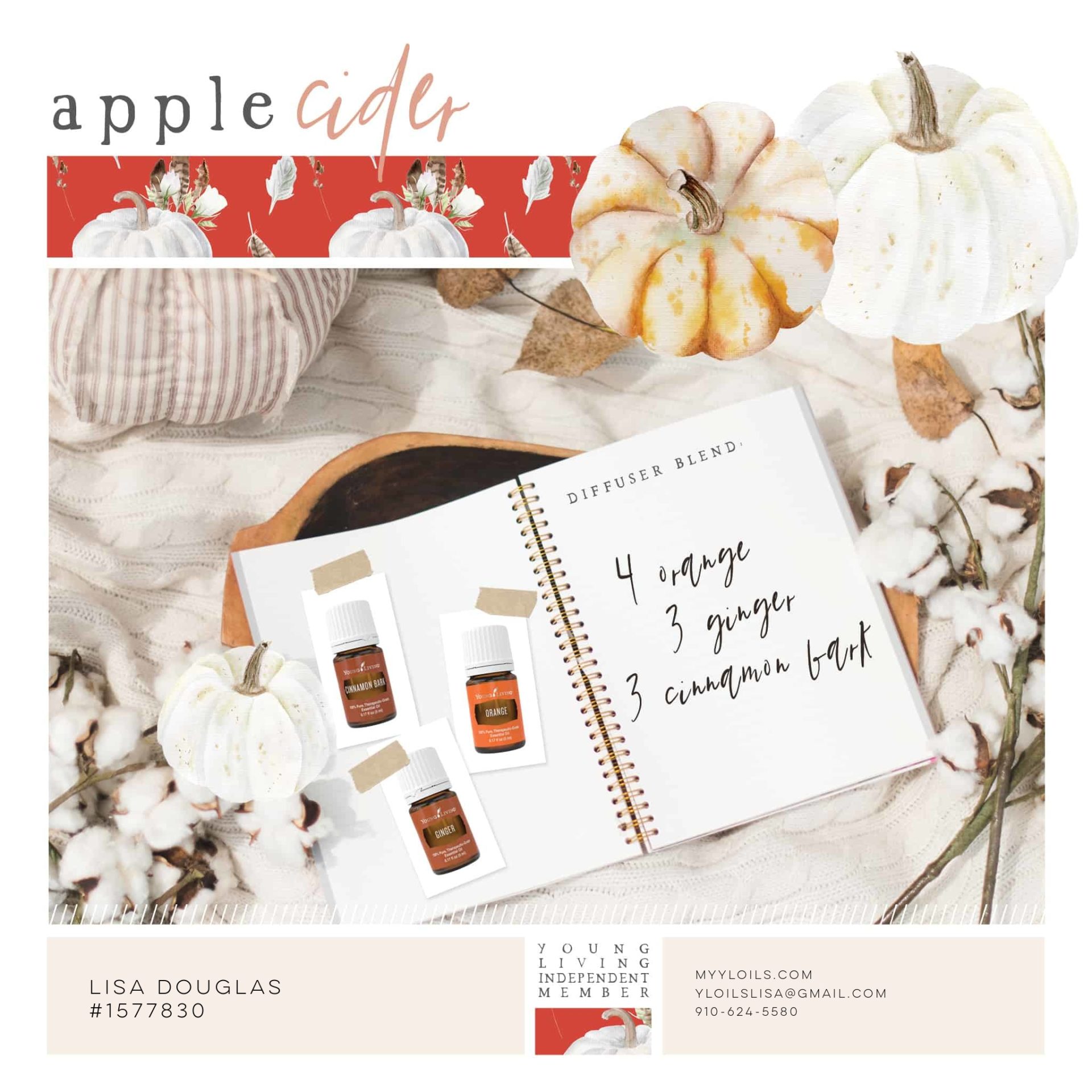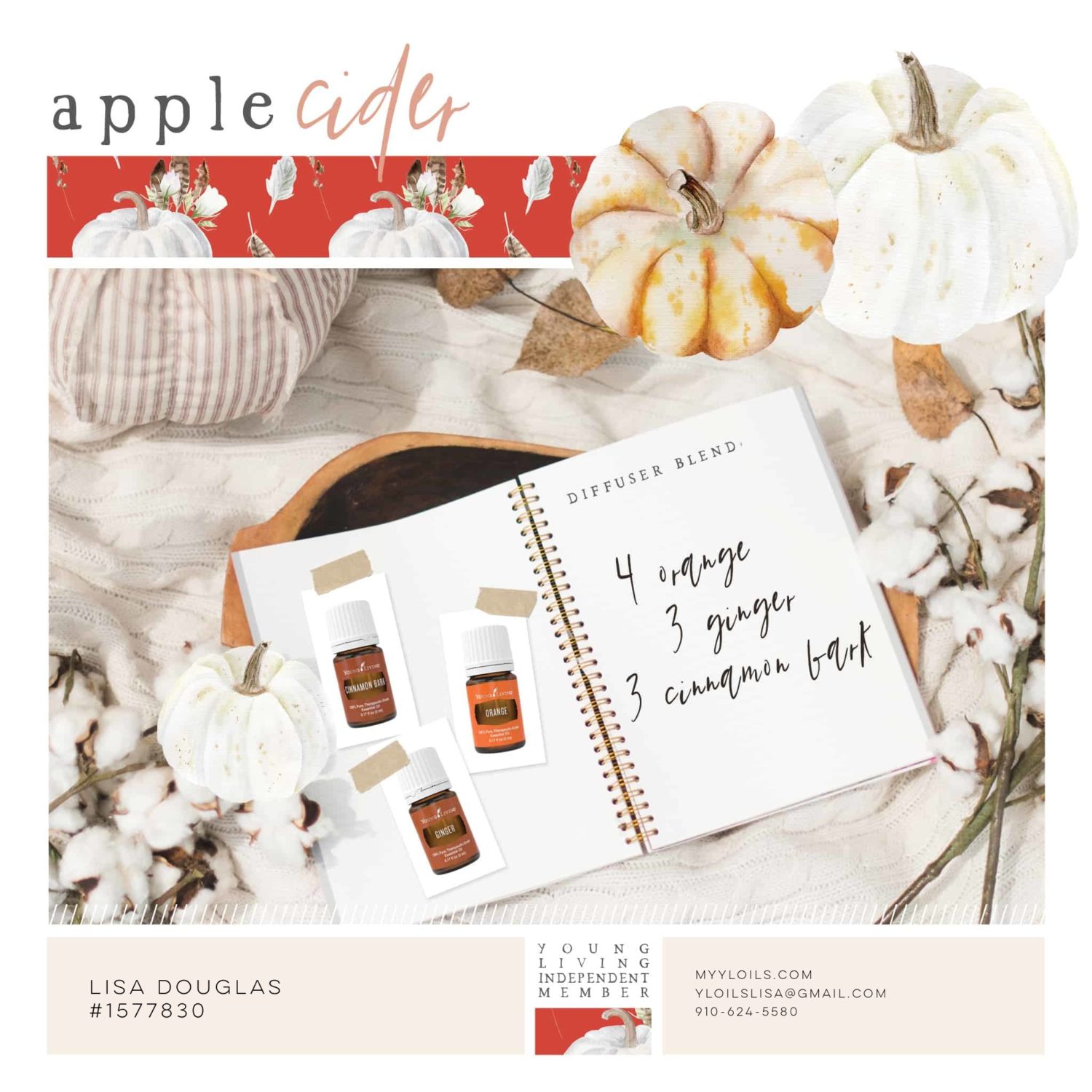 Apple Cider Diffuser Recipe
Who doesn't love the smell of fresh apple cider? With traditional autumn scents like orange, ginger, and cinnamon bark, enjoy this uplifting combo in your favorite diffuser! Orange essential oil has a sweet, bright aroma reminiscent of a blossoming orchard of orange trees. Ginger essential oil's spicy, invigorating aroma adds to Cinnamon Bark essential oil's warm and comforting aroma! This combo exudes an all too familiar scent that is a favorite during the winter season!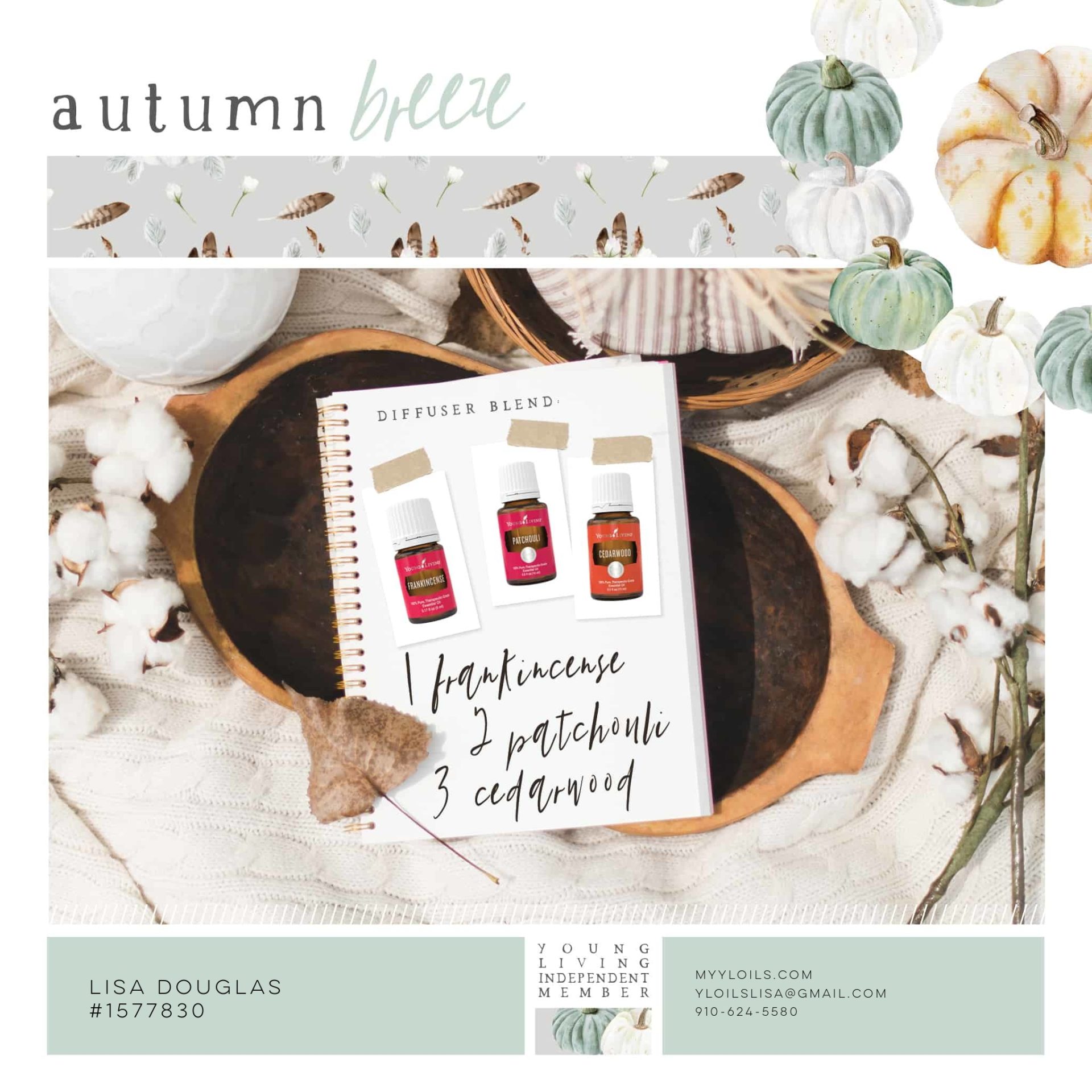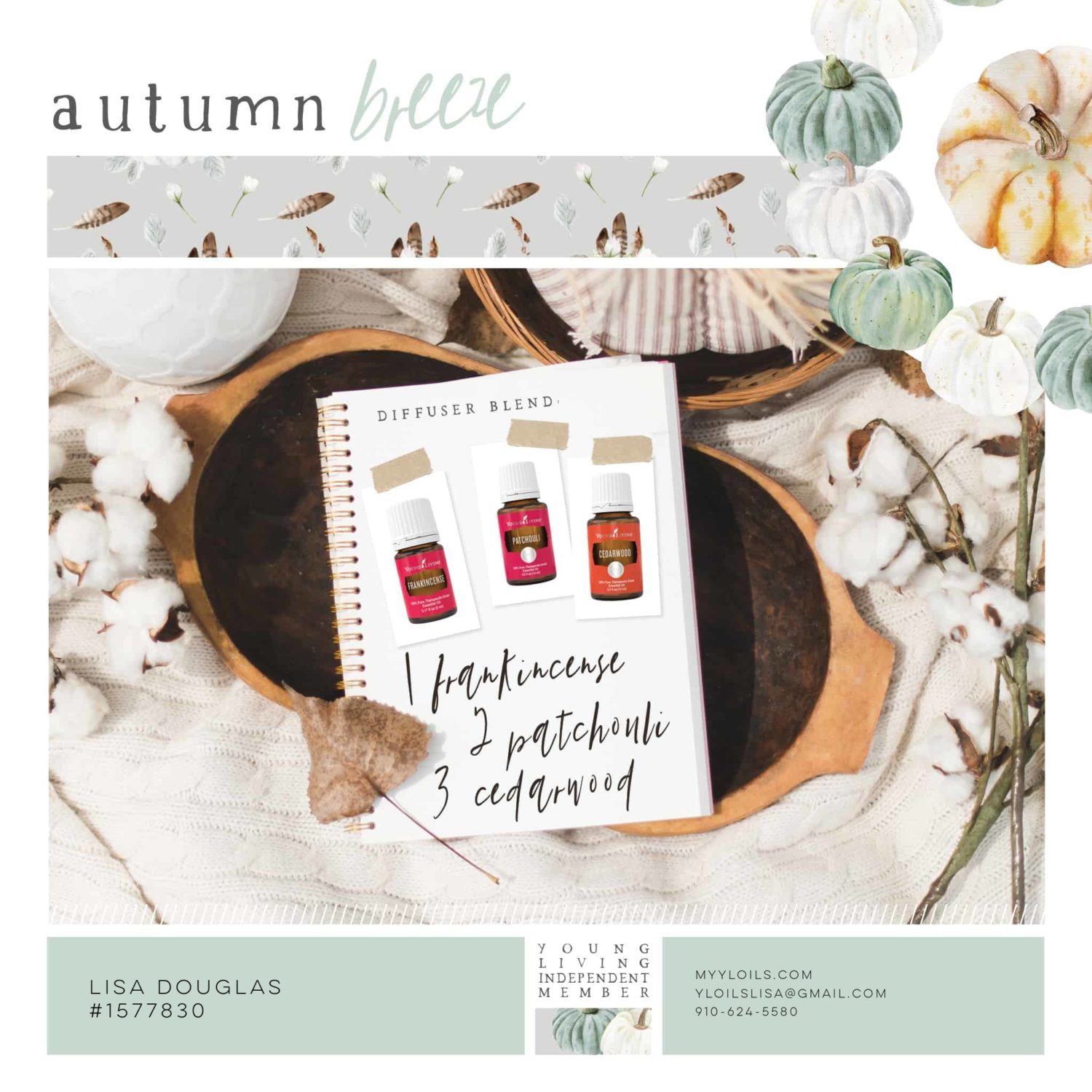 Autumn Breeze Diffuser Recipe
Frankincense essential oil has an earthy yet uplifting aroma that's perfect for grounding and spiritual connectedness! Patchouli essential oil has a calming, relaxing aroma that's best used during meditation or yoga practice, it's perfect for this blend. Cedarwood essential oil has this woodsy, warm, almost balsamic aroma creating a relaxing, calming, and comforting atmosphere. Combined with the other oils, this diffuser blend would be perfect to diffuse to help you unwind after a long day!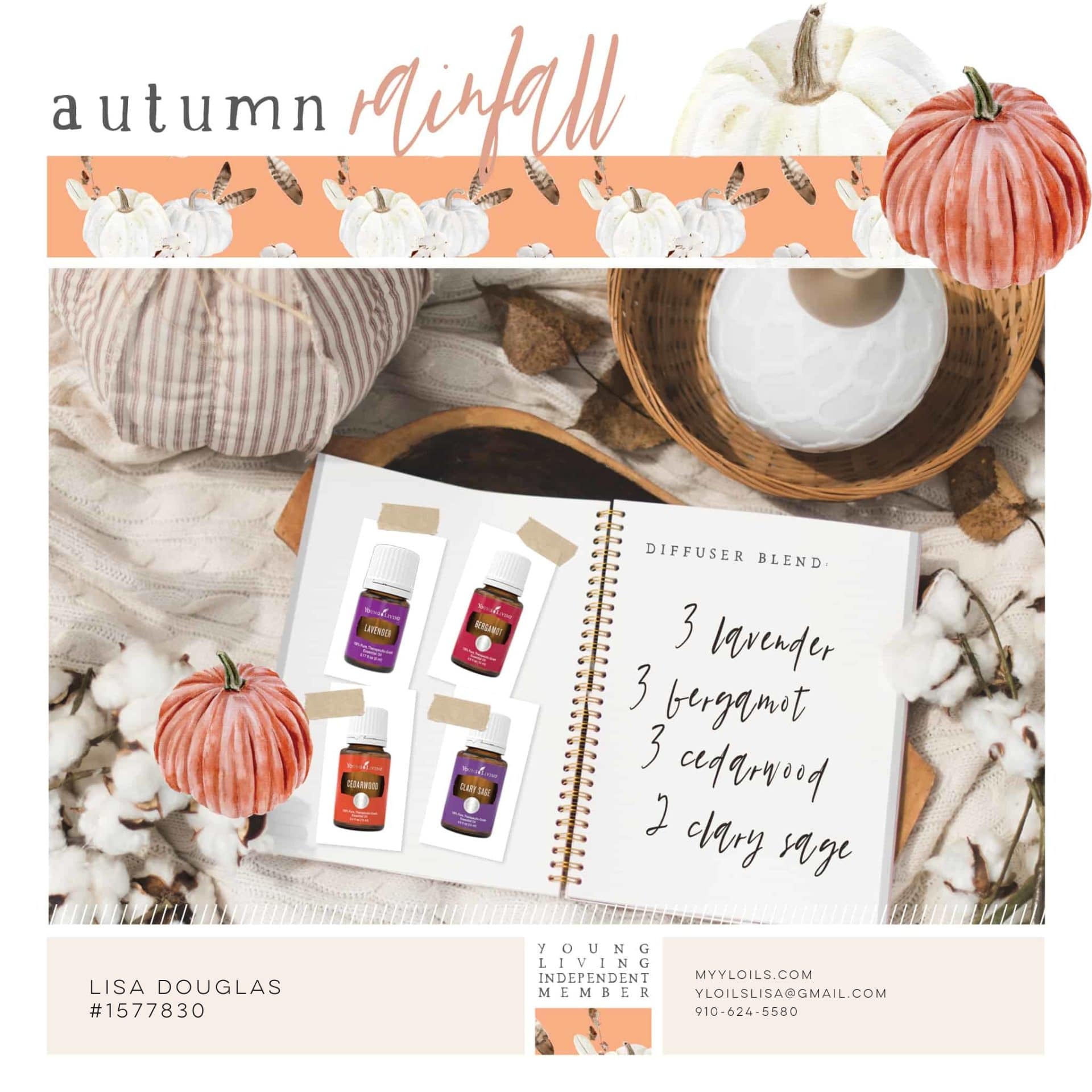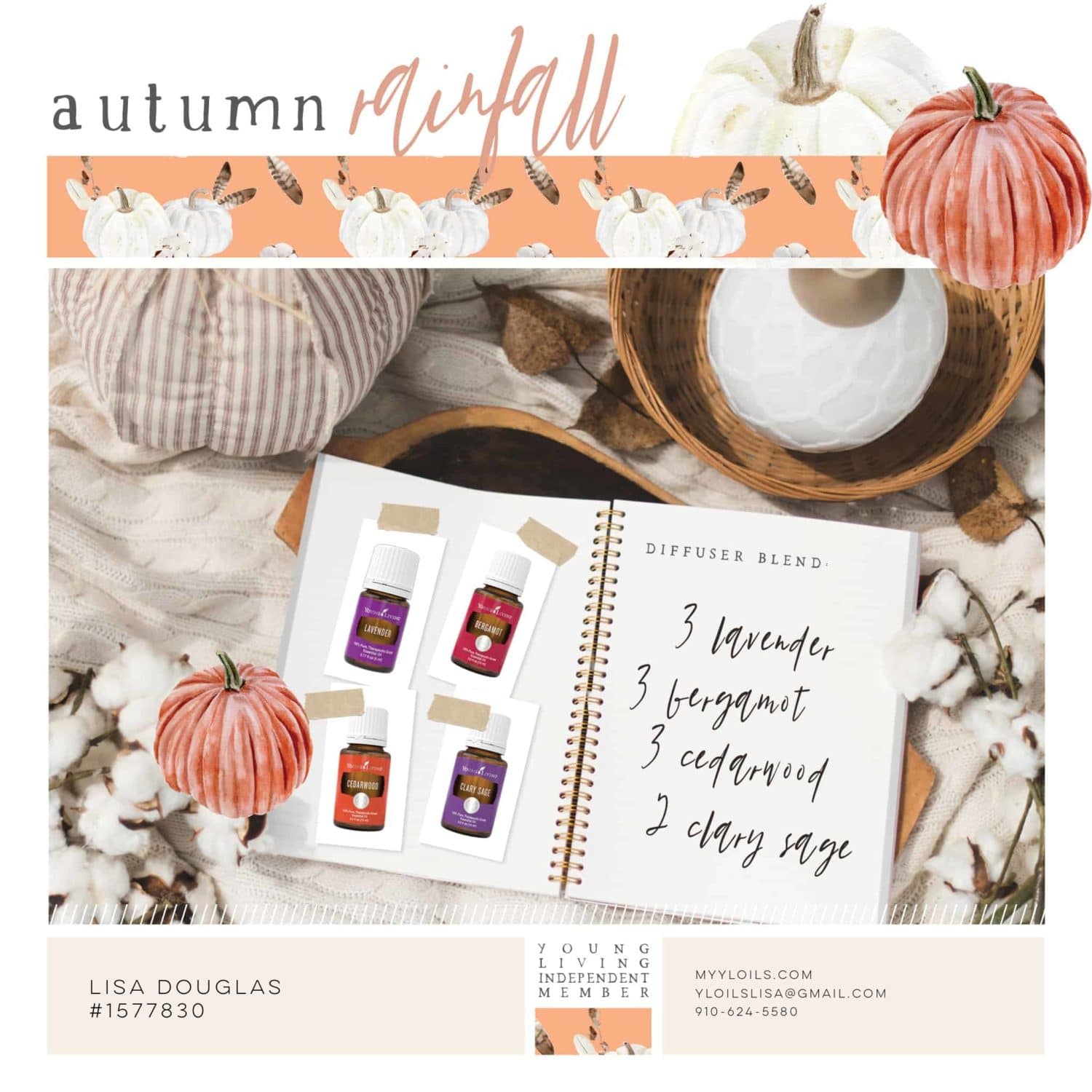 Autumn Rainfall Diffuser Recipe
Lavender essential oil is one of my most favorite oils to own, I carry it everywhere using it for a myriad of reasons! When diffused, it brings a fresh, floral, clean, yet calm feeling! Then you've got Bergamot essential oil's effervescent citrus aroma which makes it a great addition to this diffuser blend! Bergamot has a primarily tart and uplifting aroma but there are also sweet and relaxing notes as well! These pair particularly well with Cedarwood essential oil's woodsy, warm, balsamic aroma. Finally, Clary Sage essential oil has an herbaceous aroma that is believed to create a calm and relaxing environment. Altogether, you've got one powerfully calming fall diffuser blend!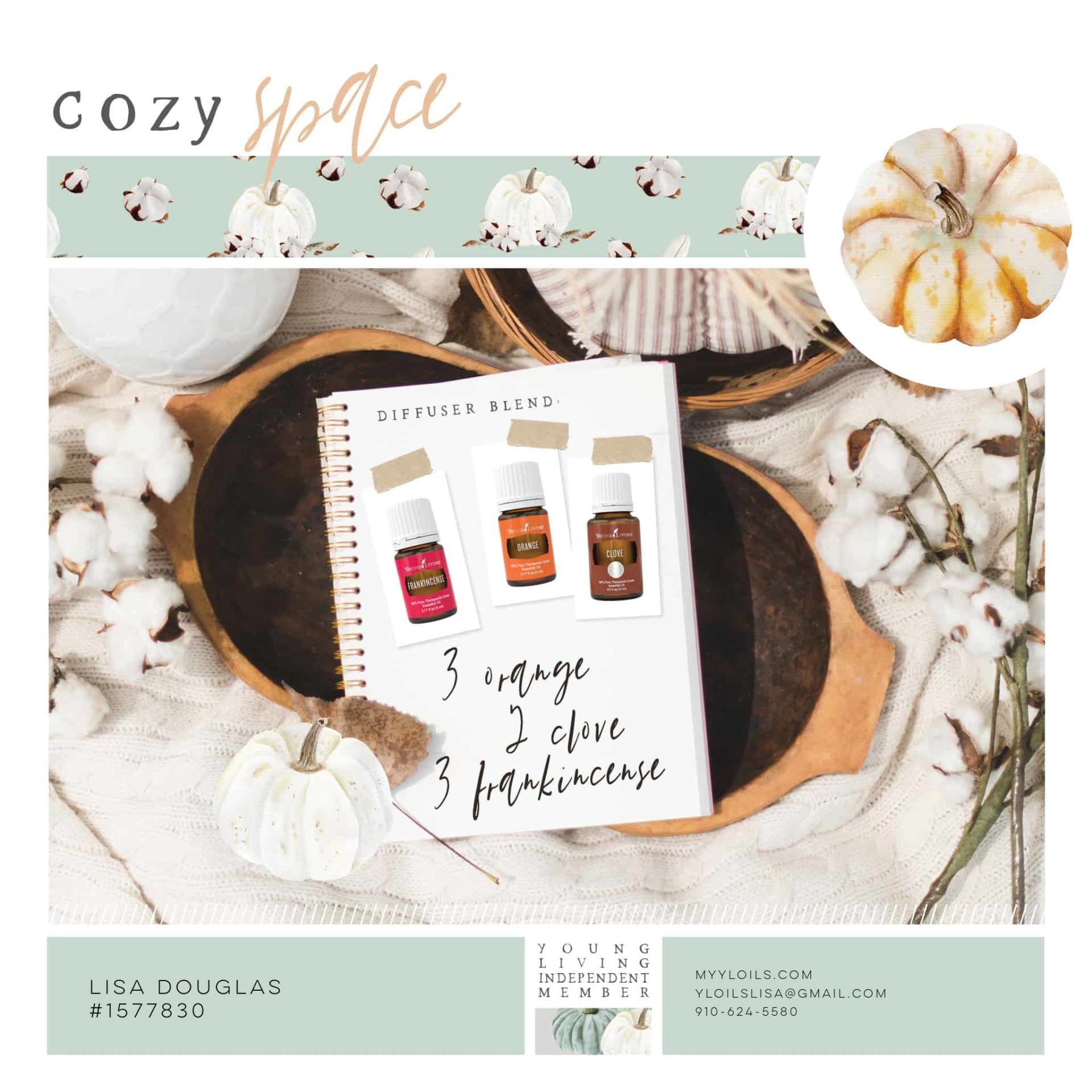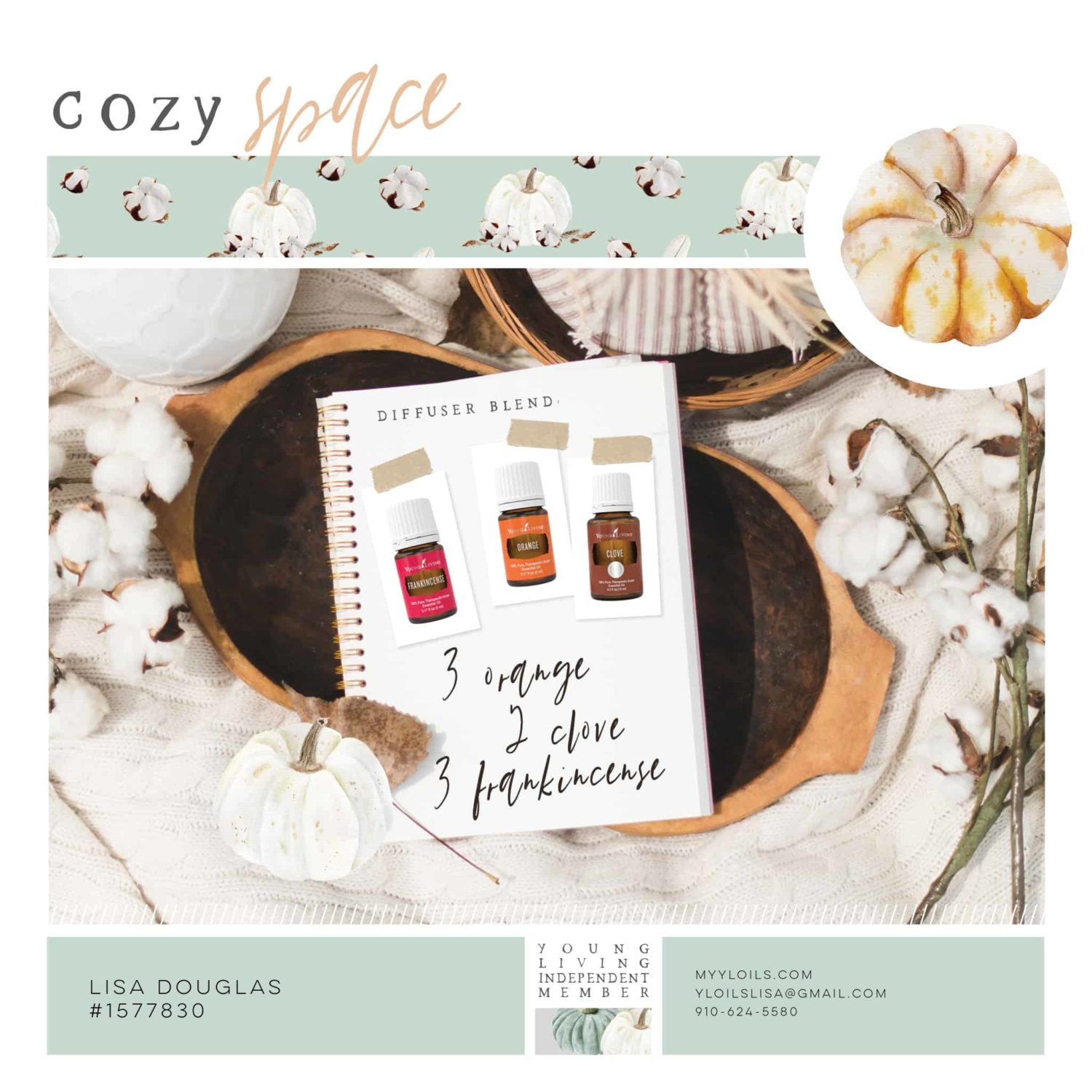 Cozy Space Diffuser Recipe
Starting your day with Orange essential oil is like starting it with an uplifting burst of liquid sunshine, don't you think? Orange smells just as good as it tastes in a glass of water, so delicious and invigorating! Clove essential oil has a spicy, warm scent that's instantly familiar because of its connection to fall and winter holidays. Orange and Clove together remind me of making homemade pomanders when I was a child! Create a safe and comforting environment by diffusing Frankincense essential oil's empowering aroma, particularly when you are seeking purpose or engaged in prayer or meditation. Blended together and diffused, you've most certainly got a cozy, uplifting, and empowering space!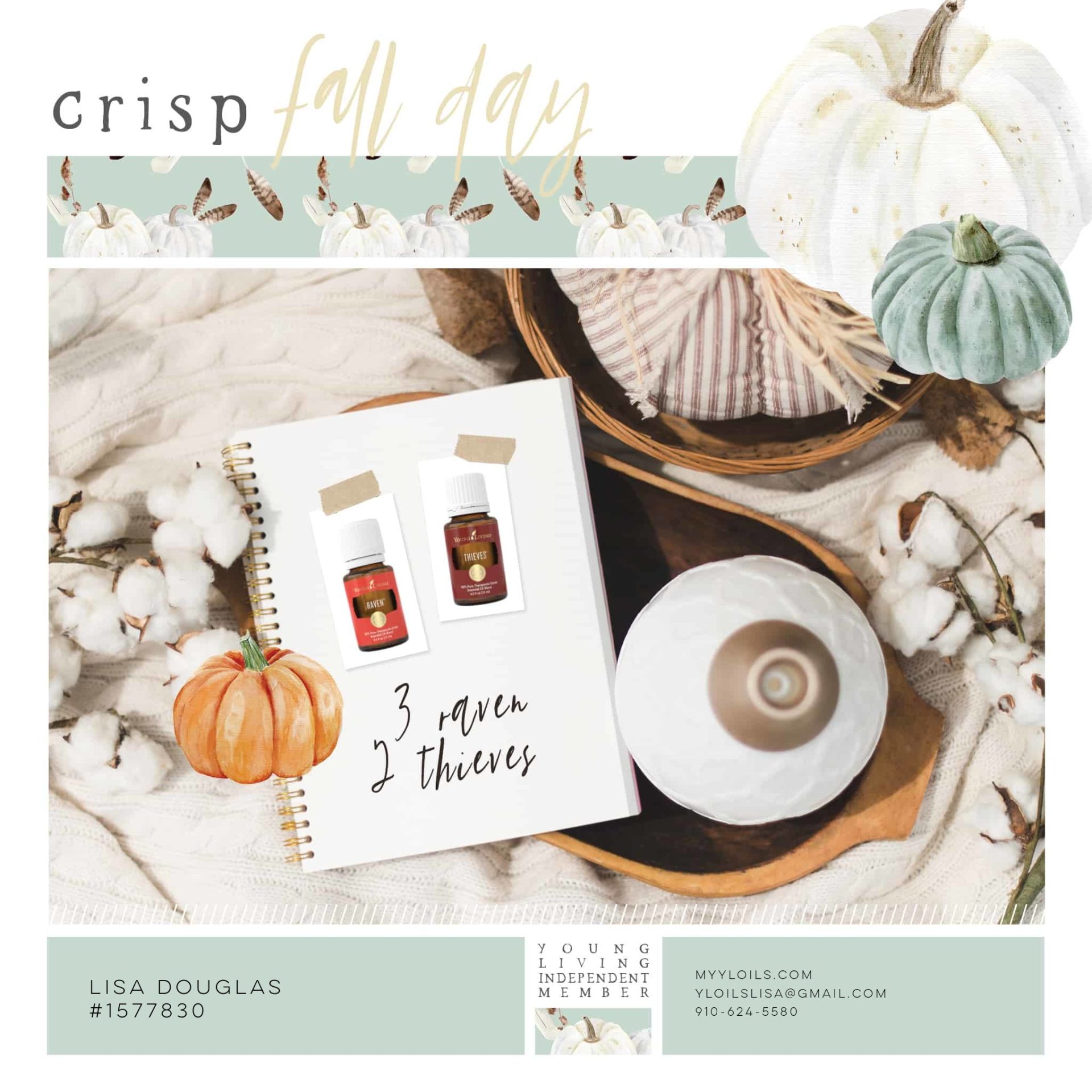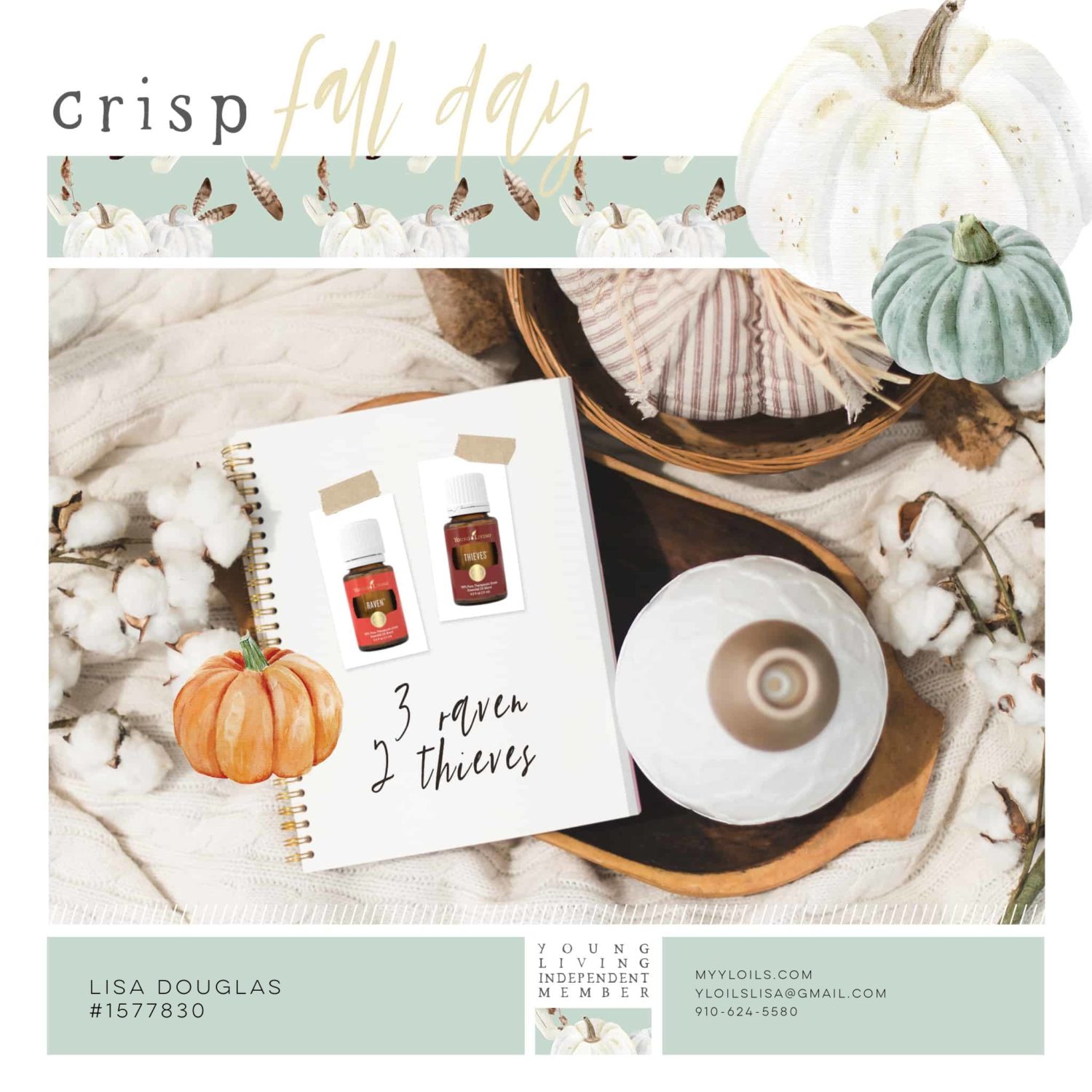 Crisp Fall Day Diffuser Recipe
Raven essential oil blend is a cool, refreshing combination of Ravintsara, Peppermint, Eucalyptus Radiata, Lemon, and Wintergreen essential oils. A chilly yet minty blend with sweet undertones, Raven creates that feeling of an effervescent breeze through a grove of eucalyptus trees! Thieves essential oil blend is a powerful combination of Clove, Lemon, Cinnamon Bark, Eucalyptus Radiata, and Rosemary essential oils that fills any space with a rich and spicy aroma. As one of Young Living's most popular products, Thieves blend is your go-to for an invigoratingly clean and spicy scent that smells just like fall baking! I diffuse Thieves every day! Together, though, this is a powerful blend of two powerhouse Young Living oil blends!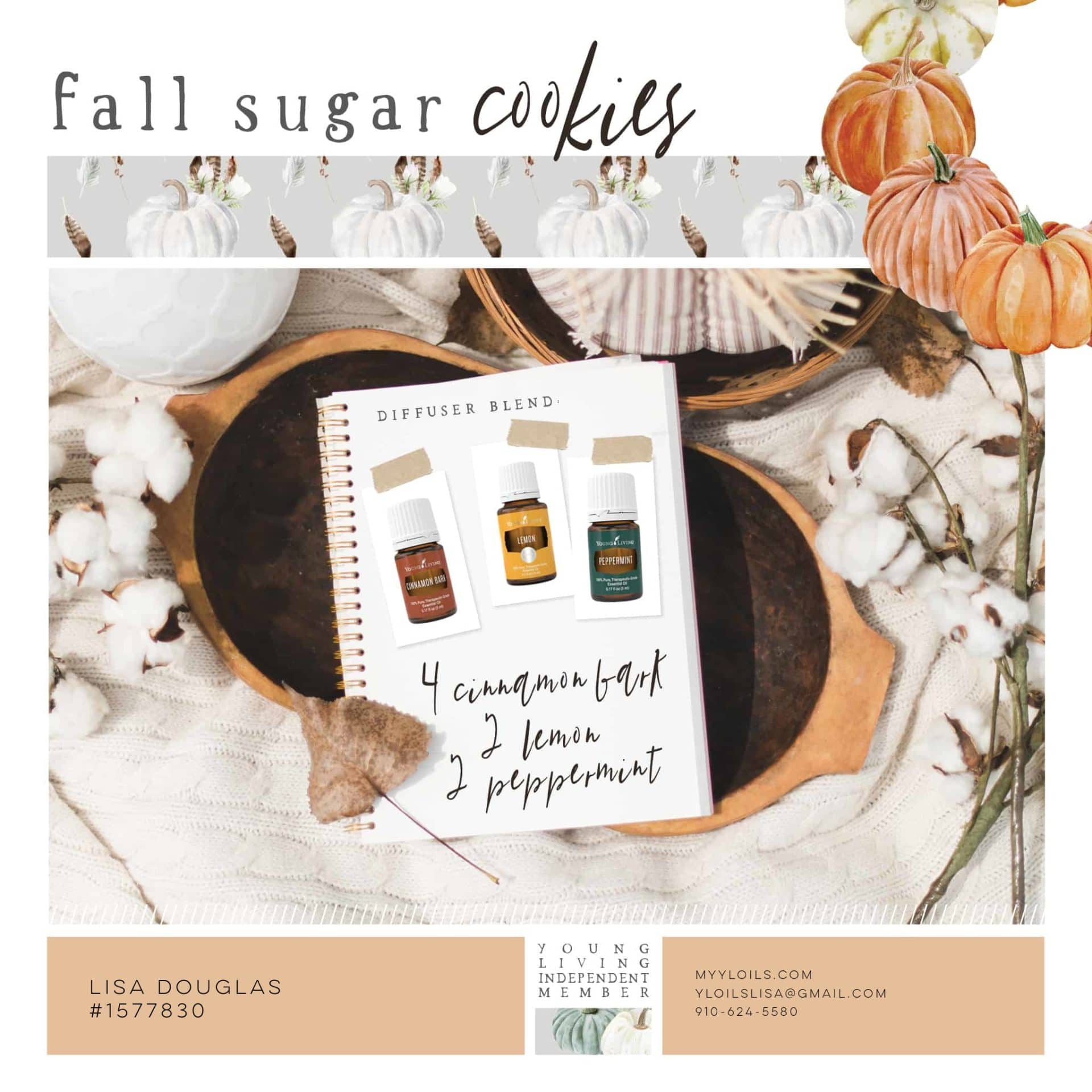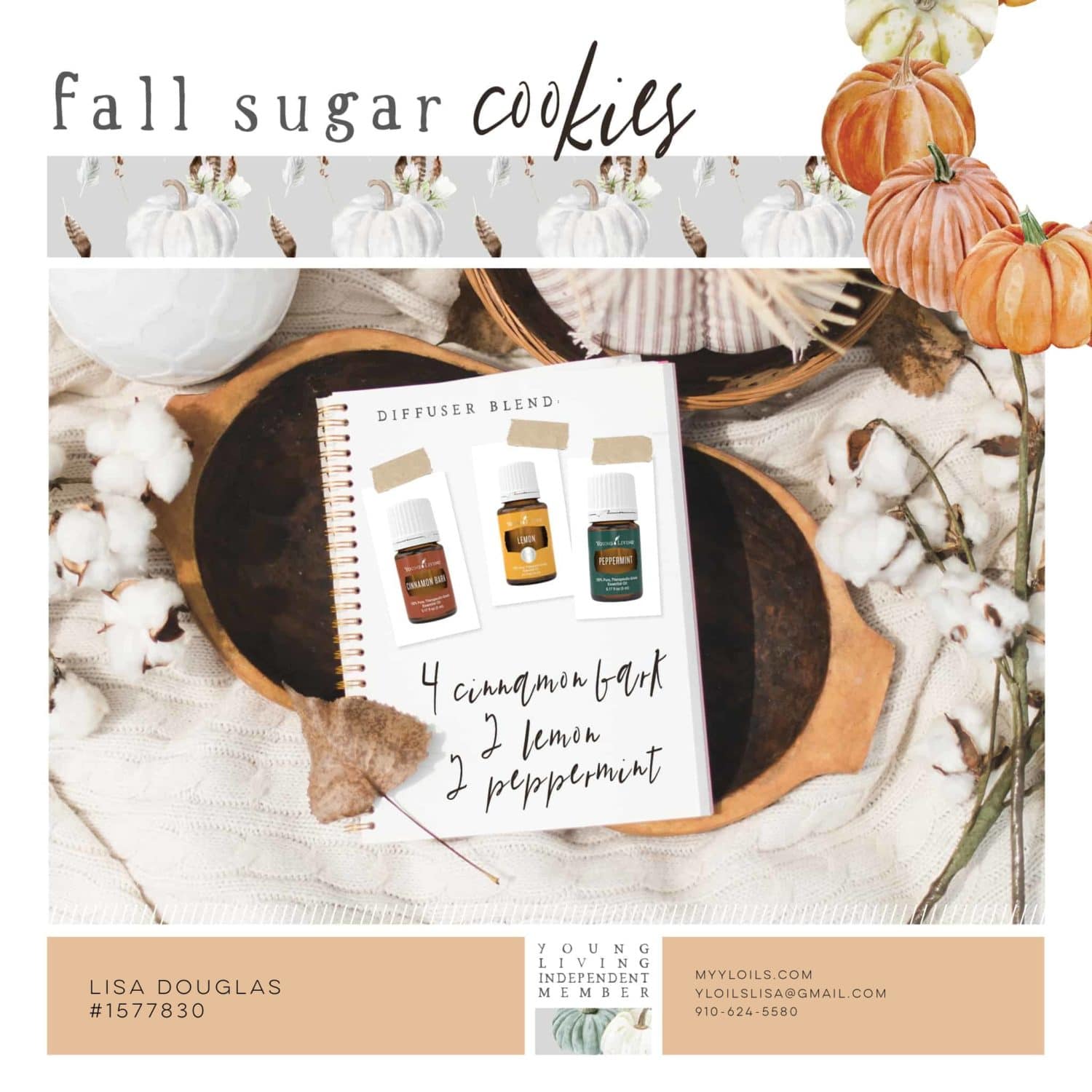 Fall Sugar Cookies Diffuser Recipe
This is one of my favorites right here! First, it's got Cinnamon essential oil – Cinnamon as its sweet and spicy scent evokes memories of the holidays. With its bright and joyful yet familiar aroma, Lemon essential oil benefits skin and hair as much as the scent enhances your environment; it's one of our best selling oils! Paired with peppermint essential oil, which also has a highly familiar and recognizable scent, these three oils together and diffused create a stimulating, focused yet delicious atmosphere!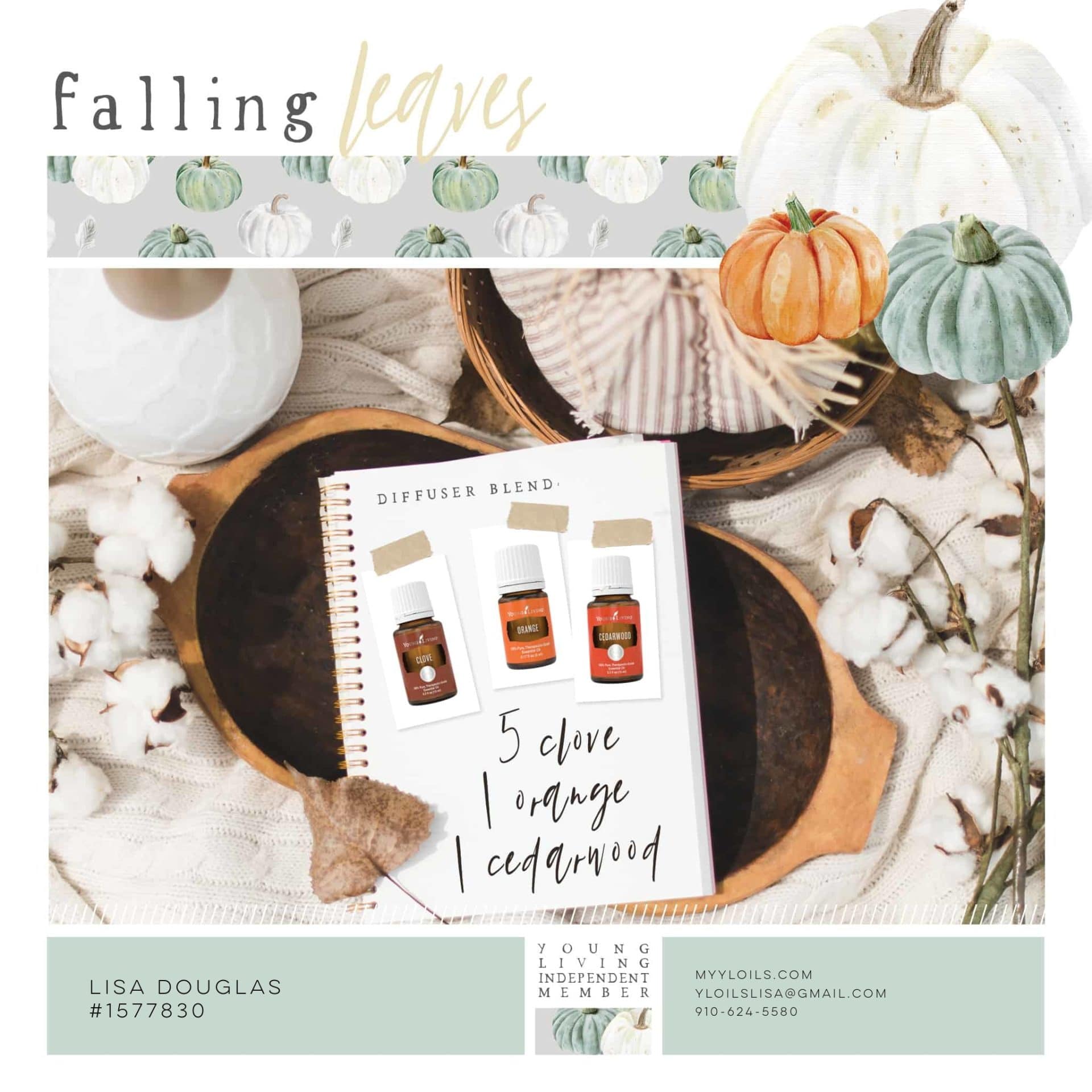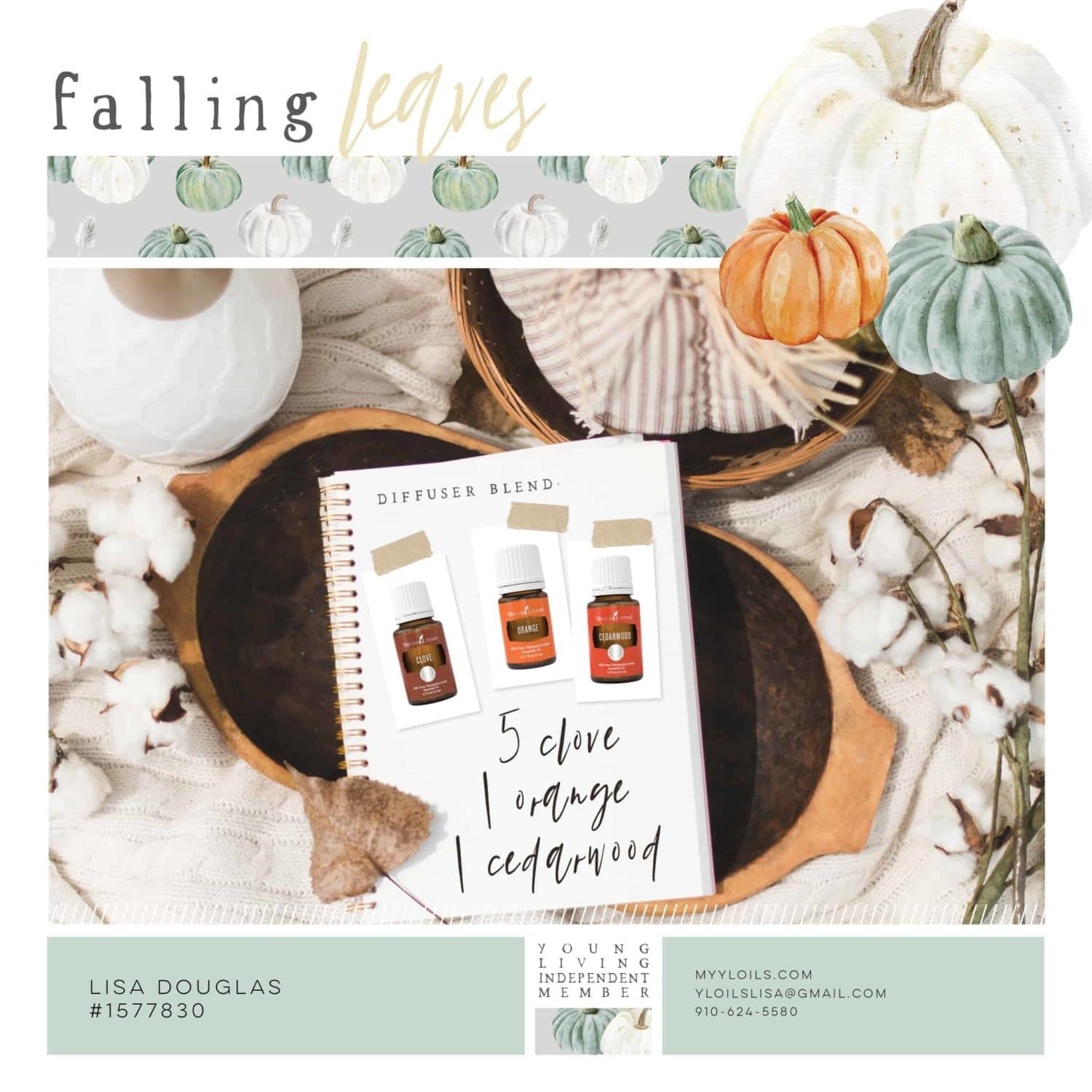 Falling Leaves Diffuser Recipe
Clove essential oil has that deliciously spicy and warm scent evokes a feeling of nostalgia synonymous with autumn and the holidays. Just a few drops of Orange essential oil can fill any space with a sense of peace, harmony, and creativity! Cedarwood essential oil's woodsy feel inspires quite a relaxing, calming, and comforting atmosphere. Altogether you've got one intriguing autumnal diffuser blend!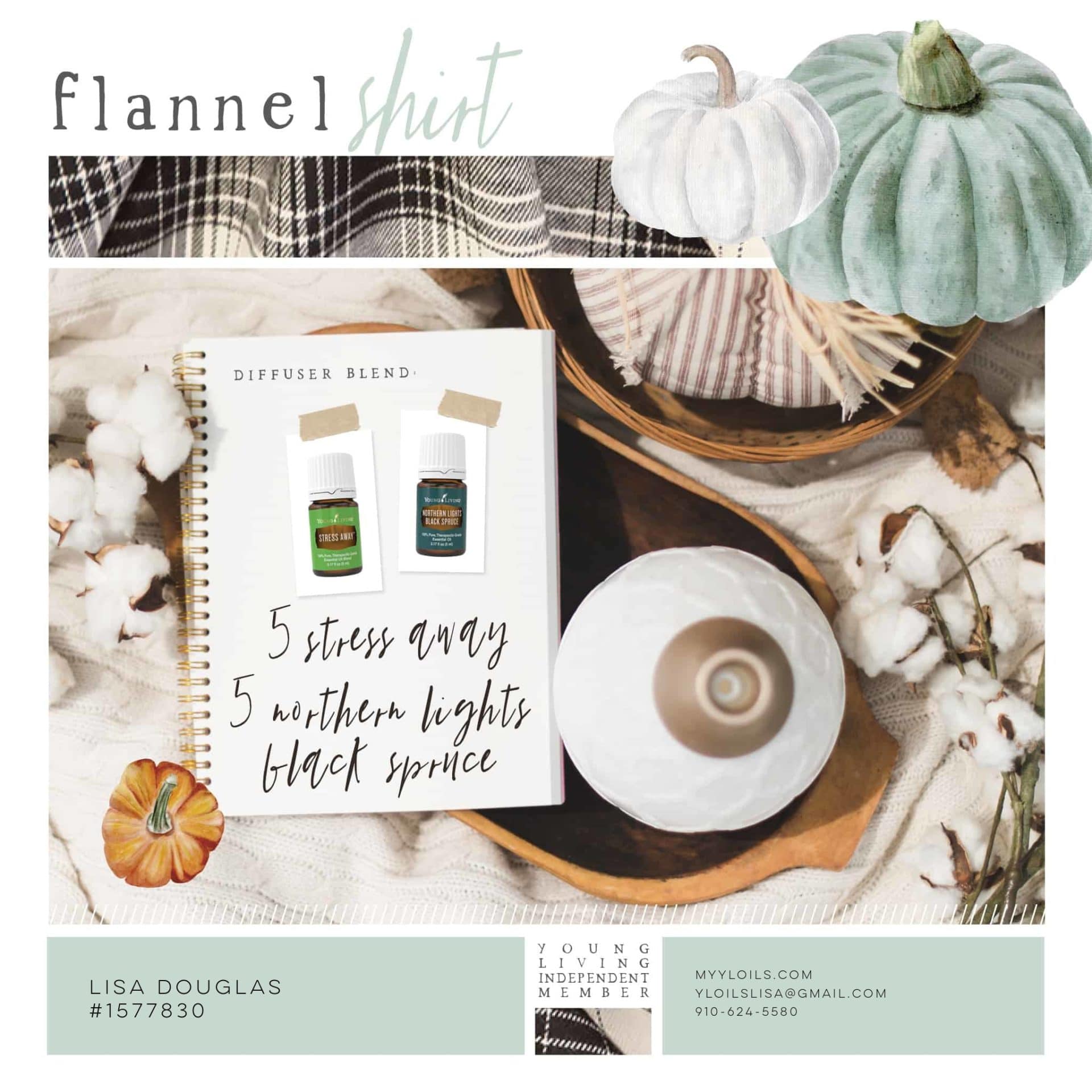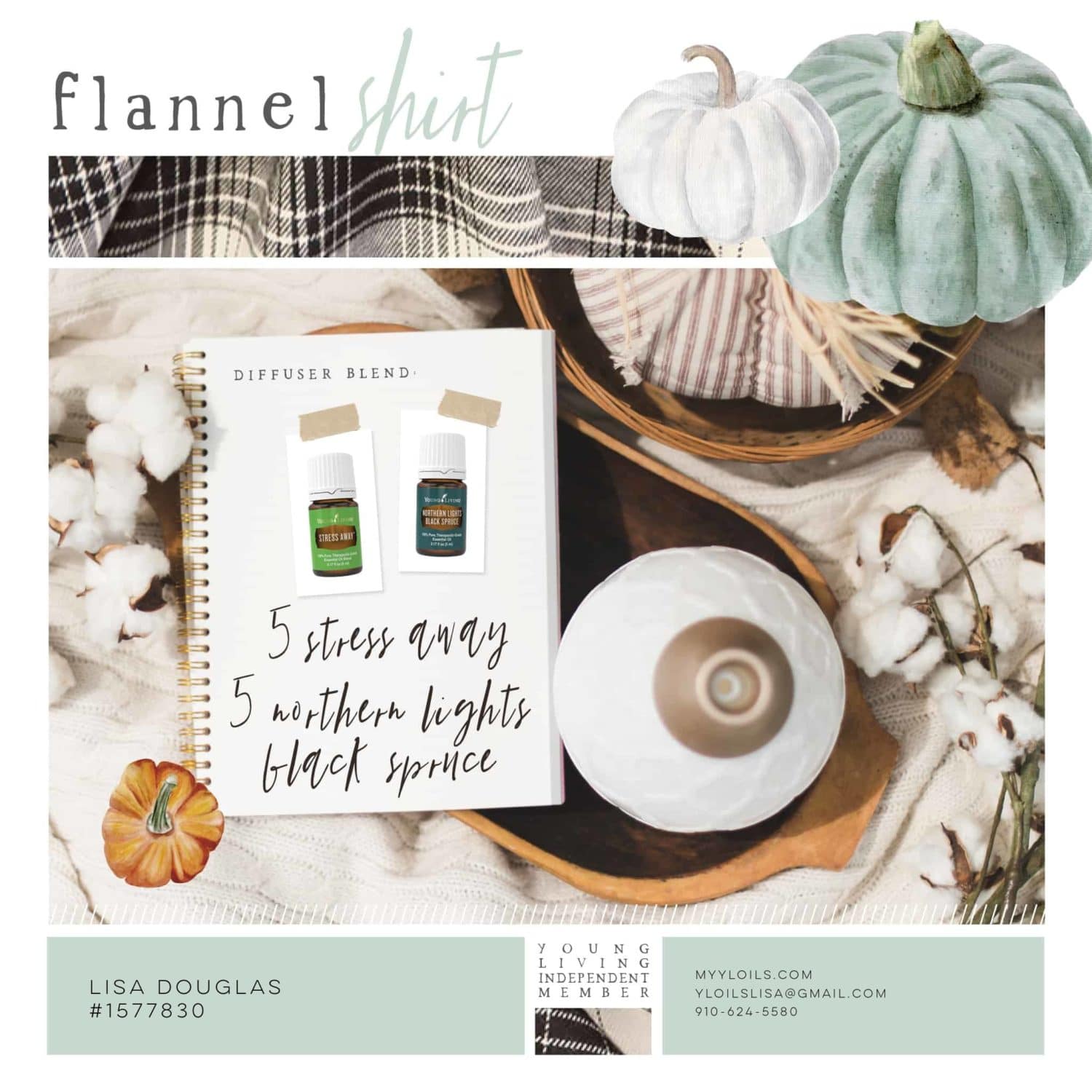 Flannel Shirt Diffuser Recipe
Stress Away essential oil blend contains a unique combination of Lime essential oil and vanilla extract and has come to be one of my most sought after oils! It was also one of my first oils I ever used when I started my Young Living journey! In addition to vanilla and Lime, Stress Away also includes Copaiba, Cedarwood, and Ocotea. Northern Lights Black Spruce essential oil comes from Young Living's Northern Lights Farm located in British Columbia, Canada. Diffusing this rich and woodsy oil during meditation helps to create a fresh aromatic atmosphere. Combined with Stress Away, this Flannel Shirt Diffuser Recipe is a calming invigorating scent all its own!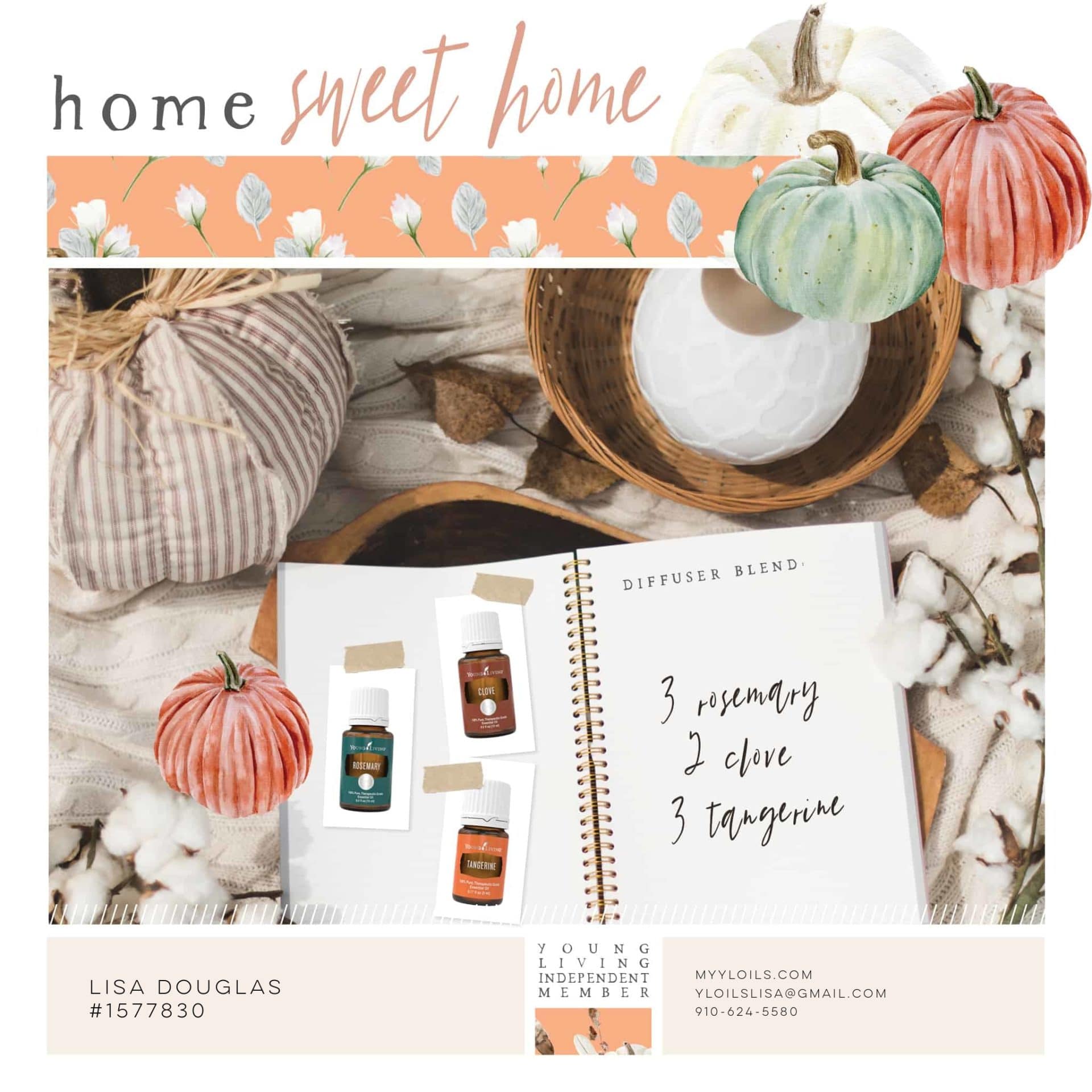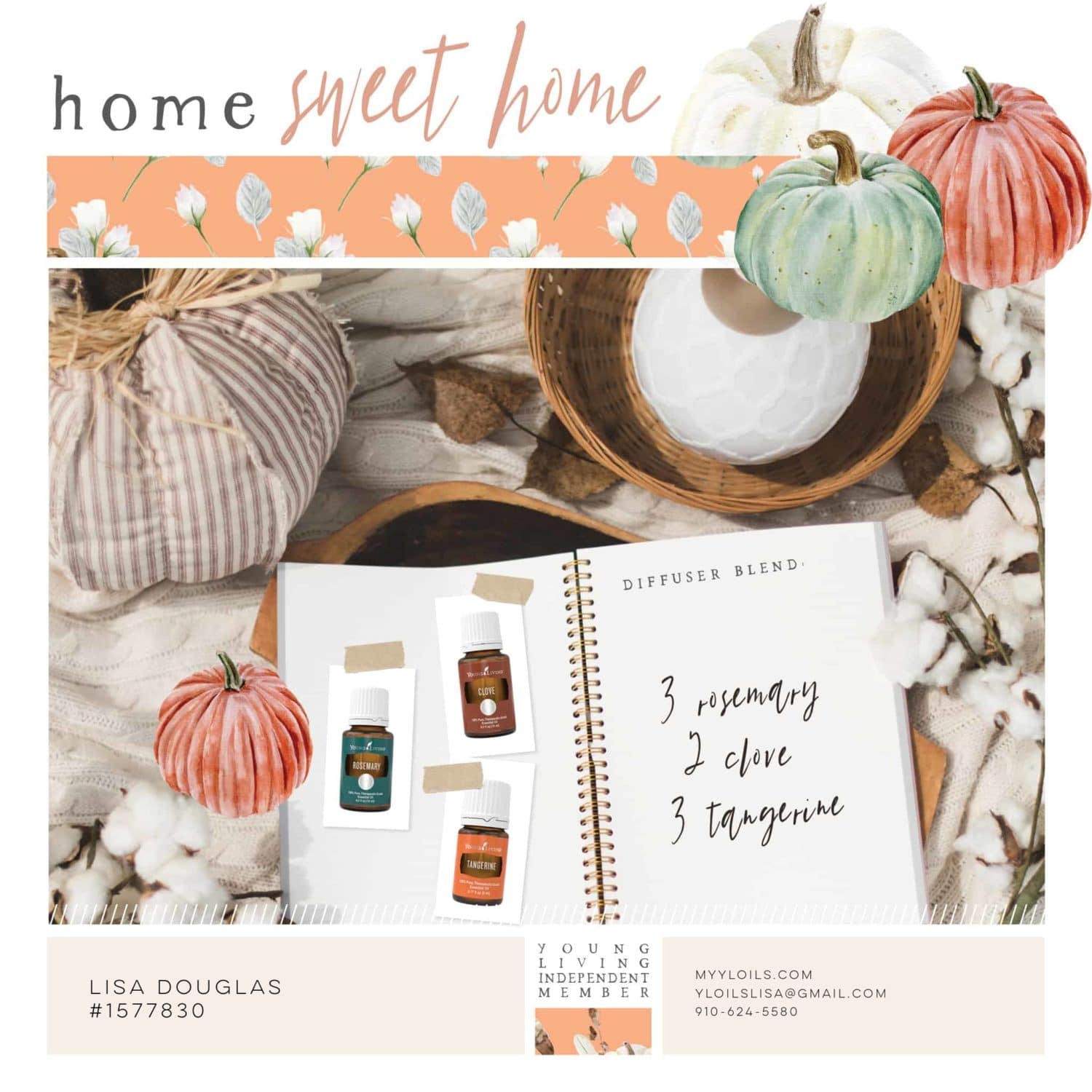 Home Sweet Home Diffuser Recipe
It always amazes me when I get to try new scents blended together. This was one of those surprising ones for me, I love it a lot! The familiar scent of Rosemary essential oil has a robust, herbaceous aroma that pairs incredibly well with spicy Clove and juicy Tangerine! Tangerine essential oil smells just like the fresh citrus fruit and is as delightfully sweet as Orange. Paired together, these three oils in this Home Sweet Home Diffuser Recipe create a happy, inviting, and contented household!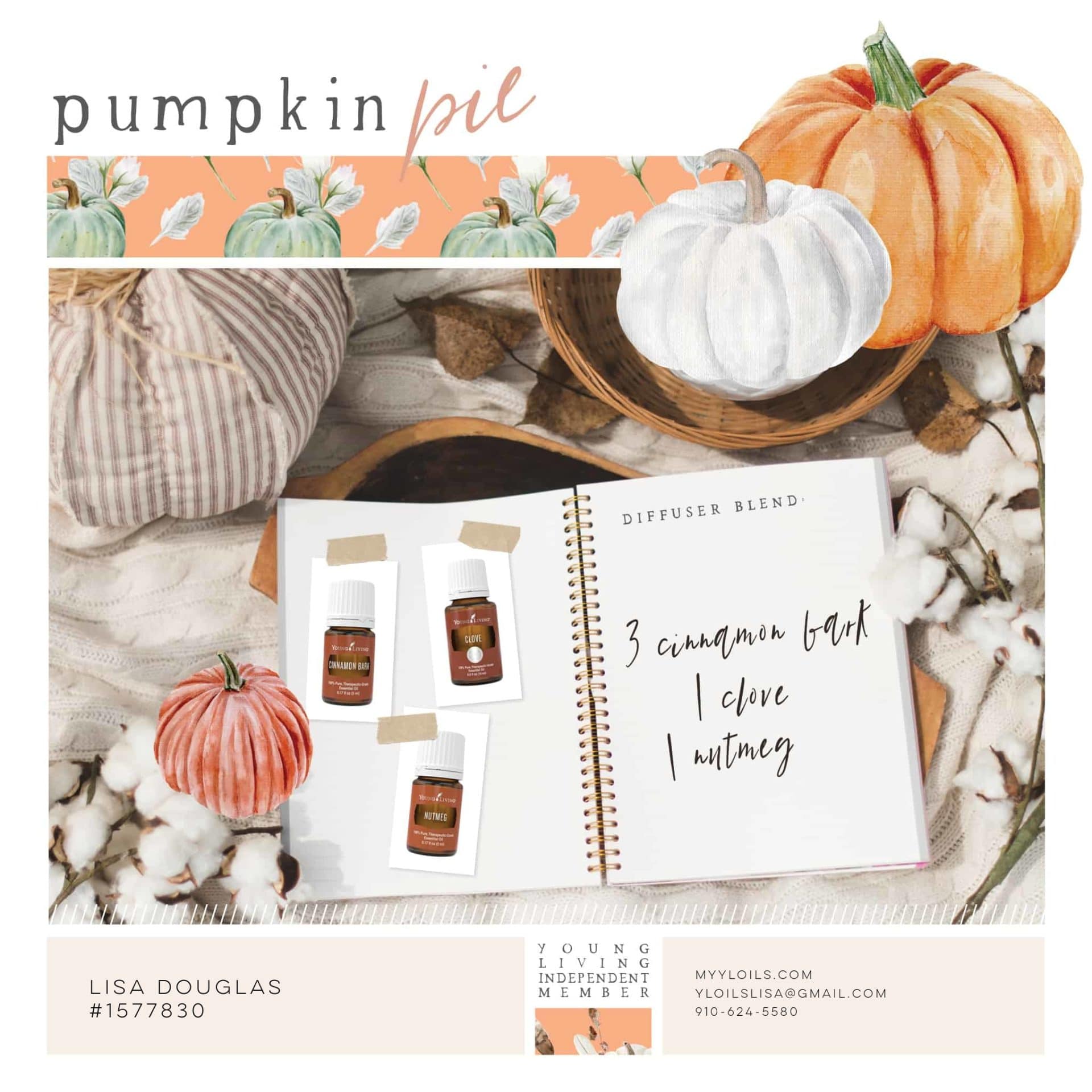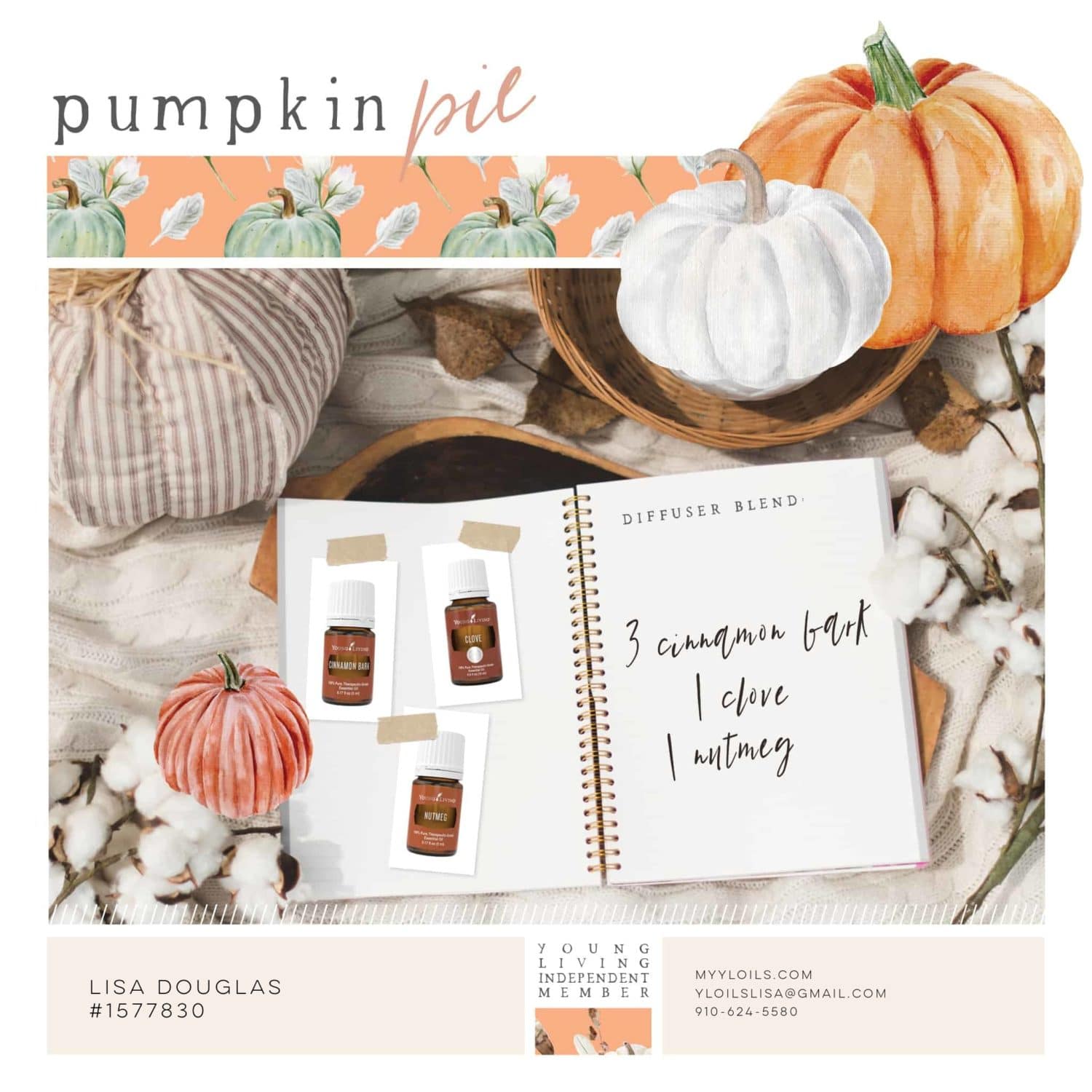 Pumpkin Pie Diffuser Recipe
Who doesn't love good old fashioned Pumpkin Pie! The scent of Pumpkin Pie screams holidays to me, and this fall diffuser blend is no exception! Cinnamon Bark's warm and familiar aroma paired with Nutmeg's equally as warm and spicy aroma that is additionally energizing and uplifting when Clove's deliciously spicy scent! These three together – wow!!! This Pumpkin Pie Diffuser Blend is one you'll create again and again!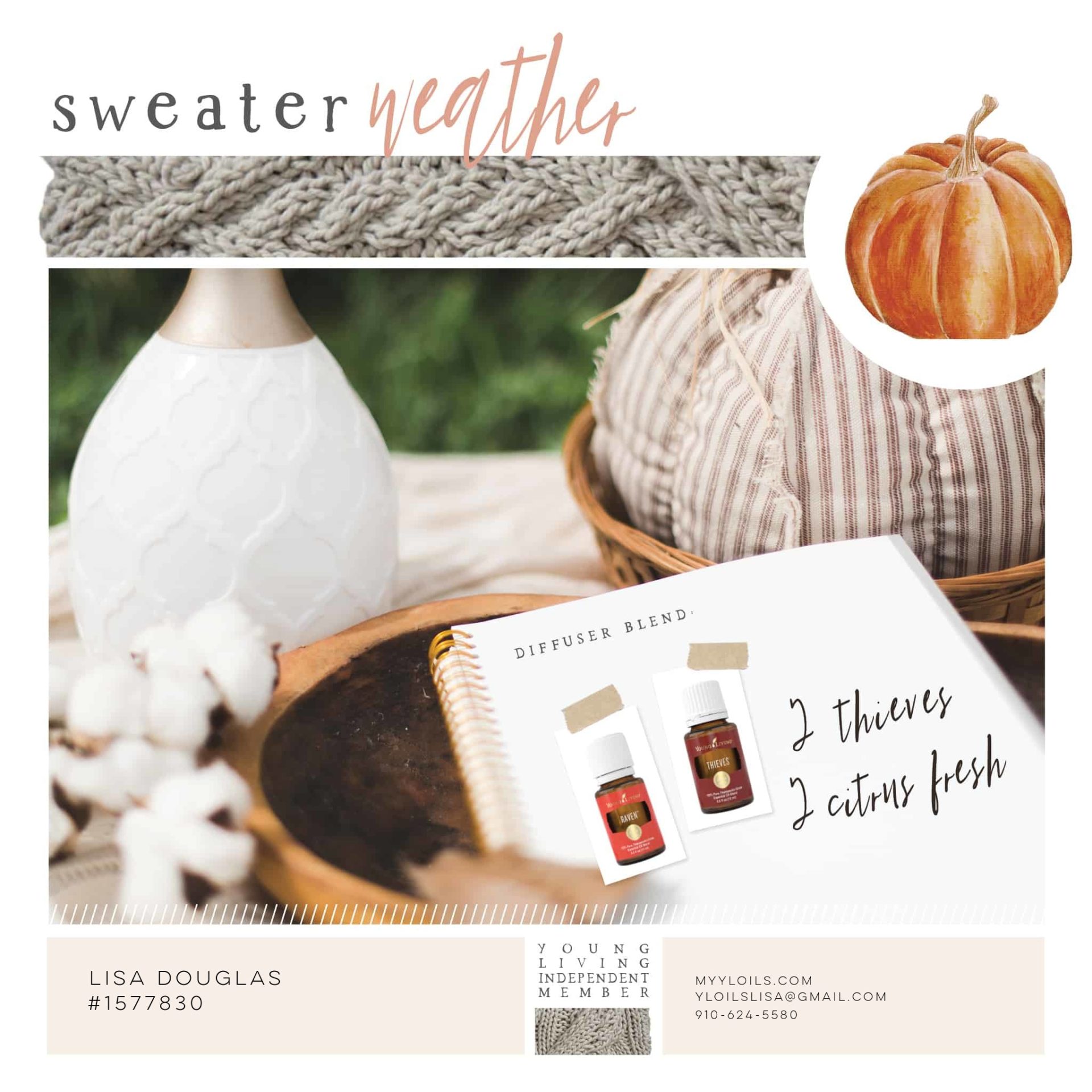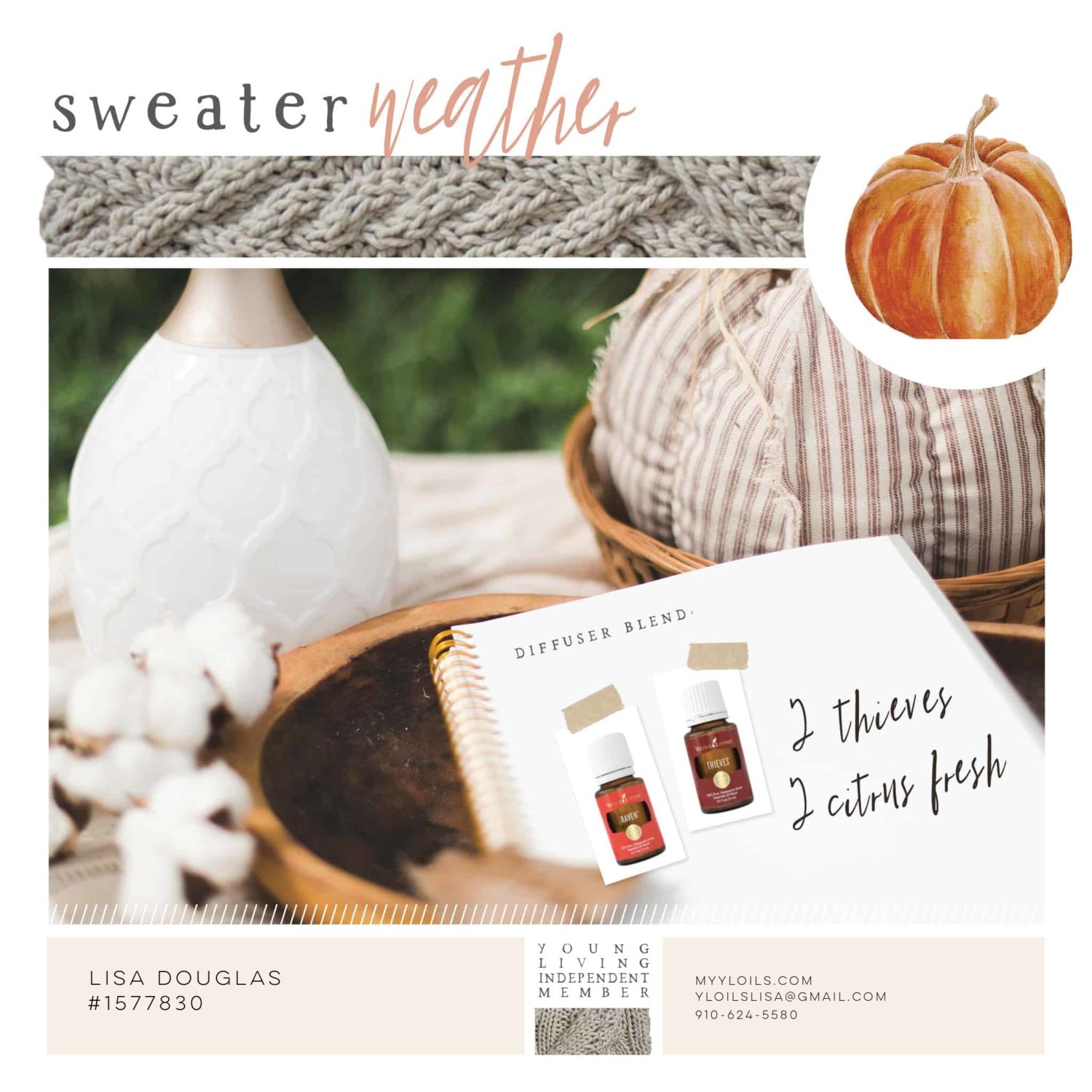 Sweater Weather Diffuser Recipe
This one cracked me up and immediately calls for this gif, because COME ON. Sweater weather!! lol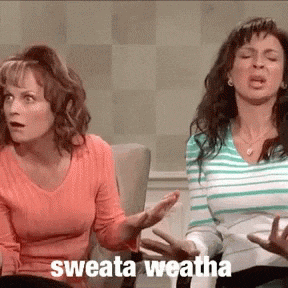 Thieves spicy aroma already evokes a familiar sense of baking for the holidays, but paired with the inspiring and unique Citrus Fresh essential oil blend? Hellooooo! Citrus Fresh's blend has Lemon, Grapefruit, Orange, Tangerine, Mandarin, and Spearmint and is so invigoratingly bright with a hint of minty coolness. Together with Thieves, I swear! This one is amazing! You have got to try it!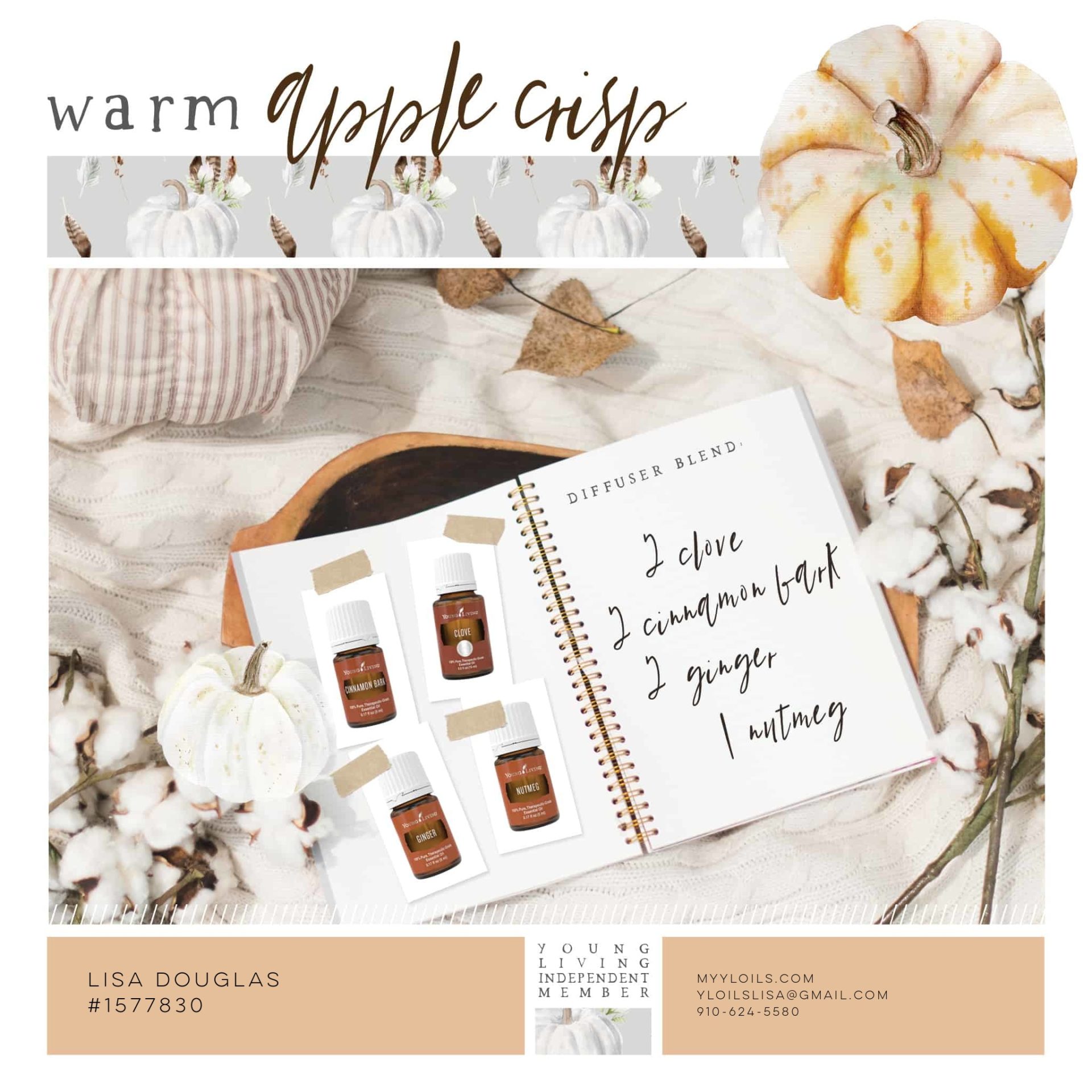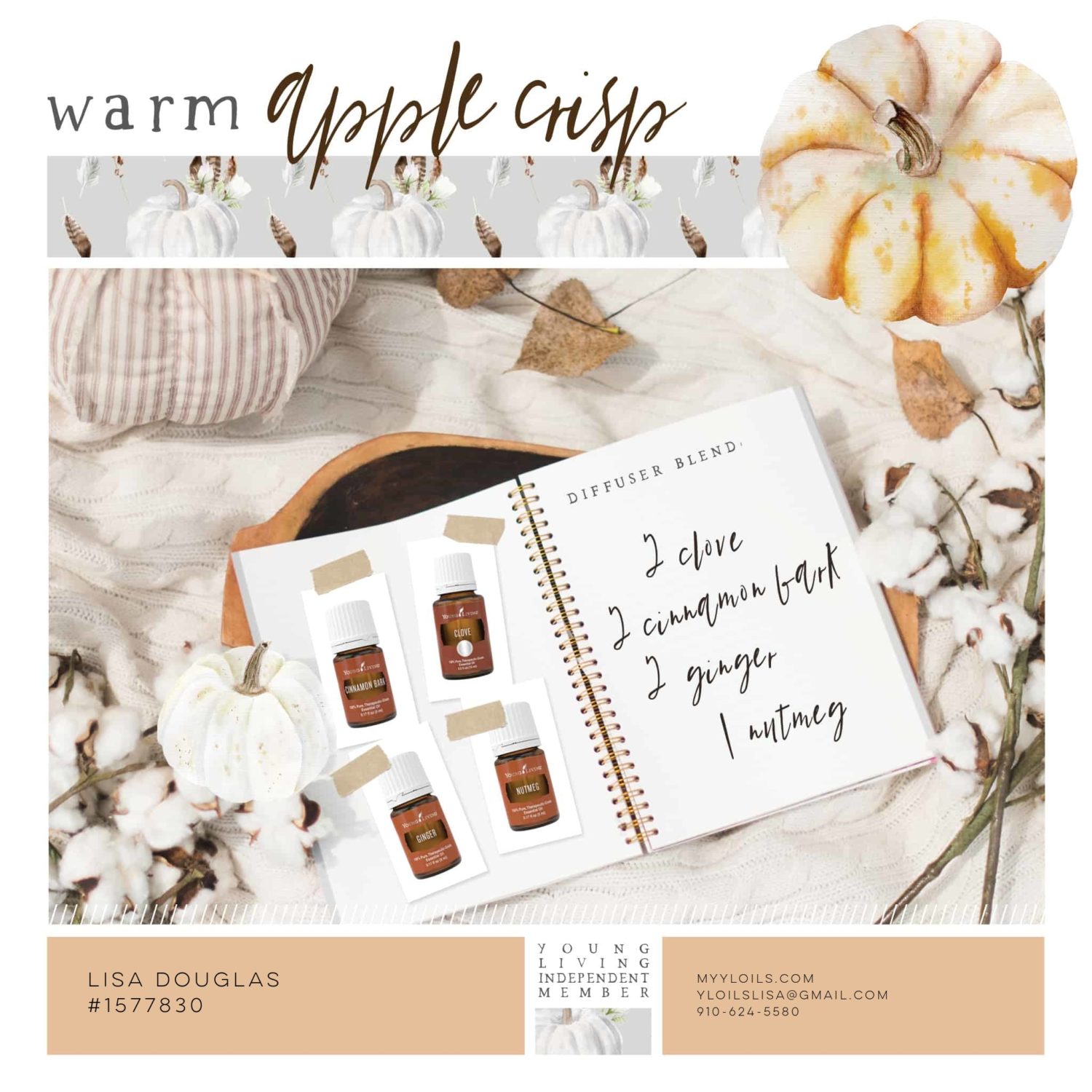 Warm Apple Crisp Diffuser Recipe
Similar to the Pumpkin Pie Diffuser Recipe, this Warm Apple Crisp Diffuser Recipe adds in the spicy aroma of Ginger, with its enticingly warm and energizing scent that's as invigorating as it is delicious smelling. Together this diffuser recipe pairs the delicious scents of Cinnamon Bark, Ginger, and Nutmeg altogether for a diffuser blend you'll want to diffuse endlessly!
BONUS Recipes! Thieves Tea Blend and Fall DIY Room Spray Recipe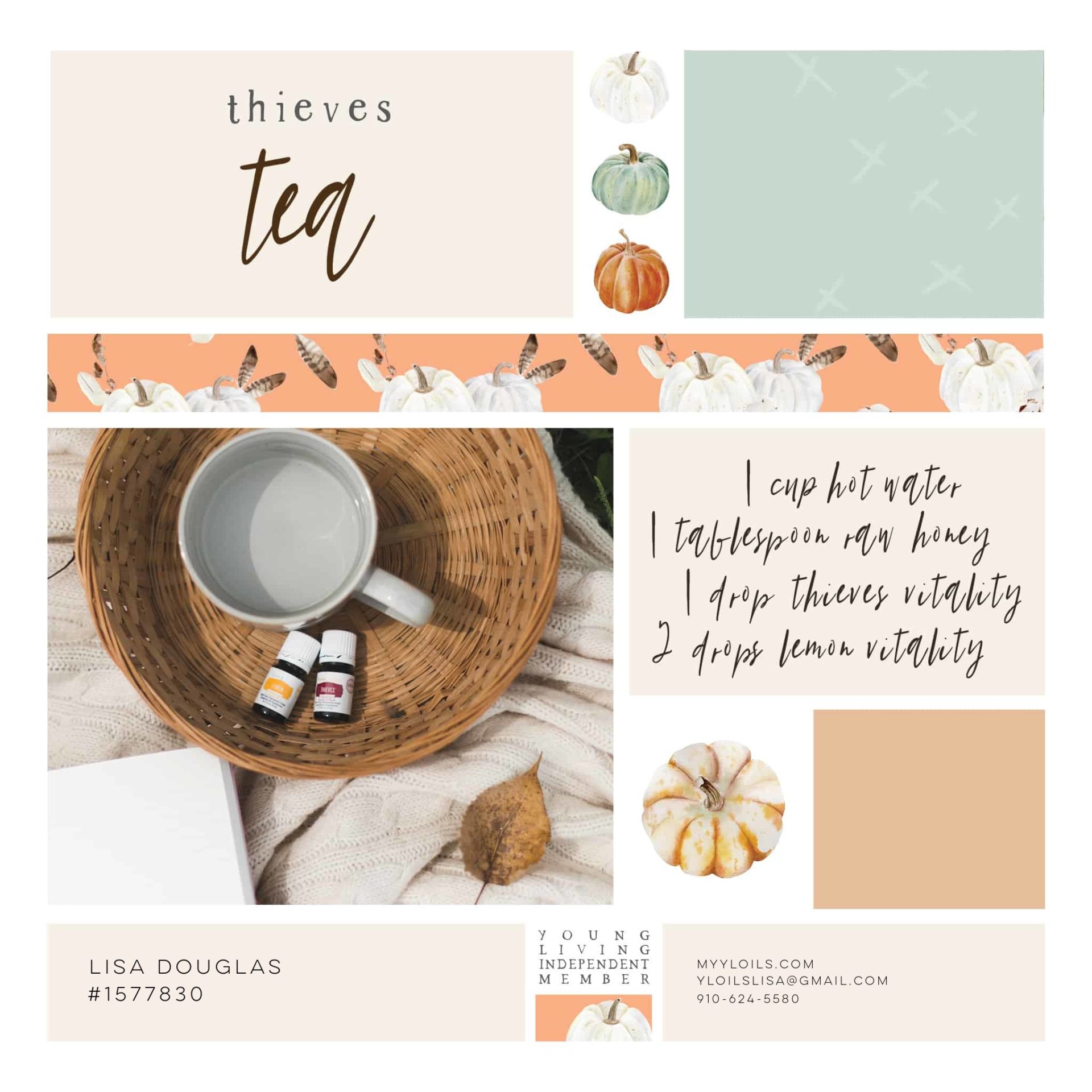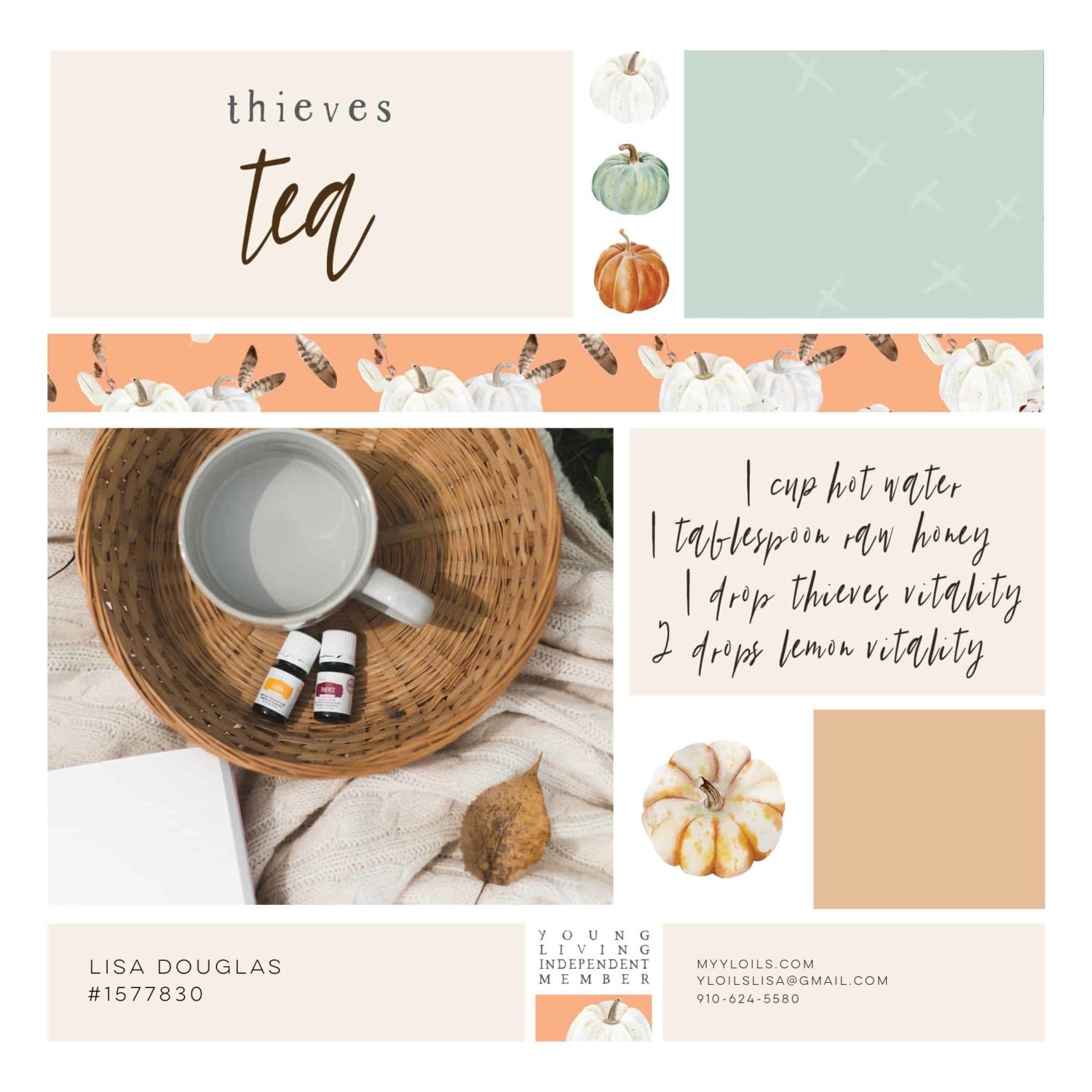 DIY Thieves Tea Recipe
Thieves Vitality essential oil blend combines Lemon, Clove, Eucalyptus Radiata, Cinnamon Bark, and Rosemary essential oils to create one of our most popular dietary products. These oils work together synergistically to offer overall wellness and support for a healthy immune system.* Using this blend in combination with raw honey and Lemon Vitality essential oil blend offers many health benefits when taken internally, including immune support and antioxidant properties.*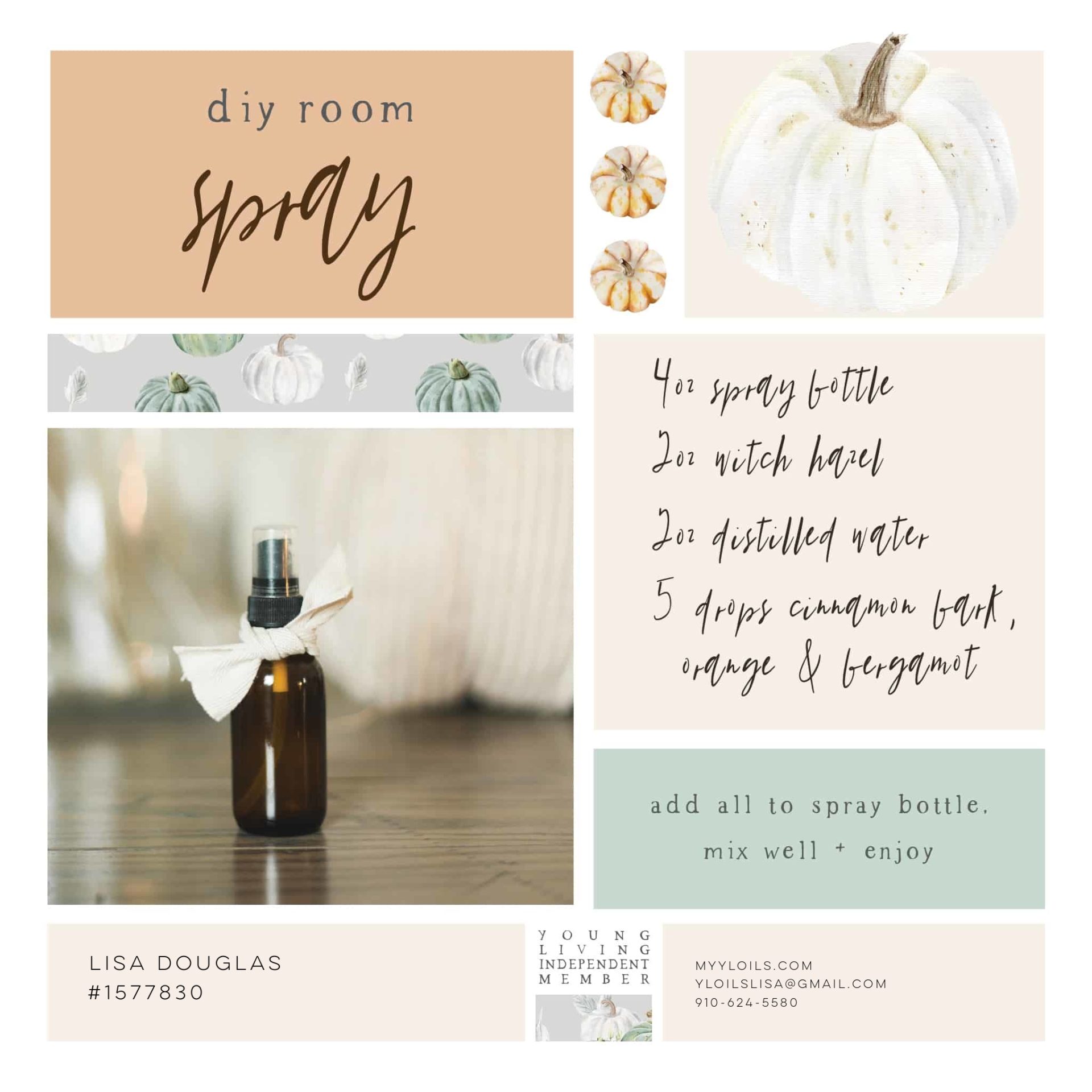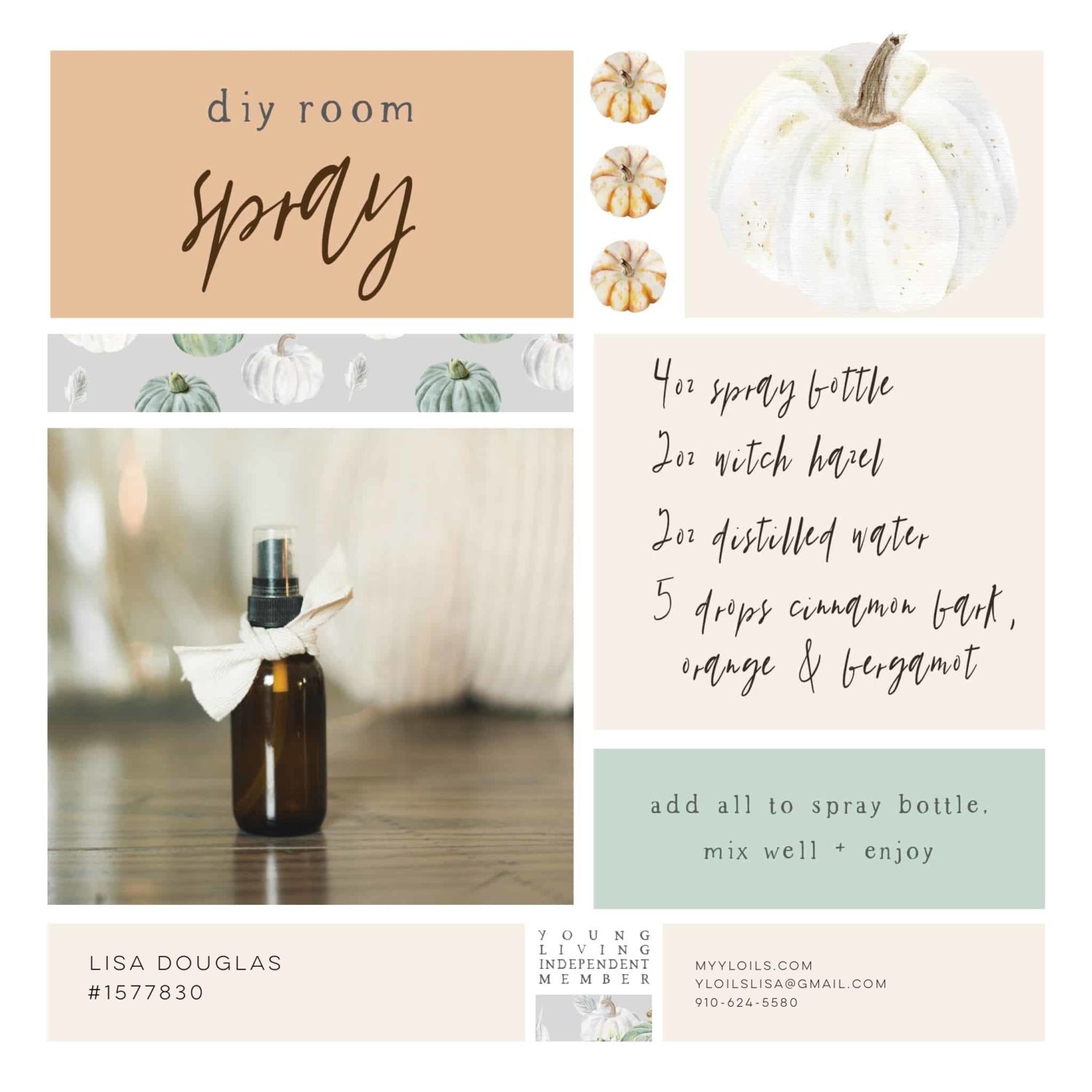 Autumn DIY Room Spray
If you're looking for an instant pick-me-up, then look no further than this deliciously autumnal DIY room spray! Spray this on your curtains, pillows, and more! Cinnamon Bark, Orange, and Bergamot paired together make a lovely spray that invigorates as much as it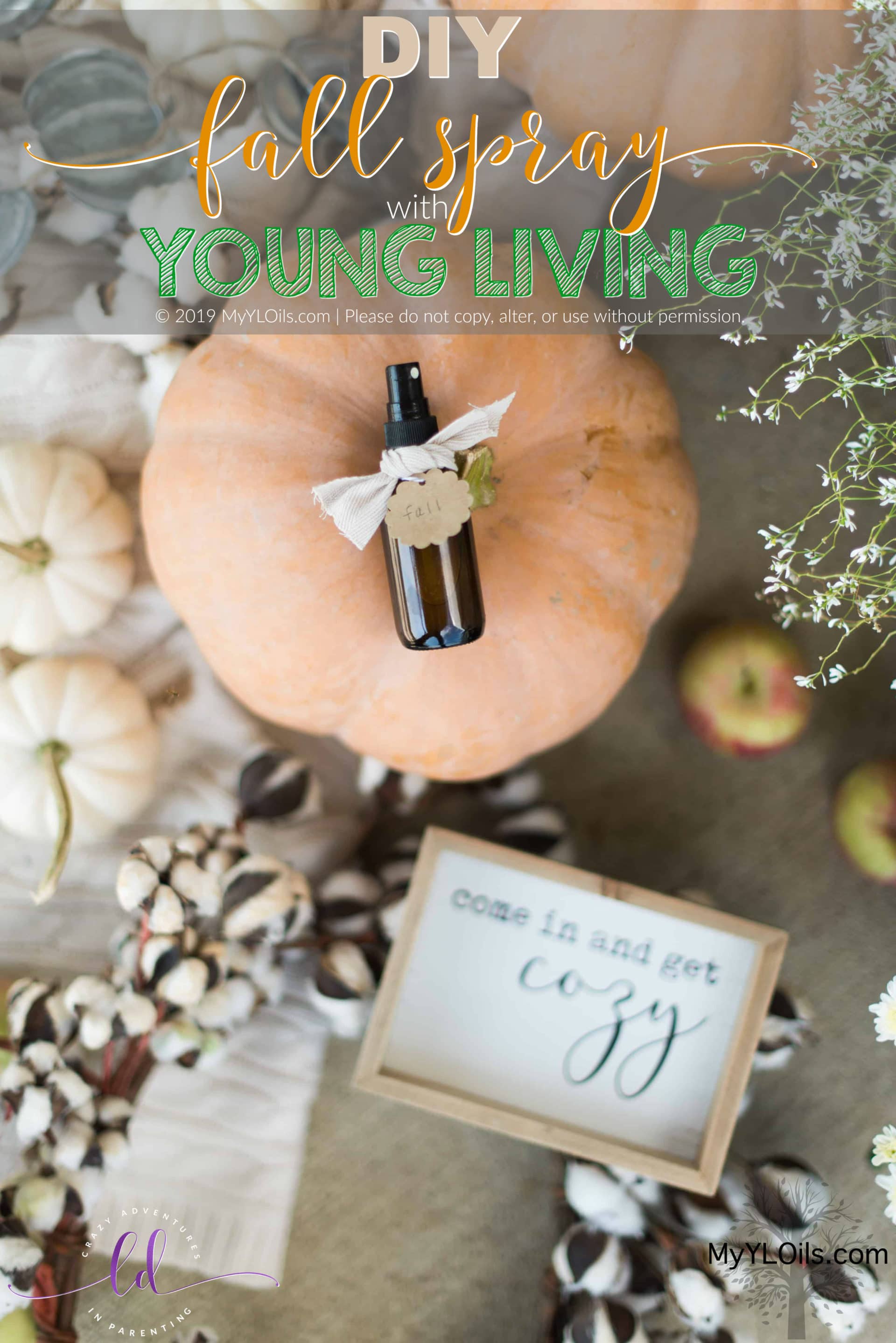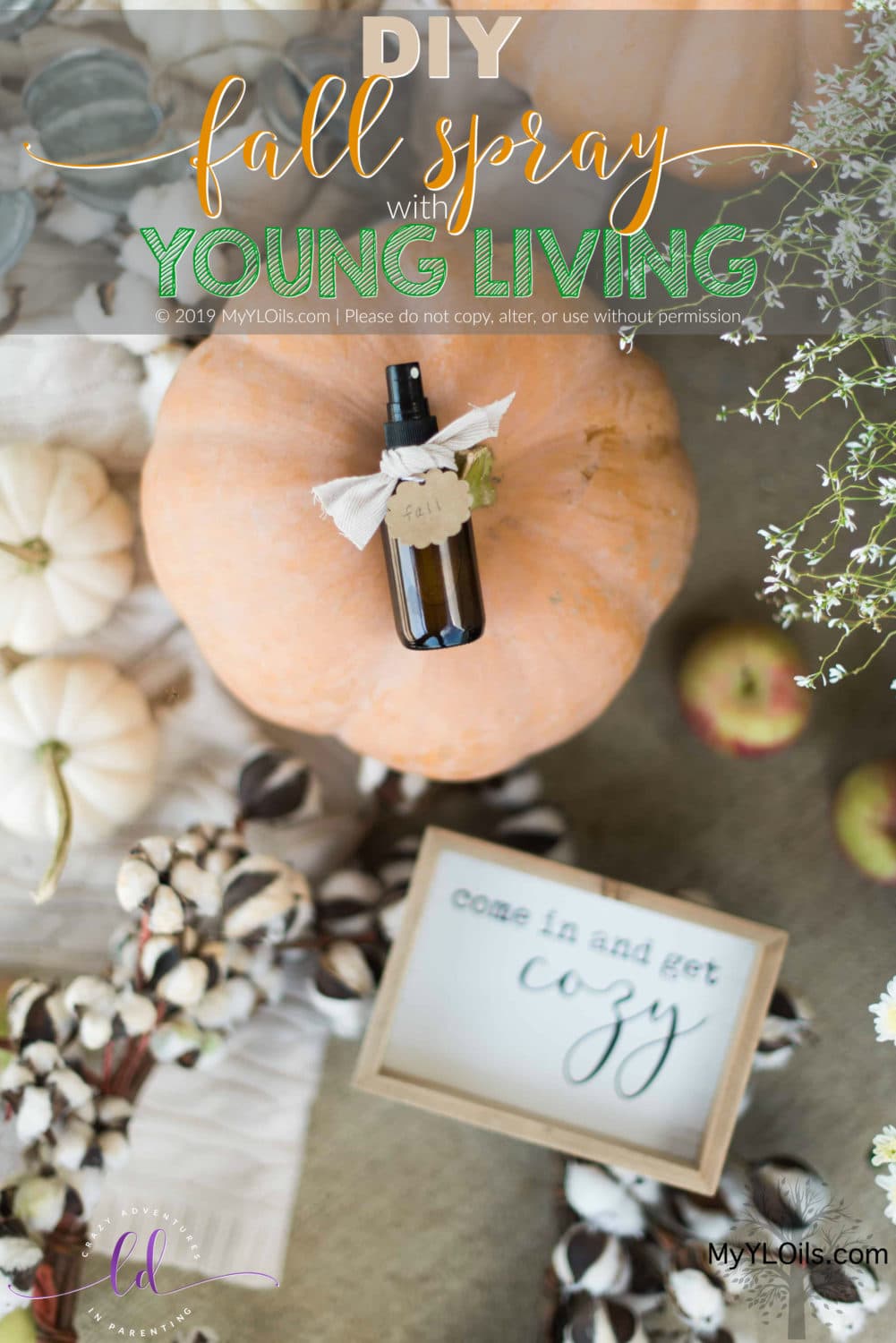 2023 Essential Oil Deal for You!
Our Black Friday Deal last year was so popular, we've decided to DRASTICALLY improve on that offer for 2023 for the BEST YET! (Coupled with Young Living's HUGE promotions this month, too!) Check out all you can get for free for becoming a wholesale member (like Costco)!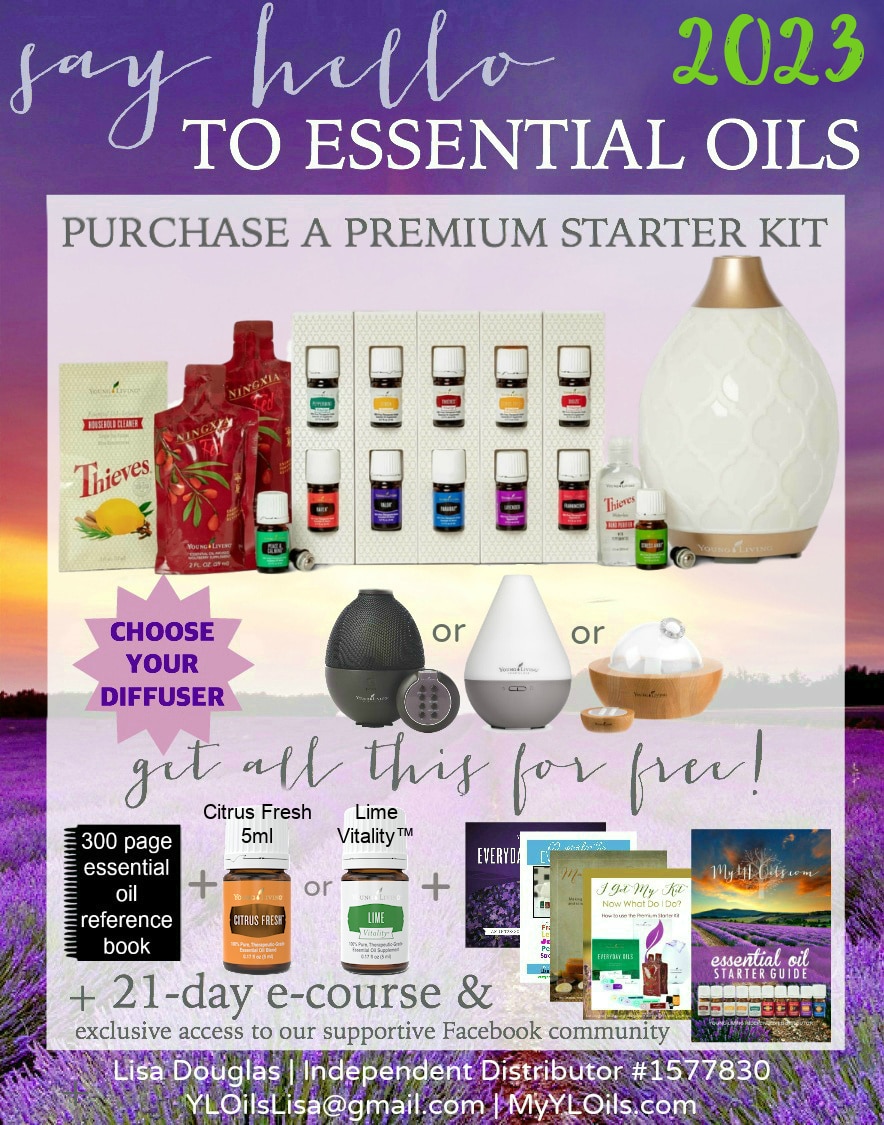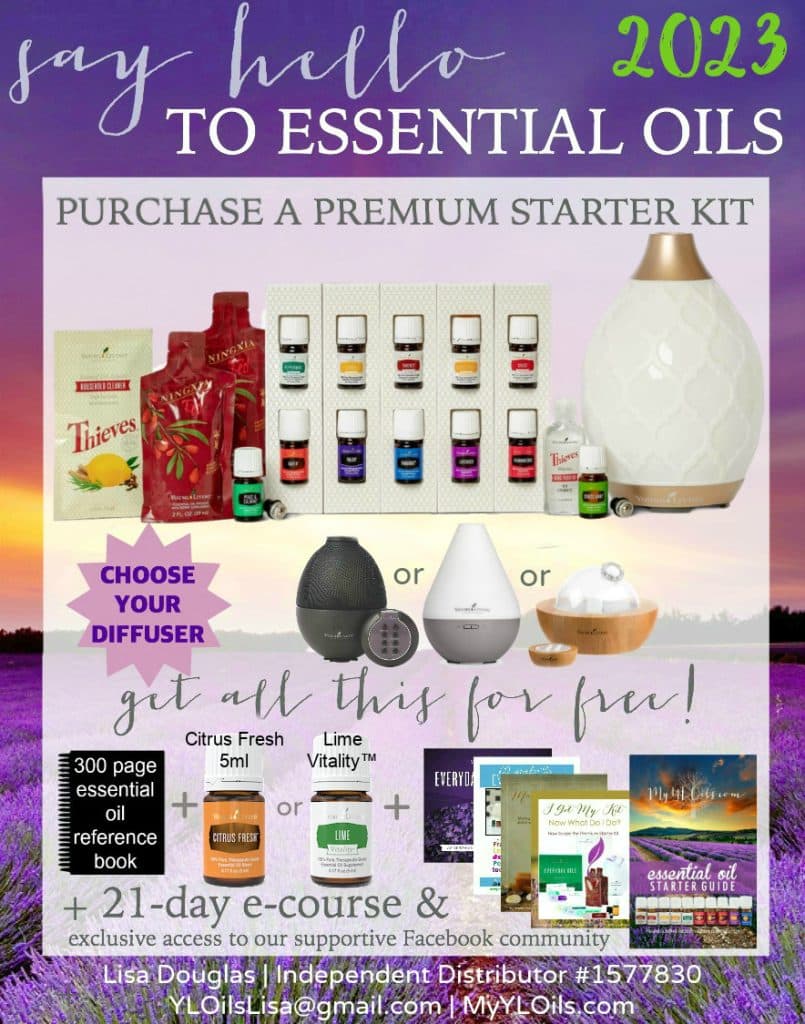 If you enjoyed these Young Living fall diffuser recipes I've shared, be sure to check out my other Young Living posts while you're here, and please considering sharing this and other posts with others!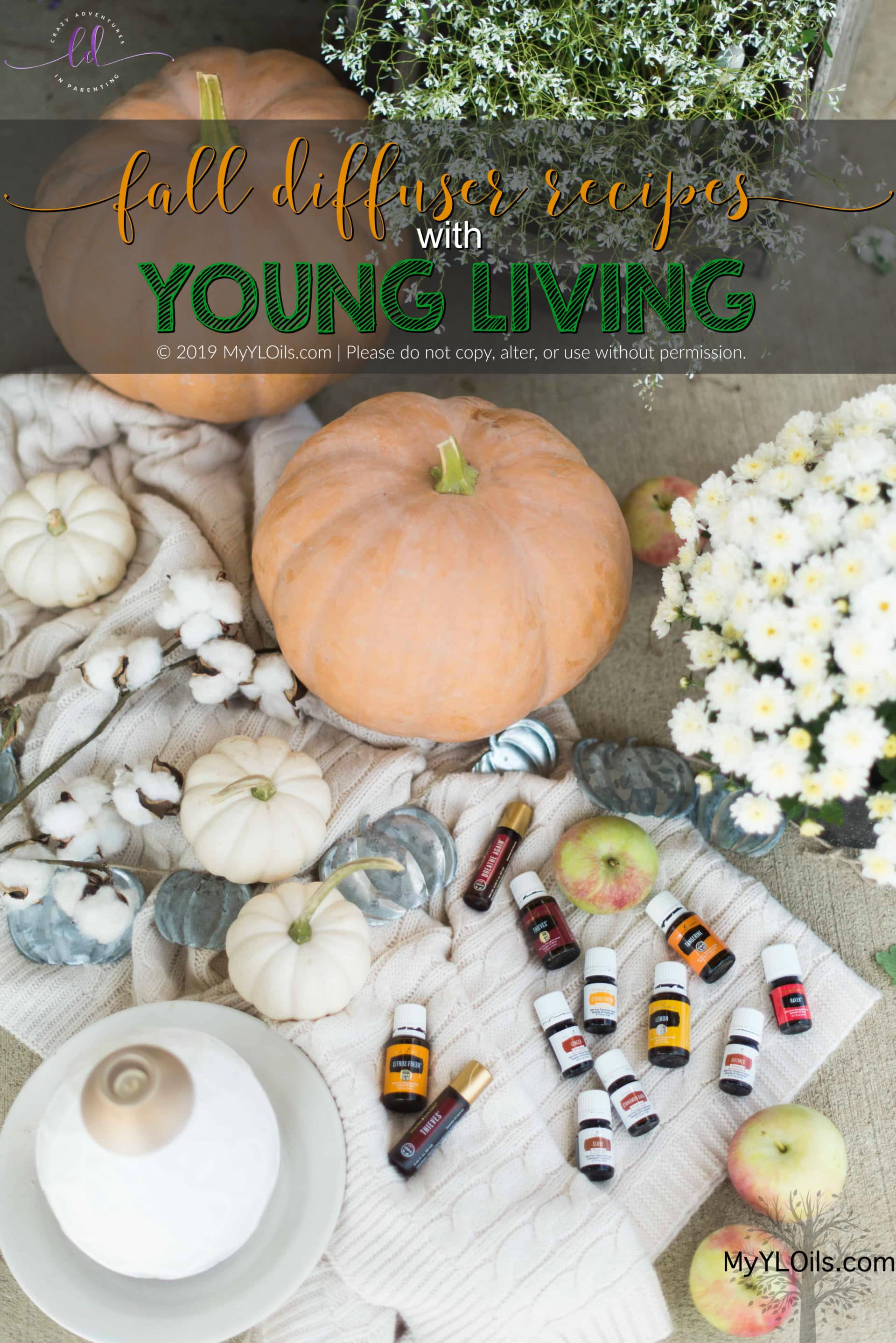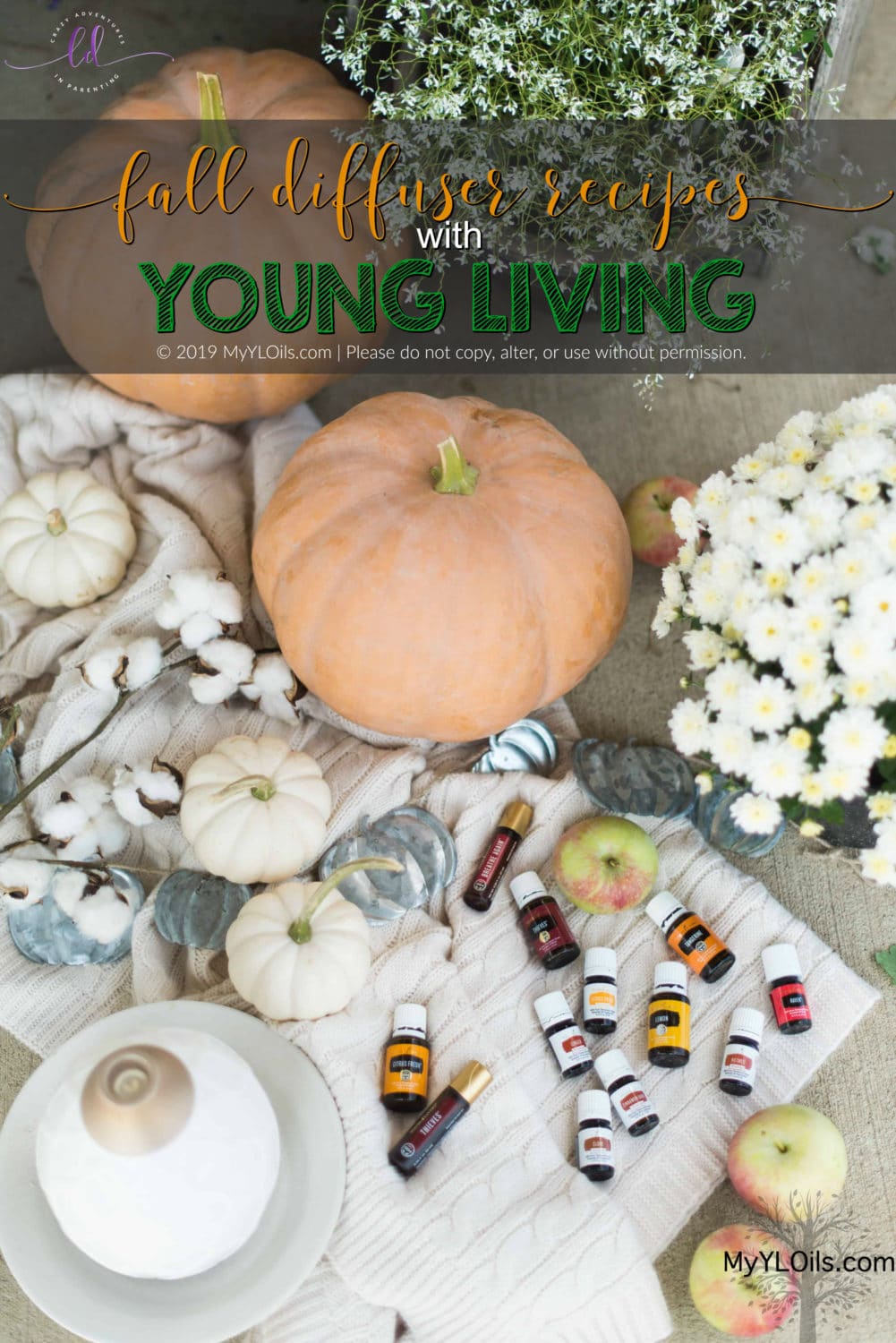 *These statements have not been evaluated by the Food and Drug Administration. Young Living products are not intended to diagnose, treat, cure, or prevent any disease.