Want to know more about the benefits of using Young Living Essential Rewards program and how much you can save every month?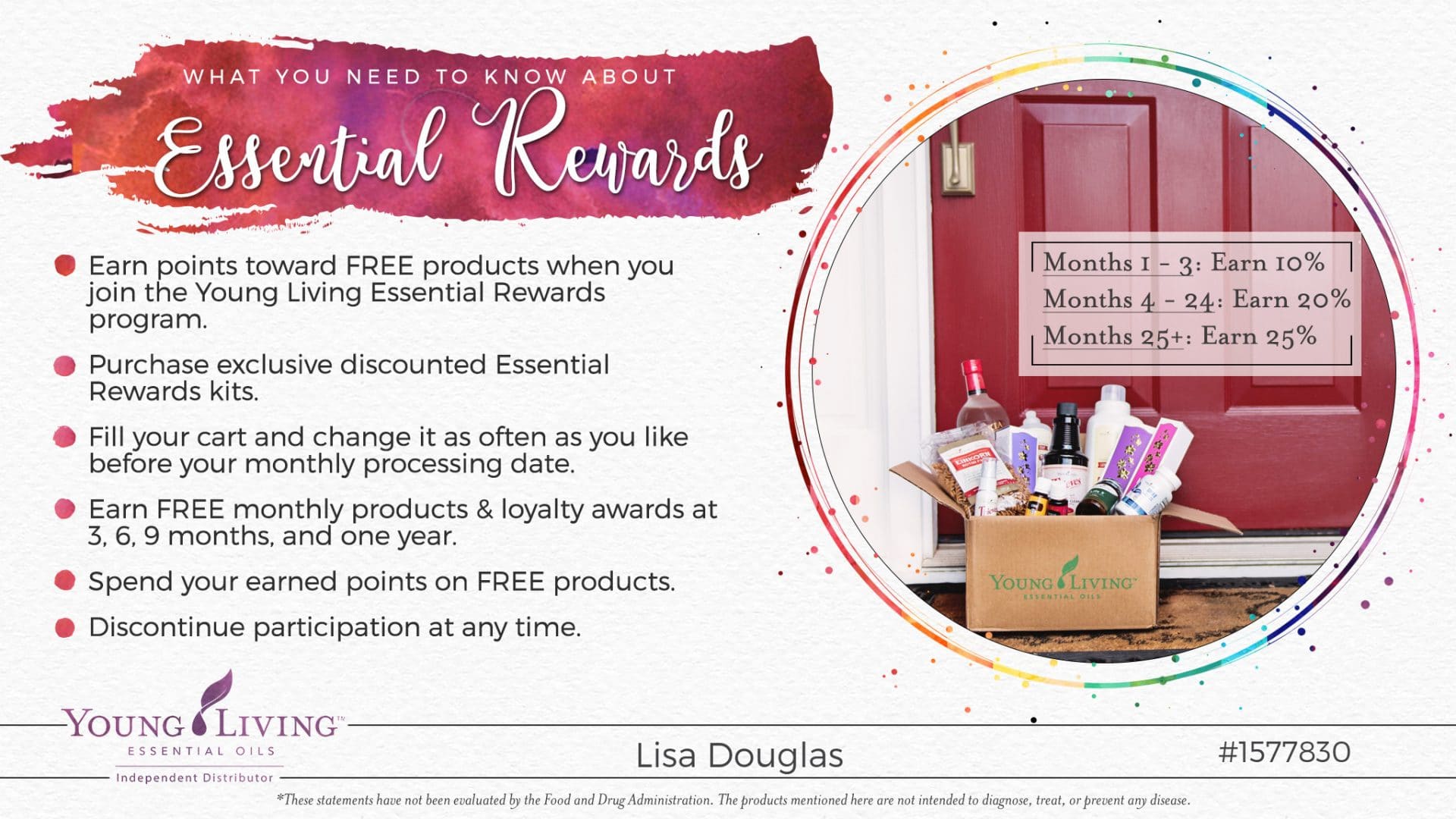 Young Living Essential Rewards
When you sign-up for Essential Rewards, either with an Essential Rewards Kit or choosing your own products for your Essential Rewards order, you will make the most of your monthly order because you'll earn points to use towards free product with every ER order!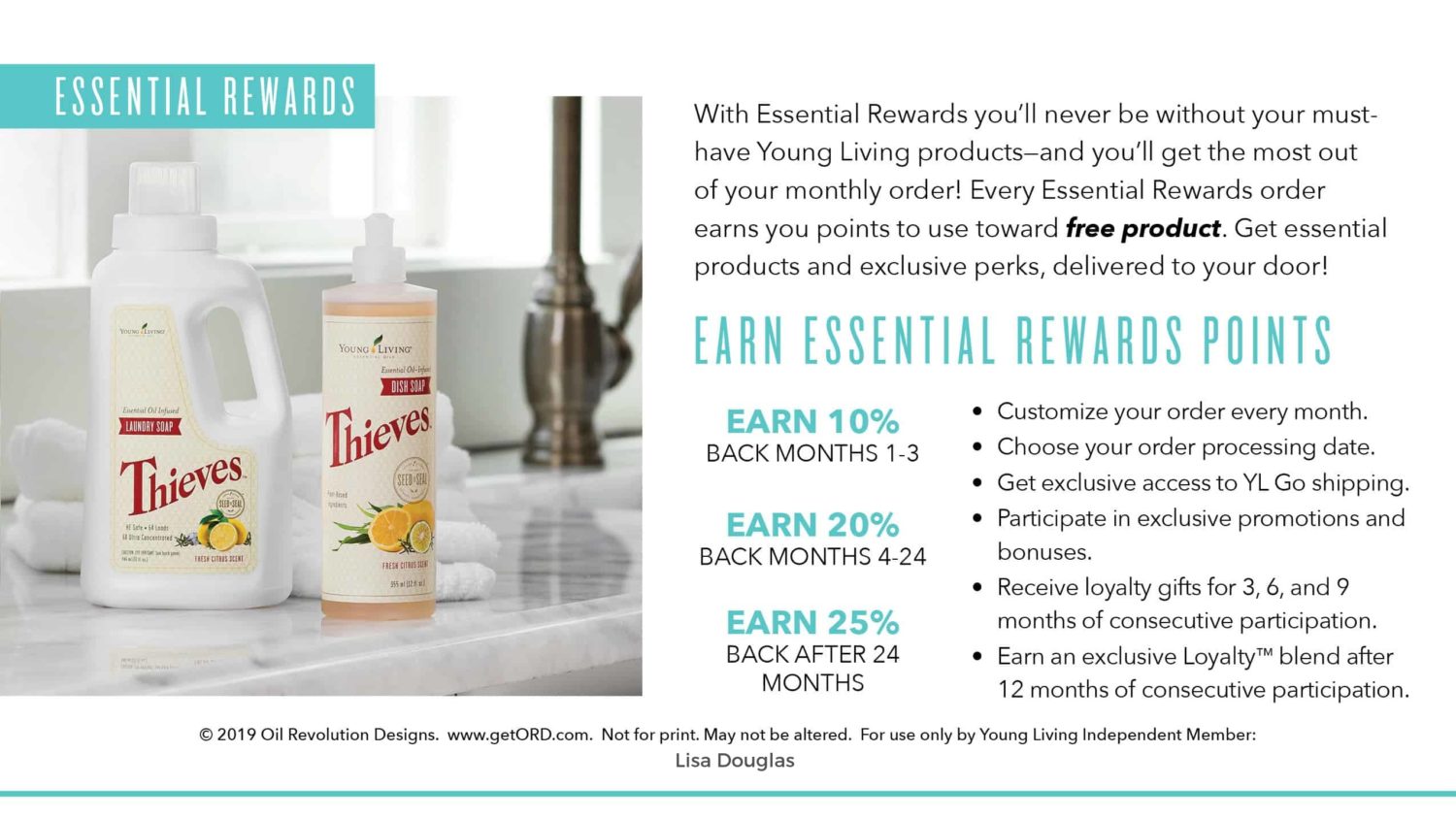 Young Living Essential Rewards FAQ
General
How do I sign up for the Essential Rewards program?
You may sign up in one of two easy ways:
May I change the items in my Essential Rewards order and still receive all of the benefits of the program?
Yes. You may change the items any time until 12 midnight on your processing date (determined by you when you enrolled).May I make changes to my Essential Rewards order online?
Yes. You may make changes to your Essential Rewards order online at any time.
If I wish to cancel my enrollment in the Essential Rewards program, can I do so online?
No. All Essential Rewards enrollment cancellations must be over the phone with one of our helpful Member Services agents.
Do I need to place an order every month?
Yes. The Essential Rewards program offers rewards for shipments that process each month. Discounted shipping, earning loyalty gifts and reward points, and maintaining higher reward points percentages are contingent upon placing consecutive orders.
Is a grace month still offered?
As of November 1, 2016, the option to select a grace month is no longer available. Members will not be able to select this option online or call and request it through Member Services. If a member misses two or more orders within a year, he or she will have to start over with loyalty gift qualification and will begin accumulating points again at the 10 percent level. Any previously earned loyalty gifts will not be available upon requalification.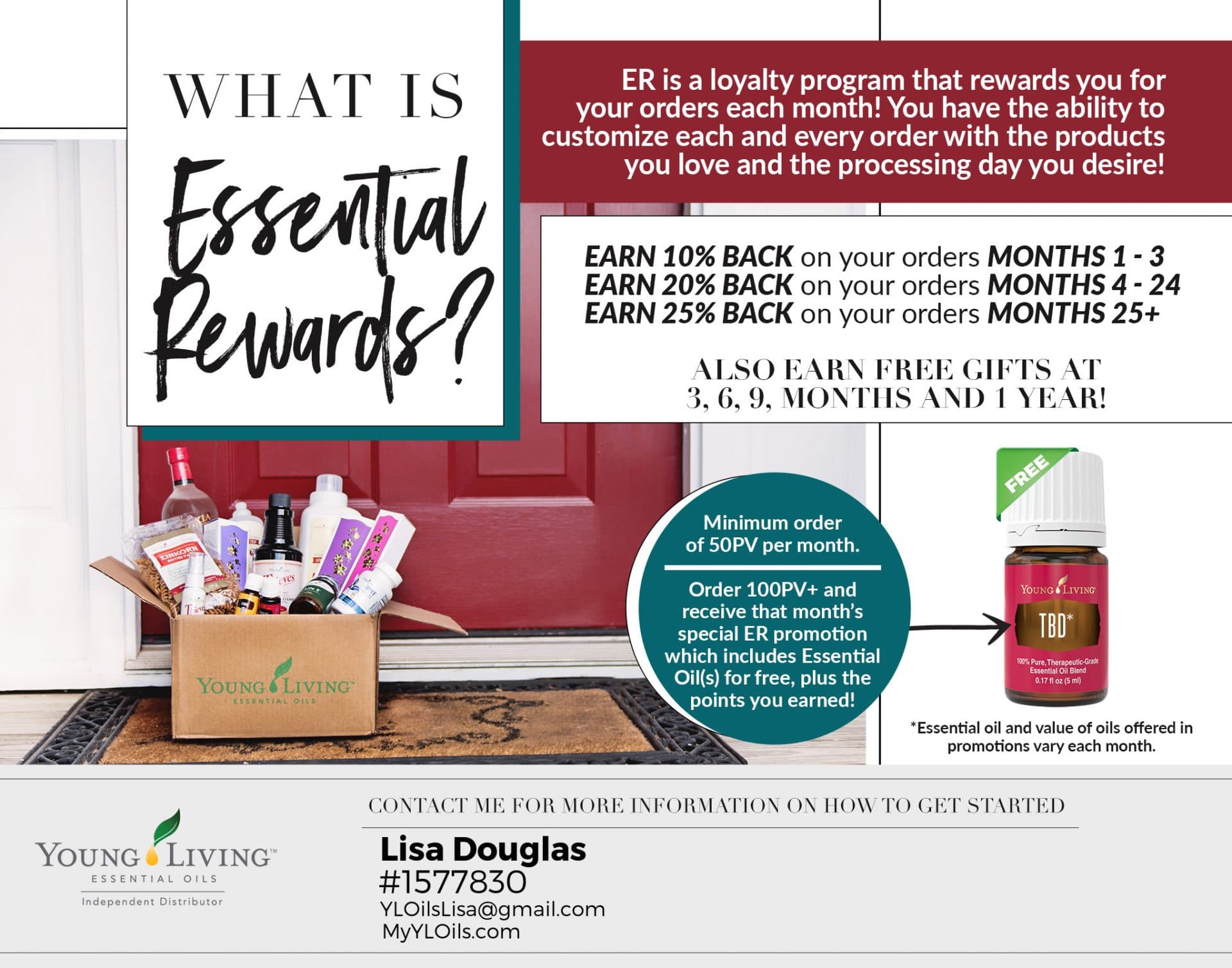 Earning Points on Essential Rewards Orders
How many points do I earn for my Essential Rewards order?
You will receive points based on a percentage of your PV for each Essential Rewards order. The percentage you receive depends on how many months you have consecutively placed Essential Rewards orders. There is no limit to the amount of points you can earn in a month.
1–3 months: 10 percent of each Essential Rewards order PV
4–24 months: 20 percent of each Essential Rewards order PV
25+ months: 25 percent of each Essential Rewards order PV
Is there a minimum PV for my order?
Yes. Your monthly Essential Rewards order in the U.S. must be at least 50 PV to qualify.
Redeeming Points with Essential Rewards
How do I redeem my reward points?
You may redeem your points online at checkout by selecting "Apply Points" or by contacting Member Services at 1.800.371.3515.
How many points may I redeem each month?
You may redeem up to 375 points each month.
If I cancel my Essential Rewards order, do I lose my points?
If you cancel your Essential Rewards order, you forfeit all of your unused Essential Rewards points, and your monthly participation in the program, if resumed, starts over at the 10-percent tier.
Do I retain points earned for returned products?
You will forfeit any points earned on products that you later return.
How soon may I redeem points that I earn?
You earn points the minute your order is shipped. You may redeem points any time after you have participated in the program for two months.
When redeeming my points, do I go by the dollar amounts or the PV amounts in the price list?
When redeeming Essential Rewards points, use the PV amount rather than the dollar value. For example, if you have 50 points, you may redeem them for any product with a PV value up to 50. Points may only be redeemed for products with full PV values.
May I use my points for promotional products, such as discounted items?
You may buy any regularly available products at regular price as part of your Essential Rewards order, but you will not receive the discounted pricing if the item is part of your Essential Rewards points order. Some promotional items may not be available for purchase at all using Essential Rewards points. Contact Customer Care at 1.800.371.3515 if you have questions about specific items.
Do my points expire?
Yes. Unused points expire on a 12-month rolling basis, meaning 12 months after they were earned.
How to Earn Young Living Essential Rewards Loyalty Gifts
Just how exactly do you earn loyalty gifts through the Essential Rewards program, and what are they? Read on for the answers:
How do I earn gifts through the Essential Rewards program?

When you automatically place consecutive Essential Rewards orders, you can earn exclusive gifts. You'll qualify for these gifts when you place consecutive Essential Rewards orders for 3, 6, 9, and 12 months. After 12 months, you'll receive gifts after every additional 12 months of consecutive orders.

How will I receive my gift?

The gift will be added automatically to the next processed Essential Rewards order. For example, if a member reaches his or her third month in November, the gift for the third month would be added to the Essential Rewards order in December.

If I earn a gift and then don't process an order, can I re-earn that gift?

No. You may only earn each gift one time. For example, you might earn the three-month gift and later cancel your Essential Rewards orders. If you start Essential Rewards again, the next gift you'll be eligible for will be the six-month gift, not a second three-month gift. If you cancel your Essential Rewards order the month after you've earned a gift, the gift will come with your next processed Essential Rewards order, should you choose to reactivate in the program.

If I already have an active Essential Rewards order processing monthly, how do I receive my gift?

We began tracking members' consecutive Essential Rewards orders starting in September 2016, including the orders of those who maintained active Essential Rewards orders prior to this time. This means that September was the first month for everyone to begin qualifying for Essential Rewards gifts for consecutive orders. Once a member achieves the threshold to receive a gift, it will be delivered with the next processed Essential Rewards order.

Q. What products are being offered as loyalty gifts?

A. For the United States, the gifts are as follows:
3-month gift: Peppermint Vitality essential oil, 5 ml
6-month gift: Thieves Vitality™ essential oil blend, 5 ml
9-month gift: Melaleuca Alternifolia essential oil, 15ml
12-month gift: Loyalty, an exclusive blend formulated by Young Living Founder D. Gary Young specifically for Essential Rewards members who order for 12 months!

What happens if a gift is out of stock?

If a gift is out of stock, a substitute will be made for another product of similar retail value.
Essential Rewards Shipping FAQ
How do I get the $6.98 flat shipping rate?
All Essential Rewards orders that weigh up to 5 pounds and are shipped ground within the U.S. or Canada qualify for the flat shipping rate ($6.98 U.S./$9.75 CAN). Heavier orders are priced at an additional $0.63 U.S. for each additional pound thereafter (in the continental U.S. and for FedEx Ground shipping only). Orders shipped to Alaska and Hawaii ship for a $12.50 flat fee for the first 5 pounds and $1.25 per pound thereafter (FedEx 2Day air only). For international shipping, please contact Young Living Customer Care.
May I select other shipping methods?
Yes. However, the $6.98 flat shipping rate is available only on orders shipped using FedEx Ground (the $12.50 rate applies only on orders shipped FedEx 2Day air to Alaska or Hawaii).
May I use my Essential Rewards points to pay for my shipping costs?
No. Points may only be redeemed for products with full PV values.

2020 Essential Oil Deal for You!
Our Black Friday Deal last year was so popular, we've decided to DRASTICALLY improve on that offer for 2020 for the BEST YET! (Coupled with Young Living's HUGE promotions this month, too!) Check out all you can get for free for becoming a wholesale member (like Costco)!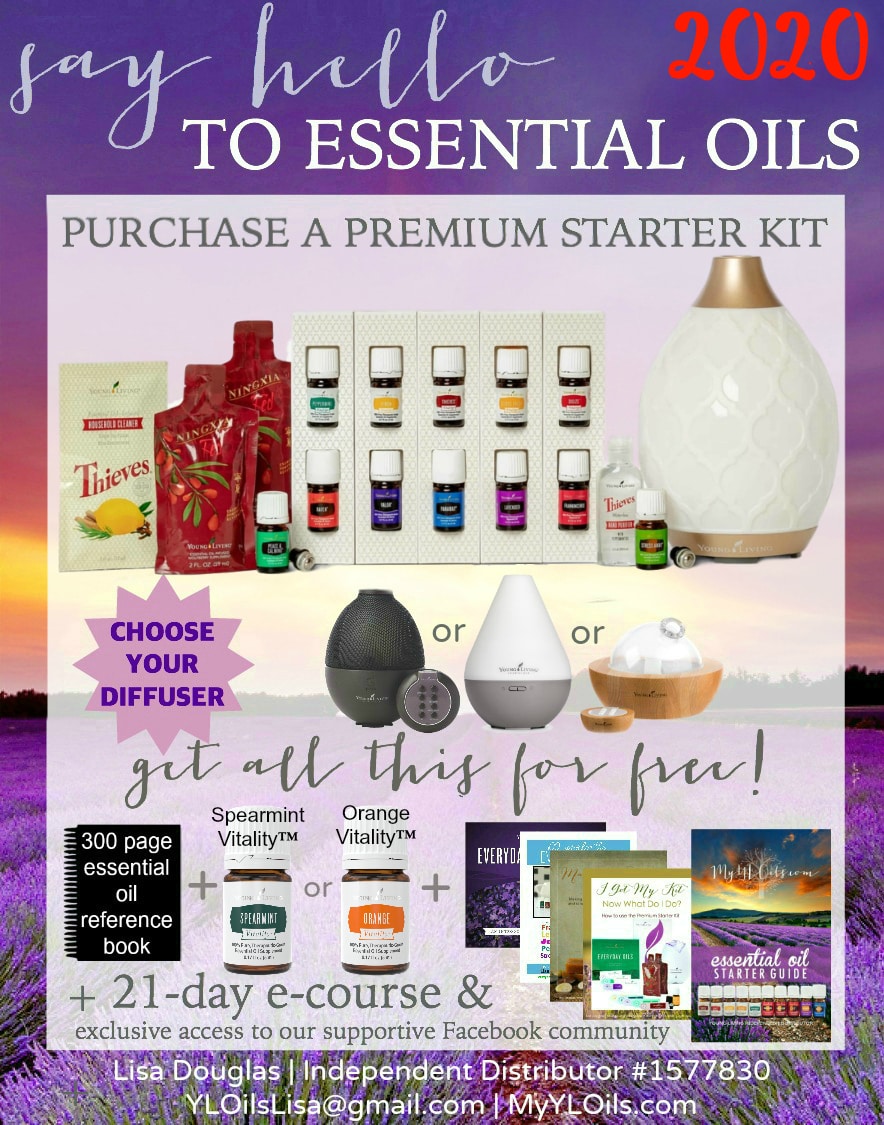 We love and trust using Young Living essential oils, having used them for years. For more information, check out my Young Living information page.