Have a toddler at home who breaks crayons constantly, or has trouble holding the crayons? I have a niece and nephew that are in that category. I saw online once how to make Crayon Nibbles using broken crayons and a mini muffin pan. I absolutely adore this idea. I'm gonna be busy baking these this weekend, along with other Christmas crafts.
What you'll need:
Crayons (like I said, you could use ones you already have or buy some. I purchased 5 boxes of 24-pack crayons for 20 cents each – back to school bargains!)
mini muffin pan (one that you don't mind getting a little crayon on)
exacto knife (optional)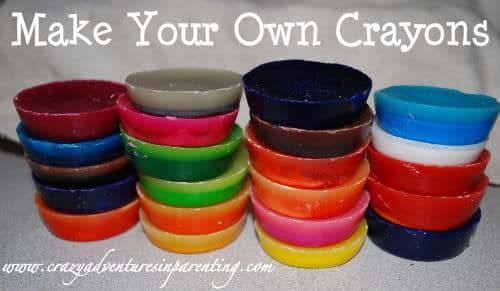 You'll want to preheat your oven to 265 degrees F. Peel off all the paper from the crayons (for the new ones, I found it much quicker to remove the paper in one smooth motion if I carefully ran the exacto knife down the center of the paper and peeled the paper back), and break them into 1/2″ to 1″ pieces. Arrange two to three like colors in each slot, then bake for 6-8 minutes (don't over bake – you want them just melted so you can't distinguish the crayon shape anymore). Let them congeal a little on the counter, then place them in the freezer until they are firm (approx. 30minutes). They should then pop right out.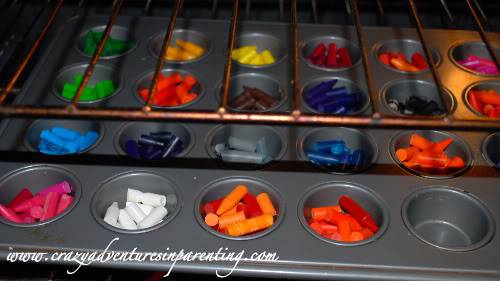 This is great for little hands that aren't steady enough to hold thin crayons. They can wrap their whole hands around them and go to town without breaking them.
They also make great back to school and birthday gifts for other little artists in your life.
If you're looking for a great, handmade gift to give and not a lot to spend for a toddler in your life, this could be it.
We're also making Homemade Applesauce Spice Ornaments! My children made these in school. They are AWESOME!
1 cup cinnamon
1 tbsp. ground cloves
1 tbsp. nutmeg
1 tbsp. allspice
1 tbsp ginger
3/4 c. applesauce
In medium bowl, combine cinnamon, cloves, allspice, ginger & nutmeg. Add applesauce, stir to combine. Work mixture with hands 2 to 3 minutes or until dough is smooth and ingredients are thoroughly mixed. Roll out dough to 1/4 inch thickness. Cut dough with cookie cutters.Using straw or pencil, make small hole in top of ornament. Bake on an ungreased cookie sheet at 150 degrees for 1 hour. Remove from the cookie sheet and bake on the oven racks for another hour and a half. Use these ornaments to decorate gifts, hang on tree, etc.
I'm also interested in making some homemade vanilla extract to give. It won't be ready for quite some time, but I absolutely adore the idea of doing it myself. I googled it and saw plenty of resources.
Happy Holidays!