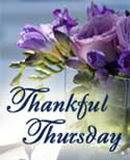 Today seems to be one of those days where I've gritted my teeth, clenched my fists and let some aggravation fly. But instead of venting, instead of getting angrier, I am going to be thankful for it all.
I am thankful my son has friends, despite the little boy who won't stop knocking at our door every 5 minutes for him, because it means he has a friend who cares where he is,

nevermind checking every 5 minutes…

*reminder to self… staying positive*..
I am thankful my children are in school, despite that it takes over an hour to go from one school to the next for pick ups daily, and that my poor aching 8 1/2 month pregnant back kills by the time I get home, because it means my children are getting educated and making friends.
I am thankful for this house, despite all the repairs it needs and the fact that it needs a paint job and major lawn repair and other things that have cost us a lot so far, because it means I have a home and roof over our family's head.
I am thankful for my minivan,

despite it costing us over $200 yesterday in brake work and an alignment when its practically new (a 2006) because of Walmart's misguided attempts to 'fix' a tire back in North Carolina,

because it means I have a reliable means with which to transport all of my children to and from activities and on vacations.
I am thankful for the Army,

despite it's ups and downs and for taking my husband away from me and our family in the past,

because it provides my husband with a way to support our family that he loves, allows us to travel and meet new people, gives us a house, medical, and gives him tons of opportunities. Not to mention my husband's schedule with this new job kind of kicks serious butt and will allow him to be home with a new baby coming A LOT more. Like, a crazy amount a lot. *squee*
Ok, so maybe I snuck in a pseudo-vent or two a little. But you get the point 😉 I am thankful. Despite the neighbor kid who just knocked twice since typing this up, gritted teeth and all, I am thankful.