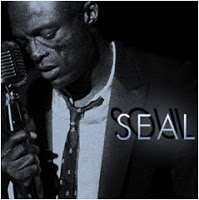 One of my most favorite songs by Seal is "Kiss From A Rose". I definitely wasn't the only one who loved that song, as he ended up with a Grammy from that CD entitled Seal II, which included the songs "Don't Cry" and "Prayer for the Dying." I still have it to this day, it's one of those CD's that the kids aren't allowed to touch, a sworn-off-from-tiny-fingers CD if you will. It's been 14 years and I still cherish every single note. There is something about his voice, so different, so strong yet so incredibly romantic and tender. He can reach right into you and grab you by the heartstrings with his voice, with his words. I am so happy to be a part, albeit a small part, of helping to promote his newest CD, just released November 11th. His one-of-a-kind voice has taken some truly fabulous classics of old, paired up with a one-of-a-kind producer and released a spectacular one-of-a-kind creation as only Seal can.
Each hand picked by Seal and his producer, renowned music maestro David Foster, SOUL is comprised of eleven classic soul songs – chosen from an era when soul music vividly captured emotion, drama and romance – such as Sam Cooke's "A Change Is Gonna Come", Ben E. King's "Stand By Me", and Ann Pebbles' "I Can't Stand The Rain" to Harold Melvin And The Blue Notes' "If You Don't Know Me By Now" and Otis Redding's "I've Been Loving You Too Long", video shown below.

You can purchase SOUL at any music retailer, at iTunes, Amazon or directly from Seal at http://seal.warnerreprise.com.
Are you a huge fan of Seal? Add him as a friend to your Myspace, become a fan on Facebook, or send a quick shout out at Twitter. Seal is also hosting an online Karaoke video contest where you can win 2 tickets to see him perform live!
If that's not enough Seal for you, watch his videos and listen to more of his music on Seal's Official YouTube channel where he has this songs available:

Change Is Gonna Come
I've Been Loving You
It's A Man's Man's Man's World
Win it! –

Has Now Ended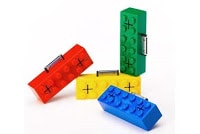 Want a chance to win a copy of Soul, along with these CUTEiPod Retro Mini Speakers? The kind folks at Delight.com want you to enjoy more SOUL on your iPod! From their website:
The sturdy retro shape looks like your favorite interlocking building set (hint hint), and holds your iPod upright and gives enough volume to keep you rockin. Perfect for your cubicle, traveling or the bathroom. No batteries needed! This speaker uses a USB to power through your iPod! Works with all iPod Classic, iPod Nano, iPod Touch and iPod Mini.
For those new to Delight.com, think of it as a unique boutique that stocks the perfect gift for everyone on your list, with a new special featured every day. Delight.com features eco-friendly tote bags, gadgets for guys, kitchen gear, travel essentials, one-of-a-kind baby gifts, stocking stuffers for holiday gift shopping and unique jewelry and décor accessories with most under $50! Join their newsletter to get the Delight.com scoop on deals and tips!
To win, please leave a comment to this post telling me your favorite Seal song (1 entry). For extra entries (please leave a comment for each one you choose to do with a valid email address!)
Blog about Seal's new CD, SOUL, linking to this post and giveaway, and post a comment with your exact blog entry's link. (5 entries)
Sign up for Delight.com's newsletter, and comment that you signed up. (Please note: if your comment entry is chosen, in which you signed up for their newsletter, you will have to forward me your welcome newsletter from them for verification) (5 entries)
Leave a comment on Delight.com's blog. Do this as many times as you'd like for as many blog posts as you'd like to visit, but also add "Lisa at Crazy Adventures in Parenting sent me!" Comment back here with the link to the post. (2 entries for each comment)
Visit Seal's blog and comment on his posts by clicking the title link, and comment about his posts, but also add "Lisa at Crazy Adventures in Parenting sent me!" Please come back here and comment with each post you visit. (2 entries for each comment)
Leave me a comment in some of

my

other posts, and link back here with each blog post you visited and commented on! (1 entry for each comment)
Follow me on Twitter. I'm CrazyAdventures. Post a comment with your Twitter username so I know who you are. If you already follow me on Twitter, comment and tell me, it still counts**! (1 entry)
Twitter this contest as many times as you'd like, each time is good for one entry! Just be sure to leave a comment each time you do so I know how many entries you're in for! (1 entry for each tweet!)
Subscribe to my blog, and post a comment and tell me you did with your email address for verification. If you already subscribe, let me know, it counts**! (1 entry)
Follow my blog and leave a comment you did, and if you already follow, let me know, it still counts**!(1 entry)
**It 'pays' to stay connected to me and my blog, as it earns you automatic entries into all of my contests!
Winner will be chosen using Random.org. Contest ends Friday, November 21st, at 9pm CST.
This CD definitely receives our "Crazy Family of 8" Stamp of approval. Thank you One2OneNetwork for the opportunity to review this fabulous CD and Delight.com for this giveaway!