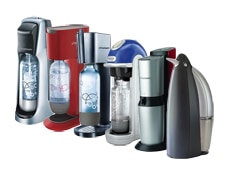 My husband is a huge soda nut. It was one of the last things we were having trouble 'kicking' out of our lives on our road to healthy-ness (for me it's Hellman's mayo and Hidden Valley ranch dressing, as I don't think organic versions of either taste good, but that's another story). He had already given up spending a great deal on name brand soda, for the sake of saving money (choosing name brand to store brand), due to my Budget Challenge, but we knew we weren't helping the environment any either by his continuing to drink soda, considering all of the recycling we were doing with his 2 and 3 liters once he was finished with them, not to mention what it was doing to his health!
I often wished for there to be a better way! A better way for him to drink the drink he likes, to make it healthier, to not use so many plastic bottles, and not cost an arm and a leg.
Lo and behold, there is! The Sodastream by SodaClub USA.
When I received the Sodastream, I knew this was going to fit into our lives harmoniously. Eco-friendly, make it yourself, healthier for you, inexpensive – that is so totally what we look for! The entire family got into taking the contents out of the box, inspecting it, and getting into working with it – except it recommends using cold or chilled water to start, which we didn't have off the bat. So we filled the 2 bottles it came with up with cold water, after we rinsed them out, and chilled them in our fridge for a couple hours before we concocted the new soda from the Sodastream…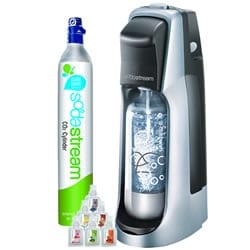 …and we haven't stopped filling them since. We LOVE this thing! It sits right beside our microwave and has to be one of the coolest inventions, ever. We use it almost every other day (as we run out).
A useful tip – once we make soda, we immediately wash out and refill the bottles to be placed in the fridge, so the chilled water is accessible at the time we want to make the soda, so we no longer have to wait to make it!
My husband's absolute favorite is the Energy Drink, he doesn't drink coffee like I do (shock!) but does enjoy an energy drink, he says it's the best tasting he's ever had, and he indeed has tried them all. And it costs less to make it than it does to buy it! $2-something to buy, it costs .60 or so to make a liter! Sweet!
My husband is also a huge fan of berries and grapefruit, so he's enjoyed combining the two flavors they offer, Pink Grapefruit and Cranberry-Raspberry and/or combining it with the Lemon Lime (which you can compare to Sprite® and 7-Up®). Concocting is the funnest part!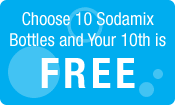 Not the hugest soda drinker myself, I enjoy having some every now and again, and am very happy to now have a way healthier way to drink AND make it, particularly because I'm a Splenda® user (to cut down on my own sugar intake, I have used it for years) and their diet sodamix flavors use Splenda®, no sugar, no aspartame – huge huge plus for me!
The regular sodamix flavors are healthier too! The cola sodamix is close to the other brands, but has a slight aftertaste, so we choose to mix other flavors with it instead of drinking it on it's own, which tastes pretty fantastic if you ask me. Useful info ~ the regular sodamix flavors, while they contain less sugar, calories, carbohydrates and sodium than the other brands, are sweetened with a combination of sugar and Splenda®! Neat way to cut down on sugar!
Talk about eco-friendly! It uses no power. There are no cords, no batteries. You use the appropriate canister, and that's what it uses to 'power' it, that's it! And you control the fizz and flavor intensity, so you can even stretch about how much it makes by using less fizz and less flavor or more fizz and more flavor! There are 25 flavors (and more coming!) to choose from, so take your pick, or get their sampler of their 12 most popular flavors and try them that way!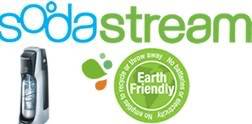 A lot of moms like me find that Sodastream offers a healthier, environmentally friendly way for their kids to experience carbonation without the high-fructose corn syrup in store-bought sodas. My kids don't EVER get soda, but now they do, because I can use OUR water, OUR carbonation, and OUR juice! How? You can use the soda maker to make sparkling water, and then add the juice of your choice (or juice concentrate) for a kid-friendly sparkling juice drink. My kids love it! We get a juice bottle down to about 1/3 or so of the bottle, then pour the carbonated water in, and there we go!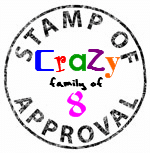 Should you choose to use Sodastream sodamix for them, there is no HFCS (high fructose corn syrup) in the regular flavors, and no aspartame in the diet flavors.
The Sodastream is DEFINITELY worthy of the "Crazy Family of 8" Stamp of Approval for ease of use, being fun and eco-friendly!
Another cool thing about SodaClub and Sodastream? Come up with some new drinks, submit your recipe, and enter to win $50 in SodaClub products! The possibilities are endless with what you can come up with!
Want to see it 'in action'? Check us out! Super easy!
Interested? They're running LOADS of specials, just in time for the holidays!


Win It! – CLOSED
I am SO excited that Soda Club has graciously given me the chance to giveaway to one of my readers a black/silver fountain jet starter kit… which includes the soda maker, as well as an extra carbonator, flavor samples, and 3 full-sized flavor bottles of the winner's choice – a great way to get you started! Retail value is approximately $100.
To enter, please comment below and tell me what 3 flavors of sodamix you're most looking forward to trying! Don't forget to enter in a valid email address as well.
For extra entries:
And as always, you can gain extra entries by:
Blogging about this contest with a link back to this entry. Come back and comment here with your link. (5 entries – post 5 comments with your link, numbering them)
If you don't have a blog, email

at least

five friends and CC me in on the email! My email is crazyadventuresinparenting at gmail dot com. (5 entries for 5 friends, 1 entry per person after that! Come back and number your comments after you do!)
Leave me a comment in some of

my

other posts, and link back here with each blog post you visited and commented on! (2 entries for each comment)
Follow me on Twitter. I'm CrazyAdventures. Post a comment with your Twitter username so I know who you are.

If you already follow me on Twitter, comment and tell me, it still counts

**! (1 entry)
Twitter this contest as many times as you'd like, each time is good for one entry! Just be sure to leave a comment each time you do so I know how many entries you're in for, along with your Twitter username and, if you know how, the exact link to your tweet! (1 entry for each tweet, unlimited entries possible!)
Subscribe to my blog, and post a comment and tell me you did with your email address for verification. If you already subscribe, let me know, it counts!** (1 entry)
Follow my blog and leave a comment you did, and if you already follow, let me know, it still counts!**(1 entry)
**It 'pays' to stay connected to me and my blog, as it earns you automatic entries into all of my contests! (Plus, I'm kind of fun to be around, too)
Winner will be chosen using Random.org. Contest ends Monday, December 15th, at 10pm CST.
Open to residents of the continental US and most parts of Canada
Happy Holidays! Good luck!