In today's society, with the hustle and bustle we each face of coordinating this play date with this activity (especially if you have more than one child), keeping your child entertained while out and about can become a daunting task unless you want to pack an overnight bag or equip your vehicle with a small toy box. If you're having to be out to get things done, you want your child to have a constructive activity to do, like coloring, drawing, reading, etc, but sometimes, especially with more than a couple children (like me), that requires having more space than we're equipped to carry, or bringing more things than you'd like when you go out.
Enter MobiStories, digital and online e-books for your child, available to them through your personal electronic device. Think of Amazon's Kindle, except you're using electronics you already own, such as your iPod, iPhone, laptop, MP3, Zune and many more. Mobistories are narrated digital children's books with illustrations and music. With a variety of digital formats: PC (WMV); Mac (MOV); iPod (M4V); and Audio (MP3), which you have to pick at time of download, they are available immediately for download following payment, with most of their file sizes ranging between 15 and 20MB. They are viewable on both MAC and PC. You can even preview the books before you purchase, to take a peek, making the decision to order that much easier!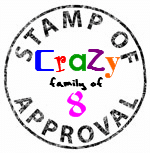 If you're the type of parent who tries to limit the 'screen time' because you don't feel it's healthy or productive, MobiStories is an option that will allow you to compromise. It's also something useful for long car trips, flights and more. Definitely worthy of our Crazy 8 Stamp of Approval!
If you're interested in trying this out, MobiStories has given you the opportunity to try free! Use the promotion code BSM120A and download up to $15 of MobiStories books for free. I've taken them up on their generous offer, why don't you? It's free! Try it!
If you love it, get more free books by giving them your email address, and another free book by referring three friends to the site here. How awesome is that?
Thank you Mom Select for the opportunity to try this!