What makes me so special?
What makes me so blessed to have six, beautiful, happy healthy children yet others have to suffer?
I stare into the big eyes of my children, so helpless, so perfect and beautiful and fortunate, and I simply can.not imagine them or any others their age having to go through disease.
Children should not.
I don't believe anyone should, but children, what have they done? They are too new, too fresh to this world, to life, to have to endure anything of the sort.
It hurts my heart to know how many children are out there, suffering, in pain.
*gulp*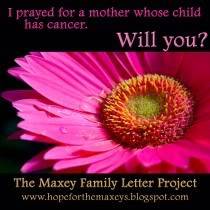 I can't even imagine what these people must be going through. First
their first daughter
was lost to cancer. Now
their second daughter
, 3-months-old, just a week younger than my baby, is fighting for her life with cancer, too. I can't even bear it, what they must be going through.
If you choose to participate, do not let them know what is going on, this project is secret.
I'm off to go snuggle and snack on my pudgy and blessedly healthy baby, accompanied by his equally healthy and happy five siblings, being held and cried upon by his gratefully and tear-stricken mother, while watching them play outside for a while, despite the cold.
Thank you so much Heather for showing me this.