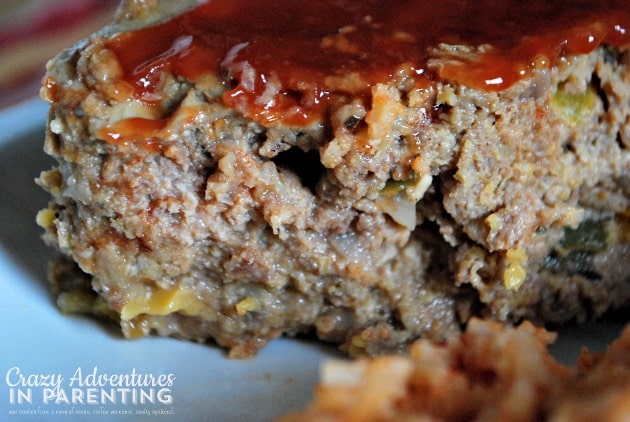 No joke. My oven trembled in fear when I put this bad boy in it earlier. It is the single, biggest meatloaf I have ever seen. Where's that Man v. Food dude. He'd agree. (And he'd probably be scared of it too).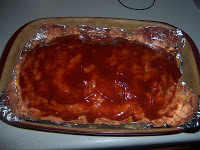 (Don't let the tiny picture fool you, that's in a 9×13 casserole dish/roaster. IT TAKES UP THE ENTIRE THING!!!)
Looking for recipes the other day, I came across this one on Pioneer Woman Cooks, for a Cajun Meatloaf, originally shared from Pastor Ryan from This Is Reverb. Good, good stuff!
So, minus the onions, and a bit more spices, I've made mine, see tweaked recipe below. And she is massive! Unfortunately, so much so, as it took too long to cook… over an hour. I swear my oven isn't calibrated properly. Could also be that I had to put it into a roaster instead of a baking sheet, too…
**Note, should you try this, use something a) big enough and b) with edges because in true meatloaf fashion, there is fat that cooks off). And you might want to half this for your family, as this thing almost could've fed TWO of our family (and as you know, we have a big family!)
Make it with your favorite mashed potatoes, veg, and biscuits and you're ready!
Have fun takin' down the Meat Monster! And, if you're looking for a little adventure (and to make things easier on yourself, try this slow cooker meatloaf variation!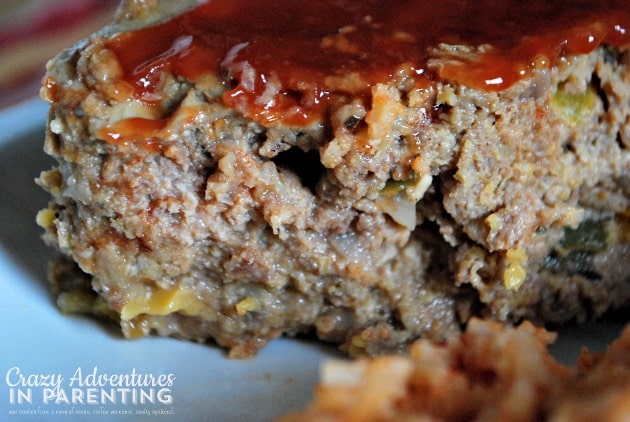 Cajun Meatloaf
This Cajun Meatloaf is one of the tastiest, most flavorful meatloaf recipes ever!
Print
Pin
Rate
Instructions
Dice up vegetables, as finely as you can. The smaller the better, so perhaps the kids won't see you snuck vegetables in it and attempt to pick it out of your beautifully made meatloaf later, because you failed to chop them fine enough *cough* (Can you tell that happened to me?!)

Place 6 pats of butter into a skillet, and once melted, saute your super-finely chopped vegetables for a couple minutes with a tbsp or two of garlic salt.

Add all of your seasonings and Worcestershire to the vegetables and continue to saute for a couple minutes.

Add 1/2 cup of ketchup. Stir thoroughly, and remove from heat.

Add 1/2 cup of milk. Once mixed in completely, add 1 cup of breadcrumbs to start. It'll need to be paste-like, so if it isn't, continue to add bread crumbs a little at a time, mixed thoroughly in between, until it's the way we need it to be.

Let the vegetables cool for a bit while you heat up the oven at 400 degrees and whisk the eggs, adding them to your beef mixture in a big, massively big bowl. (BIG bowl. Did you see all that up there? Yeah, it needs to be big. 3 lbs of beef + all those vegetables kind-of big)

Using a meat-grinder-upper thingie (like how technical I am there? That thing I pictured is what I mean), grind up the meat and the eggs untils well blended. (By the way, I'm apologizing in advance for your arm, since after chopping all those vegetables, and now blending and mixing these meats, they've got to be tired. Sorry, man. It'll be worth it)

Once cool, add the vegetables and mash again, into one big, sloppy meat ball.

I laid some foil down in my pan before laying it. You may or may not want to, depending upon your cut of ground beef – how lean it is, I mean. I thought I'd be able to lift the sucker up when it was done. I was wrong. Our meat wasn't lean, so there was a lot of 'drippings', so I couldn't. So needless to say, whether you do or you don't, lay it on a pan with edges (for drippings-sake) and form it into a log, only an inch or two high, and as long as you can bear it without it going too near the ends, unless you have a casserole dish like me, in which case, do what you need to do, it's fricken HUGE!

Mix 3/4 cup of ketchup with 2 tbsp of honey, and lay it on top as the glaze. I never glazed mine before, and it was tasty!

Bake until a meat thermometer says it's done (180 I believe).