I've been struggling with what to do for Tuesday's family. I am thankful that I don't have to struggle, anymore.

Jay over at Halftime Lessons shaved his head last year in support of children's cancer research with an organization called St. Baldrick's and plans to do it again this year. Last year he raised over $1600, and he'd like to help raise even more this year. To donate using Paypal, you can visit his blog here for the link, or to pay with a credit card, you go straight to his "shavee" page on St. Baldrick's site here. This is something near and dear to Jay's heart, as he lost his cousin last year to cancer, and his mother is currently undergoing treatment for it as well. I am happy to help spread his effort to help fund research and hopefully soon find a cure for this horrible disease that has taken the life of Tuesday and many children like her.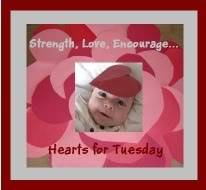 Tamara over at Cheapskate Mom lives in Colorado and was so moved by Tuesday and her family that she plans to attend Tuesday's memorial service and represent those bloggers that can't attend by making cutout hearts, like the ones Jessica posted about, filled with inspirational quotes, messages of love and hope, and pass along to Jessica and the Whitt family. In the center of each heart will be whatever you send her – a note, a quote, a poem, words of encouragement, a song's lyrics, scripture – whatever you choose. You can email her at [email protected]

In honor of one of her favorite things, Em over at Life, Liberty and the Pursuit, along with me and other fellow bloggers who can't attend Tuesday's service, we are supporting her by having a virtual "Wagie-ride" in her honor by using their wagons at home and going out, carting their children along happily in them during her service. If you don't have a wagon, go for a bike ride or a walk. If it's too cold, color, sing, dance around indoors, snuggle them close; whatever you do, celebrate Tuesday on Saturday. Just spend time cherishing your children and doing something they love.
If you choose to participate in the virtual "Wagie-ride", the Whitt Family friend Sharlene would like copies of your footage of your "Wagie Rides" from afar to add to what she's taking at the service in Colorado. If you take a video, e-mail it to her, or, if you use YouTube, email the YouTube link to her at [email protected].
Have you heard of something else going on? Please let me know, and I'll edit this post and add whatever info to my sidebar to join Jay, Tamara and Em's buttons.