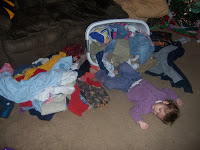 Number 13: Freshly folded laundry. See picture. 'Nuff said.
Number 12: Anything in a bottle with a supposed "Child Protective Cap." They may SAY it's childproof, but toddlers have genes similar to Houdini. No joke.
Number 11: A beverage not in a child cup. If they can reach it, don't even try to save it. Just get towels. STAT.
Number 10: Anything weighing more than a couple pounds. Don't be fooled by their small stature, they could play for the majors. If you value your forehead, put heavy objects out of the way.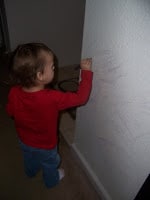 Number 9: Seasoning of any kind left on the table. Consider it empty when you discover it's been left there.
Number 8: Writing implements of any kind. See that picture? That's why.
Number 7: A dangly cord. Toddlers are like miniature Indiana Jones', with ninja-like skills that can take down your breakables in a single bound. Or your eye, whatever, it's of no concern to them once they start flingin'.
Number 6: Baby wipes, if you expect to have anymore after she gets done with 'em, put 'em up.
Number 5: Same goes with make up.
Number 4: And with nail polish. (Don't ask how I know this…)
Number 3: Toilet paper. Your toddler loves to play mummy with your entire house.
Number 2: Your wallet and keys. It's never fun to scour the house to try to find your ID card or driver's license so you can leave the house.
And the Number 1 thing you don't leave around your toddler….
What I'm thankful for today – a sense of humor, because without it, the above would've made me completely gray by now!
For more like this, visit Thankful Thursday and Happy to be at Home's new Thursday Thirteen.