If you're like me, you've got a bazillion pictures of your family. You've probably even got a few that have a lot of dead space, strange angle, or could use a little pizzazz. But, up until now, the idea of using photo-editing software to jazz 'em up may have scared you a bit, as there are "hues" and "filters" and lots of mumbo-jumbo that are hard to learn.
Play With Pictures is easy enough to use, your children can use it! School projects can be taken to another level with Play With Pictures. Homemade greeting cards, letters, or just playing around, you can do anything you or your child wants and make a great, fun layered photo come alive!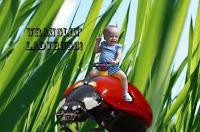 Take any picture you envision as a background and add to it images of you, your children, animals or whatever you'd like, by cutting them out and layering them. Add text or bubble boxes and you've got yourself a masterpiece all your own, in just a few easy steps, without difficult directions or processes to learn! You can create a picture of your child riding a ladybug, just like that one!
Or, do as I did, I created a picture of my children, that we could easily turned into a postcard. See?
Isn't that cool? Here's how it works:
Pick a picture you'd like to make as the background. You could pick a picture of a planet, of the ocean, animals at a zoo – you choose! I didn't want to get too crazy off the bat, so I picked that tree at sunset you see. Next I started taking individual pictures I'd saved of my children, and one by one cut them out digitally using Play With Pictures. This part might sound difficult, but really, it wasn't that hard at all. In fact, the program makes it quite easy with their edge finders, finding the edges in your picture for you! Look!
Once the edges are found, you use the tool to sweep over the parts of the picture you don't want to keep. Be careful, use a steady hand, or you make take away too much (this is the part I envision will be the hardest for kids, but should they get a photo with distinctive edges, they should be fine). Should you goof, just click the arrow at the top to redo. Super easy to be able to fix like that!