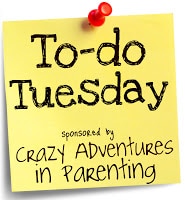 Today is our first "To-Do Tuesday", are you excited? If you're wondering what it's all about…
Have you ever been online and suddenly you remembered you had to do something (like schedule an appointment, call someone back, etc). Where did you write it or jot it down? Did it ever get lost or did you forget completely?
Do you have trouble getting your list done every week and feel, with a little encouragement, you might do better?
Do you do better when you've got 'partners-in-crime' doing it with you? Or if someone checks on your progress (like keeping tabs on you)?
Could you use a little more organization in your life?
If you answered "yes" to any or all of those, then you've come to the right place.
With "To-Do Tuesday", we're attacking our to-do lists on Tuesdays of each week, blogging about our lists and what we've got going on, and sharing it with each other to help keep us accountable. Everyone will come back here to link up in the Mister Linky as the central "To-Do Tuesday Hub" so we can visit who's participating and offer encouragement throughout the week. Yes, I will be checking in with you on your posts to see how you're doing (and I hope that you not only do the same, but that you do it for each other, too)!
We'll cross items off our list as we go and help support each other in completing our lists by whatever deadline we impose. They are your lists, after all, and can be weekly, monthly, for that day alone, whichever you choose!
For me, imparticularly, I could use a little incentive to get some stuff done around here sometimes. What better way than to be held accountable by others, for everyone to see, just what you did and didn't get done, you know?
For your information – I wrote up a quick but useful HTML tutorial on how to effectively "cross-out" or "check off" your items on your to-do list (or any other list for that matter) on your blog posts – it can be found here.
So, for my first "To-Do Tuesday" here's my list for this week:
Pay all bills for the month this week
Grocery shop for the week

Make shopping list (today)
print coupons (today)

Write posts:

for H2B@H
Vlog for NewBaby.com
reviews for here and TypeAMom (or at least start them)
post about launch team
Wordless Wednesday
Thankful Thursday Thirteen
finish posts in queue

Shop for V-day
Make crafts and take plenty of pictures so I can post 'em
Bagels!!
Get more contacts at Walmart
So what is it that YOU have to do today? This week? This month? Anything of importance?
Don't forget to tag your post "To-Do Tuesday" and add our button to it, the code found below!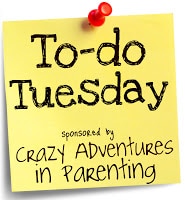 <a href="https://crazyadventuresinparenting.com/" mce_href="https://crazyadventuresinparenting.com/"><img src="https://crazyadventuresinparenting.com/wp-content/uploads/2009/02/PostitNote2.jpg" mce_src="https://crazyadventuresinparenting.com/wp-content/uploads/2009/02/PostitNote2.jpg" border="0″ width="200″ /></a>
Be sure to subscribe for all my latest updates! Are you on Twitter? Add me! And if you're in the mood for music, enter my He's Just Not That Into You Giveaway