.. snuggling into your daddy's arm, wherever you can fit, whenever you can, even if he's busy.
.. is accepting your child's love in the crook of your arm, even if you're trying to concentrate.
.. is ensuring your camera is always at-the-ready, even if it doesn't take the best pictures, to always capture every moment just.like.this.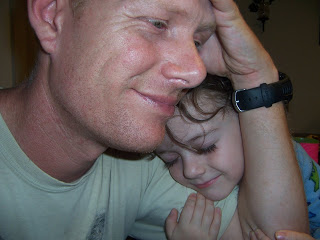 For more Wordless Wednesday, visit
5MFM
and
MomDot
, or for some wordy fun, visit Angie's
Wordful Wednesday
too!
Never miss a post! Subscribe here for all kinds of crazy parenting fun!