Here's what I've been spending my past few days on. We're just about finished with the front (after we fertilize the lawn we'll be done, that is). Here's the tour:
This is next to our front door. My children's handpainted pots with their hand-selected plants. The purple wave petunias in the hanging plant remind me of Maddie.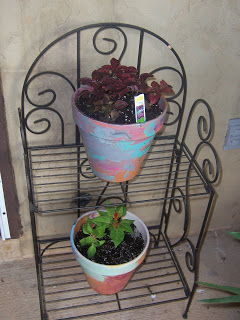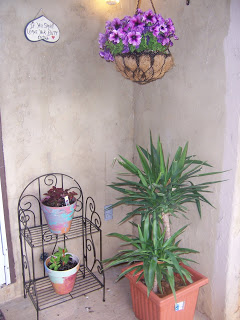 This is the other wall near the door. More handpainted pots by my kids.
Remember them painting it
?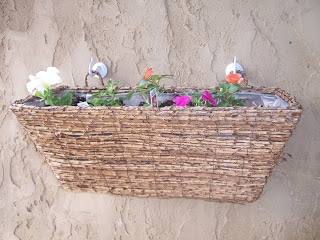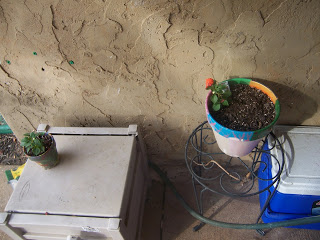 This is the carport area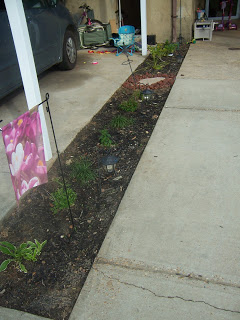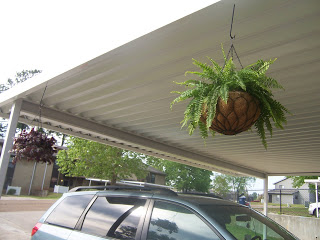 This is my favorite spot to sit, my front porch.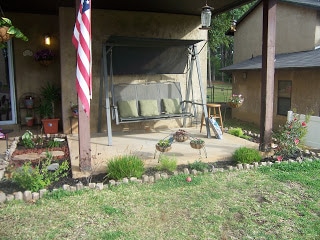 You can get the teensiest glimpse of the time warp that is this house in which we live. We plant, not only because we love it, but to calm the ugliness that is this military house (and witnessing firsthand how badly the front needs more fertilizer to grow. Thankfully it isn't nearly as bad as
last year
).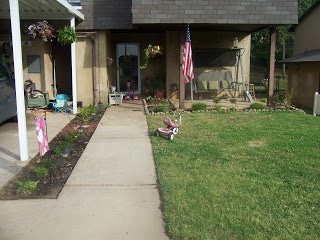 We just began the backyard. Very much a work-in-progress, as is evident by empty flower beds needing mulch badly.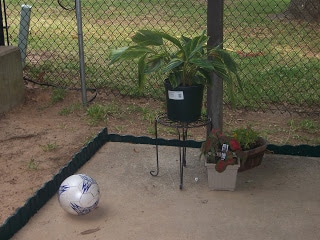 Here's the flowers that await being planted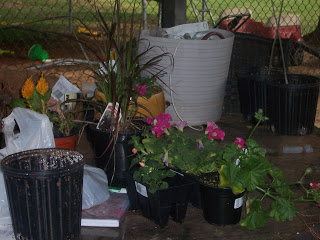 We cleared the backyard of leaves, raking, blowing, bagging and disposing. Sure wish grass would grow back here.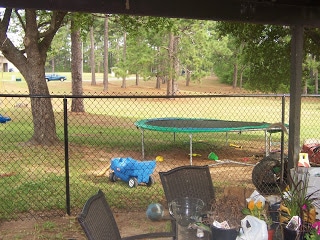 Despite the troubles with grass, I can't begin to tell you how much I love sitting outside, watching my children play while drinking coffee, laptop in hand,
smelling spring's smell
, enjoying the warmth of the day.
More pictures to come soon as we finish more outside. Can you tell, I'm hooked? Planting plants, making a beautiful life. A finer thing indeed!
In light of my recent gardening excursions, I want to post a question to you all for Aloha Friday:
What about you? Have you begun your planting expeditions yet? What suggestions do you have for planting shade grass in hot climates, any recommendations for me? I can't wait to do more!
Don't forget to visit Fifi for Fashionable Friday, too! (And please, stop and take a look at her talented work. I miss painting so much, and can literally feel the brushstrokes come alive in her work. Go see!)
Never miss a post! Subscribe here for all kinds of crazy parenting fun!