My 4-year-old comes up to my husband and says:
"Daddy? I don't talk much. I'm a man of action."
(He's kidding me, right!?)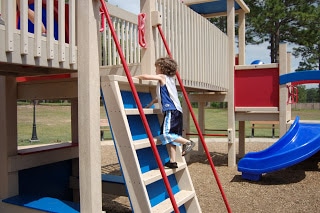 He's such a little man with a baby body and voice. He amazes me with the stuff that comes out of his mouth, sometimes.
I am so looking forward to going to Disney, and hanging out with grown ups all weekend and getting reacquainted with Mickey and crew. (OMG AM I REALLY GOING!?!) In fact, I very well might be on board the plane as you're reading this (seriously, *I'm* going!?). You know, I bet you I'm still in shock, even sitting on that plane, that I'm on my way there, too.
And I'm probably sitting elbow to elbow with some stranger, hoping against hope there's no swine flu aboard (and probably dousing him or her with hand-sanitizer, just in case), all-the-while thinking of my kids, and despite my excitement for all things "the happiest place on Earth", I bet I'm having a hard time leaving my kids and hubby. Thank goodness I got to bring my little dude, who I'm sure is doing his best to keep me entertained on the flight, so I'm not completely kidless this weekend. Mom Bloggers weekend or no, when you've been a mom so long, it's hard to go somewhere and not be a mom all of a sudden.
On a date, once, my husband caught me cutting up his steak at the dinner table. I was only gone for an hour, and I was already in mom-mode.
(Don't be surprised if one of the bloggers attending reports I've done the same to them.)
I know my kids will be fine, and I know I'll be fine, too. But leaving them is still hard, you know? Mickey'll keep me company, I'm sure 😉
And the idea of a weekend off with no cooking, no cleaning, no mopping or vacuuming or laundry, oh! That sure sounds scrumptious, too!
———————————–
Psst! Really quick, before I disappear into thin air or something, I have to tell you about some upcoming things happening. For the month of May, we're celebrating Trisha from MomDot's Birthday in a 31 Bloggers in 31 Days par-tay. Look out for THREE giveaway posts from me tomorrow to celebrate. I'm showcasing three of my favorite organic or all-natural products. Each day in May there will be a different blogger with a different giveaway. Go on over and check it out!
And on May 7th, I'm one of the participating bloggers hosting a Mom's Nite Out contest shindig right here, online, and giving away something AWE-SOME! You won't want to miss that.
Mom's Nite Out is the first nationally organized celebration of motherhood. Intended to bring together today's moms, physically and virtually, National Mom's Nite Out will unite over 150 social media groups, companies, local playgroups, mommy bloggers and mother social networks in giving moms a well deserved night off.
Whatcha think about that? Sweet, huh? Want to attend a event locally? Check out the list of states hosting something!

Never miss a post! Subscribe here for all kinds of crazy parenting fun!