As you know, I am a huge advocate for homemade meals. I like controlling what goes into my foods, as it also allows me to be more frugal when feeding my big family since we all know a home-cooked meal is cheaper than one in a restaurant. When you've got a big family like mine, eating out can cost mega-bucks! For me, it just makes more sense to make it at home and make it healthier.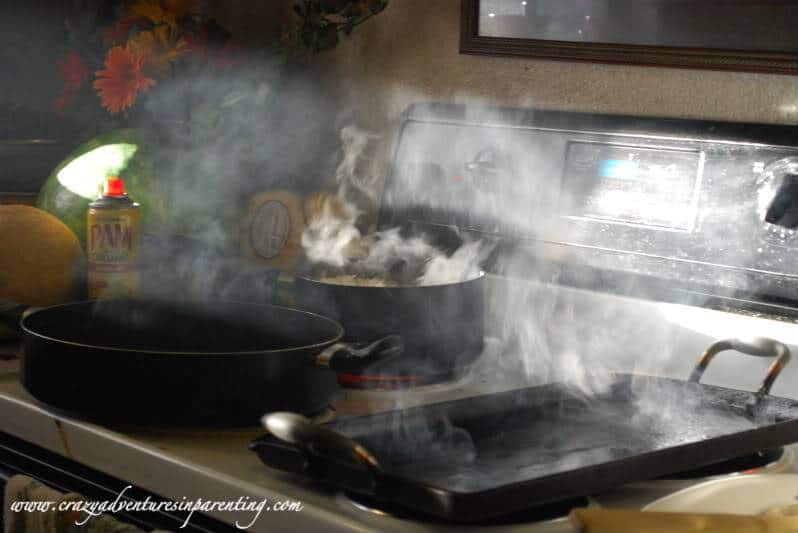 Unfortunately, we live in one of the friggin' hottest states imaginable, and cooking this summer is going to mega-suck. The oven isn't even going to be an option with 100+ degree temperatures. Also, our kitchen is so small and heats up so quickly (ask me how many times I set off the smoke detector based on heat-factor alone!), so even using the stove top can make it unbearable sometimes (as is evident by that picture)!
Anything I can do to not compromise on feeding my family well, but keeping the kitchen cool this summer I am totally game for.
Thank goodness for some help from the folks at Tyson and Robin Miller– chef, nutritionist and star of Food Network's Quick Fix Meals with Robin Miller. I'll be interviewing Robin this Thursday all about keeping it cool while still keeping it healthy, for busy moms like me (and you). I am SO excited, I could really use her help, dinner time is almost unbearable in this house anymore!

Right now, Robin is sharing some of her time-saving tips and strategies on a new website entitled EmbraceDinner.com! She's showing us how to keep it cool in the kitchen this summer, and help our busy families in reducing meal prep time, allowing for us to get a home-cooked, delicious dinner on the table super fast while still super-nutritious. Some of her recipes look amazing!
Here's a little of Robin's advice from the EmbraceDinner.com website that I wanted to share with you:
Designate a Day

Meal planning should start long before stepping into the kitchen. Designate different days to help prepare for each weeknight meal. Make a weeknight evening or early Saturday morning supermarket shopping day, and make Sunday a prep day to pre-chop ingredients for meals during the week. Even with only 30 minutes per day, the payoff of prep time is worthwhile, especially during a super busy week.

Wash as You Work

Not only is it beneficial to plan ahead for meal preparation, but it's equally helpful to start clean-up in advance! Ask your spouse to team up with you in the kitchen. While you cook, your teammate can clean the pots, pans, and cooking utensils you've finished using. That way, the dishes will be at least halfway done by the time you sit down for dinner, helping to make clean-up a snap.
We already wash as we work, but I like the teammate idea – with two of us going (even though it's a small kitchen) that'll half the time it will take! Sweet!

The people at Tyson have teamed up with Robin in her quest to help "Keep It Cool" this summer, with the "Keep it Cool" Summer Recipe Challenge, by submitting an original "keeping it cool" recipe using Tyson's products! The winner will receive $1000 prize pack and their recipe featured on EmbraceDinner.com!
I, too, will be giving away copies of her most recent cookbook, along with some money-saving Tyson product coupons!
I mentioned I'll be interviewing Robin this upcoming Thursday the 18th. Is there anything in particular you would like me to ask Robin for you? Feel free to leave me a question in the comments!
Never miss a post! Subscribe here for all kinds of crazy parenting fun!