I was given 3 pairs of pants the other day. Sizes included an 8, a 6 and a 5. The 8 I was fairly certain I could slide on, and I certainly did. I eyeballed the 6 and wondered… should I? Could I?
Nah…
No way. Nuh uh.
I can't get them on… and close them…
..can I?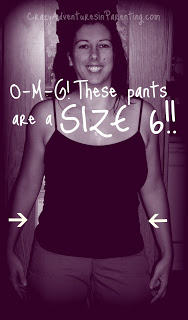 YES, YES I SURE DID!
And I didn't have to roll around to get into 'em!
And, as you can see, I wasn't about to bust out of them, either!
Uh, just remind me next time I get excited about fitting into smaller pants, to wear a bra? 'Cuz yeah, I was fresh out of the shower trying these on, threw on a tank top so that I wasn't shirtless, and uh, those puppies are scar-y (hence my having to edit and darken the picture, in attempts to mask them a bit – apparently I had nursed more on one side as opposed to the other, and looked mega-lop-sided sans editing. Whoops!).
ShrinkingJeans.net Wednesday Weigh in – 149.7, down 3.3!
A FREAKIN' SIZE 6!!!! AHHHHH!!
(Oh! And don't ask me if I fit the 5's. *ahem*)



Never miss a post! Subscribe here for all kinds of crazy parenting fun!