How is it possible that children can make you want to rip your hair out and yet, be so incredibly amazing they can bring you to tears, just by needing you?
They are such amazing creatures. I am spellbound by them daily.
Tonight, my toddler was giving poor hubby a hell of a time. He tried as much as he could, but even in her sleep she wouldn't let him change her diaper. I eased in alongside him, stealth-like, to assess the situation and lend an extra pair of hands, and in seeing me, she immediately lunged for me, wrapping her arms around me. Right there I melted into a puddle of mom, just like that. Anything she wanted, didn't matter, it would've been hers.
I scooped her up into my arms and we slow-danced in the dark, rocking back and forth, her clinging to me and her sippy cup as she looked into my eyes, her eyes growing increasingly tired, rolling back into her sockets, lazily gazing at me and losing focus quickly. Pure magic between us, as we swayed. It moved me to tears. I stood there forever, I didn't ever want to let go.
To be a child again, wrapped up into your mothers arms as she rocks you to sleep, knowing there wasn't anything better than that moment. It's like such a dream to be able to give that to her, and to be on the receiving end of such love.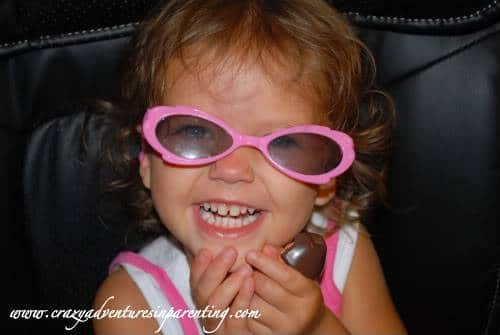 Never miss a post! Subscribe here for all kinds of crazy parenting fun!