If this is your first time reading and you're wondering what
To-Do Tuesday
is all about, click to check out the
first post
to find out more.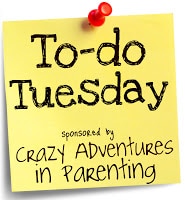 **Couple of important pieces of information:
#1 With Mr. Linky down, please leave a comment with your link and I'll edit the post and add it directly in to the post myself.
#2 We have a new symbol to use for our lists – a checkmark! √ Do you see how cute that is!?! Woohoo, how cool is that!?!! Thank you Jess!
And now, onwards to To-Do Tuesday….
Kids, can you believe its JUNE!?!?! Friggin' JUNE, man. What is up with that!? Summer. School is out. J-U-N-E! Gotta get on the ball with some summer activities for the kiddies. I'll blog more about our summer boredom busters soon, and I've got some good ones, too (so keep your eyes peeled!)
For us this week, hubby is still on leave (vacation for non-military folks), so we aren't doing anything but having fun, swimming, and some day trips, so again my list is short and sweet!
Grocery shopping/coupons/list
Have fun with hubby and kids while on block leave!
Day trips to water park in Shreveport, Lake Charles, Alexandria
Pool! Woohoo!
Crafts (and perhaps capes for the other kids?)
Park
Take walks in morning while still cool? Or evening?
Pumpkin Bread ← I'm a total slacker and haven't wanted to heat the oven up
Homemade organic rice crispie treats (will blog about recipe, you lucky ones!) ← again, total slacker, but we'll do it this week!
Cookies ← again, it's a total lack of wanting the oven on – it's summer!
Bowling?
Finish cleaning out the closets upstairs
clean out and wash the van ← started that this week
Work out at least 30-60 minutes everyday!*
Staying on my diet all week long!*

*With the weather already warm, I really want to shed the final 12-ish pounds sooner than later, so I'm trying extra-hard to do it.
Would you like to join us this week for To-Do Tuesday? Start with just a few things. Don't over-do it your first couple of times. You'll grow to become a list-a-holic later, start small now, though, k?
Just so you know, you can join us at anytime, it doesn't have to be on Tuesdays – the list will go up every Tuesday for you to link to, but you can make your list and link to us at any point in the week!
Remember, with "To-Do Tuesday", we're attacking our to-do lists each week, blogging about our lists and what we've got going on, and sharing it with each other to help keep each other accountable. Everyone should come back here to link up in the Mister Linky as the central "To-Do Tuesday Hub" so we can visit who's participating and offer encouragement to each other throughout the week. Don't forget to add the "To-Do Tuesday" button to your post, linking back to this post!
Let's continue to cross items off our list as we go and help support each other in completing our lists! Don't forget my useful HTML tutorial on how to effectively "cross-out" or √ "check off" your items on your to-do list!
Joining us? Leave a comment and your link will be edited below!
Participants for Week 17:

You're next!
Never miss a post! Subscribe here for all kinds of crazy parenting fun!