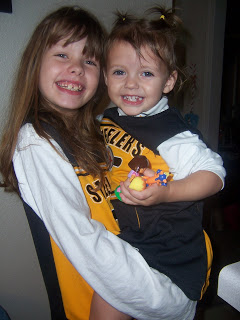 It's the whispery giggles in her ear hushing secrets from your lips. It's clown-like makeovers with mom's make-up with punishments for dessert. It's holding hands while looking both ways, and hair-pulling braids, with pin-curl pig tails and arguments over "her side" and "my side" of the room. It's tear-stained faces while you watch them place the ring on your new family member and feeling an ache in your stomach from hundreds of miles away as she is pushing out your nephew.
It's a closeness you share, blood or no, in which you feel as though you're one, despite differences, despite adversity – a connection, a bond.
I've been blogging a bit now, and I can honestly say blogging has shown me new "sisters" in the universe, ones I can also confide in, learn from, many of whom I feel are like an extended branch of my family. I have witnessed amazing strength and calls-to-action in support of other bloggers in need, banding together, sister-to-sister, and it's been my pleasure to be a part of it all then, and continue to be a part of it now.
Do you feel the same way about the women you've met blogging? What about your family, are you a sister to another sister, or maybe a brother, or did you inherit your siblings through marriage? Are you a mother raising sisters, or does your mother have them? Perhaps you have a close friend who's always been there that you consider your sister? What exactly does being a sister mean to you?
Think about that for a second. G'head, I'll wait.
…
Done? Good. Having given it some thought, if you can blog your answer to:

"You know you're a sister when…?"
..in 500 words or less (with or without images), you could win a full-scholarship to attend the upcoming TypeAMom blogging conference in Asheville, N.C. in September, care of The Sister Project and Type-A Mom.
Have you heard of The Sister Project before? If you haven't, I urge you, please go on over and pay these lovely ladies a visit. There is such a life force over there that, even being a writer, I cannot put into words what reading them does to me. You must see it and read it for yourself.
I have been blessed with the opportunity to celebrate sisterhood with the lovely ladies at The Sister Project. Their sole purpose is to honor any-and-all-things sister. Blogging together at the TSP has made real life sisters Margaret and Marion as-close-as sisters to their writers, Paige and Anastasia, and they feel always room for more sisterly fun to their party. I'm so happy to join their little sisterly soiree.
By partnering with their new sister-inductee, Kelby Carr and the Type-A Mom network, they've provided a full scholarship for me and my two new digital sisters, Mishelle from Secret Agent Mama and Christine from The Savvy Plant, to attend the Type-A Mom Conference in September. They're looking for a fourth to join us, who will be chosen based upon their entry into the the Sisterhood contest on Type-A Mom.
Bring the experience you've had as a sister (in any form) and the connection you feel to life to fuel your answer to this question.

Answer this question and post your entry on your own blog, and include a link to the official entry form page on Type-A Mom as well as The Sister Project. Use the form on Type-A Mom once your blog entry is posted, linking to your entry, so we, the judges, will see it. If you don't enter your information on that form, you aren't officially entered!
Deadline: 6 PM EST Friday, July 31. Winners to be announced August 15.
For more information about the contest, see The Sister Project post or the official post on Type-A Mom to enter.
Good luck, my fellow bloggy sisters (some of you I get to meet for the first time next week). I look forward to reading your entries!
Never miss a thing! Subscribe today for all kinds of crazy parenting fun!