Recall how I said, on yesterday's post, that I was dressed up for a special occasion?
It was for my sweet, hard-working husband. Yesterday, we woke up earlier than normal with a hustle fueling us we hadn't felt in a bit during our lazy summer mornings. We got dressed up in our not-quite-Sunday best, and with a decorated chocolate confection in tow, we visited his dusty woods-side office. Upon arriving, we were met with the many smiles from the men he works with, all there to celebrate his promotion to SFC (Sergeant First Class).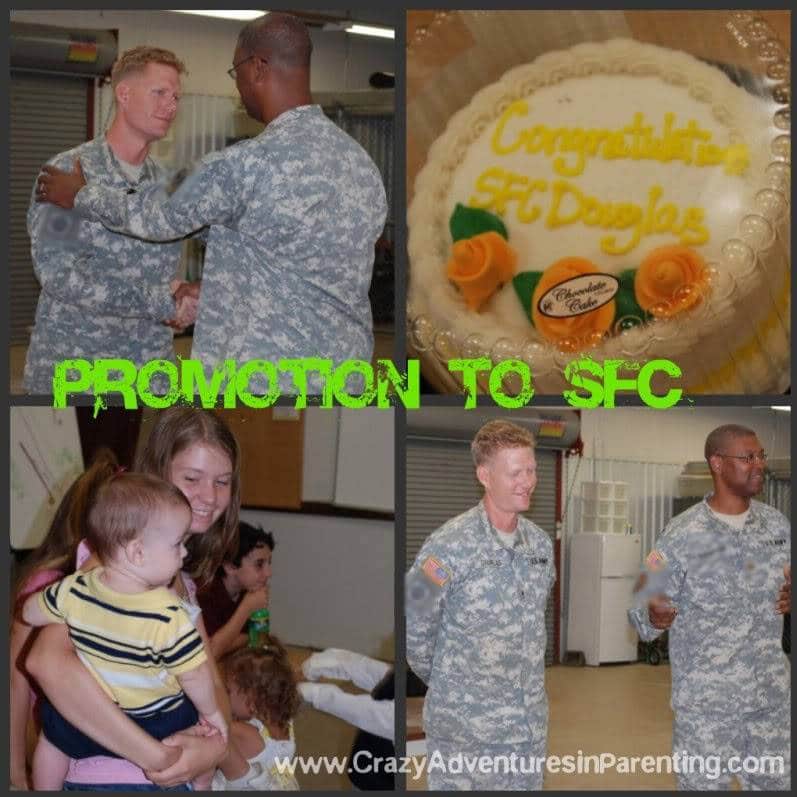 After a few introductions, the men gathered round an imaginary circle in the center of the room, while my kids collected in a bunch on a vacant desk, ready. There was a few jokes, of course, unfolded into the room to put everyone at ease for comfort's sake. My daughter wouldn't leave his side, a true daddy's girl, but suddenly her daddy's heels clicked together, his back stiff, as the men all stood fast. She paused at poking her daddy's uniform at his knee, now tightened and strong. She peered across the room, with stone-faced seriousness, as she paid special attention to the words read aloud, as he listened – tall, proud, at attention. Our children watched, my camera clicked, and my heart beating, soared with pride.
Attention to orders!

The Secretary of the Army has reposed special trust and confidence in the patriotism, valor, fidelity and professional excellence of Staff Sergeant Douglas.

In view of these qualities and his demonstrated leadership potential and dedicated service to the U.S. Army, he is, therefore, promoted to Sergeant First Class.

By Order of the Secretary of the Army
After excitability-inducing cake and a few spazzy-games of tag while the guys and I managed small talk, we toured my husband's office and left some time later, taking our newly-promoted soldier home, with starchy his new rank velcro-ed to his chest, a pep in his step, a grateful smile and a hard-earned pride with him.
Congratulations, babe!
Never miss a thing! Subscribe today for all kinds of crazy parenting fun!