In order to amuse your children during the summer, sometimes you have to think outside the box. Like, WAY out-of-the-box. In fact, so far out-of-the-box, binoculars can't spot you.
So what's this wacky, out-of-the-box idea that I have, you ask?
Crayons and a glass front door.
I know you're probably thinking I've lost my mind (but honey, it's been gone long ago). Think about it – crayons wash off. Quite easily, I might add. On glass? Even easier. So let them have at it! Look at my little Picasso-in-training: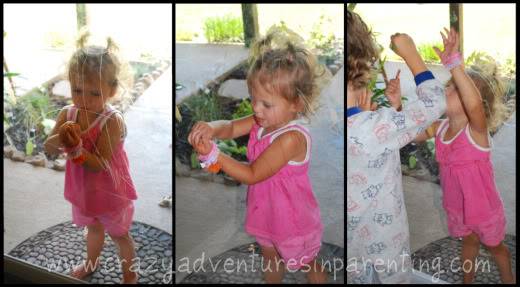 See? They're only little once, let them have fun. (Just be sure it's crayons they're coloring with, and not a Sharpie from God-know's-where. A red one. Don't ask me how I know this).
Once they're done, and you're about to clean, let them help! Let them get creative with cleaning off their side of the door – turn off the hose, spray them off in the hot summer sun, and have them wash the door themselves. Check out how my kids roll:
See? I'm a fricken genius.
Never miss a thing! Subscribe today for all kinds of crazy parenting fun!