I am so pleased to have had a REAL super-hero come stay with us – Moxie Mona from Moxie Media! She swooped in to see us during her busy travels of visiting 60-or-so bloggers throughout the United States during her Around the Blogosphere in 5 days tour! We were so happy to have her, we made her feel right at home.
She immediately sensed how busy I was, and rolled up her sleeves to chip in and help. Here she is picking up the kids from school for me…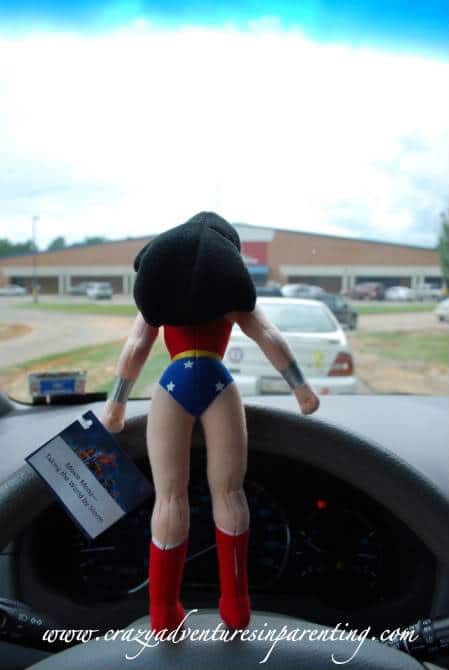 Sitting with my son, cheering on the kids at their soccer games while my husband coached..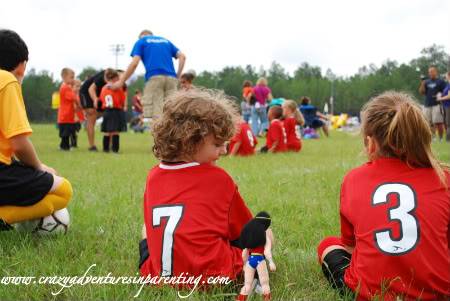 We took her to see the sights on Fort Polk, and to introduce her to some of the soldiers stationed here. Fort Polk, Louisiana serves primarily as a training post for units preparing to deploy to fight the nation's wars. The main post consists of about 100,000 acres, mostly in the Kisatchie National Forest, and is the only Combat Training Center that also trains and deploys combat units.
Mona was quite excited to get out and motivate some of the troops who are about to go to war. She was able to speak with them, and tell them how they themselves are all heroes, just like her, and for them to stay low and come home safe. A soldier she met thanked her for her kind and caring words by awarding her a Parachutist's Badge known as "Airborne wings".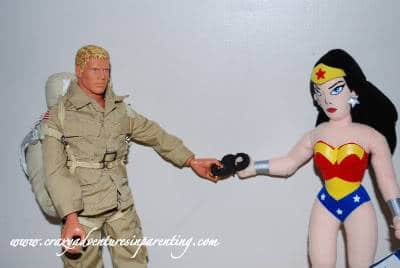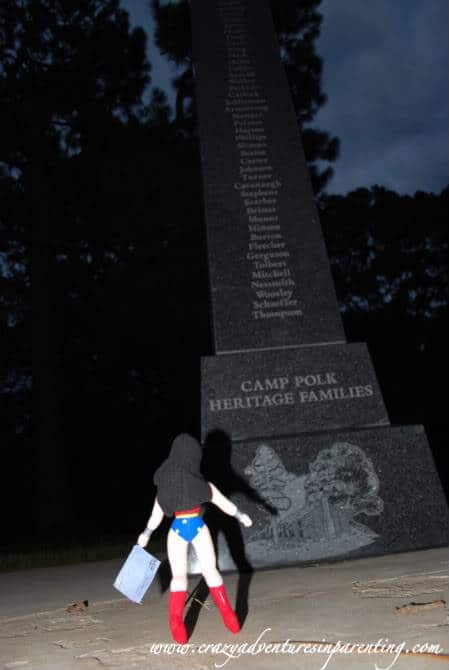 After she spoke with some of the troops, she went on to visit some of the monuments and learn about Fort Polk's history. She learned that construction of Camp Polk began in 1941, during which time government, in preparation for World War II, displaced 254 families from their homes and community, forcing them to move (You know, I often joke about how this place is cursed, I now know why).
Moxie Mona stood in awe of the monument erected to acknowledge these families and their sacrifice for our nation, but wishes there would've been another way to have solved this issue at that time. This monument, shown right, lists each displaced family by name.
Mona asked about what it is that brought us to this post, we told her – my husband's job as a mentor/trainer with the JRTC (Joint Readiness Training Center). The JRTC moved from Fort Chaffee, Ark., to Fort Polk in 1991, and this post became a place to prepare soldiers for conflict. Each year, JRTC at Polk conducts several "rotations" for units about to deploy, focusing on improving unit readiness by providing highly realistic, stressful, joint and combined arms training. Mona was intrigued by what my hubby does, wanting to visit the training area herself, but that area is restricted, and she understood why she couldn't see it.
We were able, however, to take her to see some tanks, though, and she was LOVIN' it! This one here is marked the Bad Mammie, the M-4A3E8 Medium Sherman Tank nicknamed the "Easy Eight", which first appeared in Europe during WWII in December '44. It weighs 30 tons and was powered by a 500HP V8 engine with a crew of five people.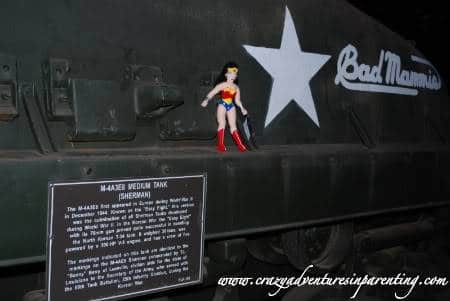 This tank, I believe, was her favorite – the M-24 Light Tank, which was powered by twin Cadillac V8 engines with a top speed of 34 MPH! Can you imagine? The M-24 carried a crew of four with a range of 100 miles. Look at Moxie Mona rockin' that thing!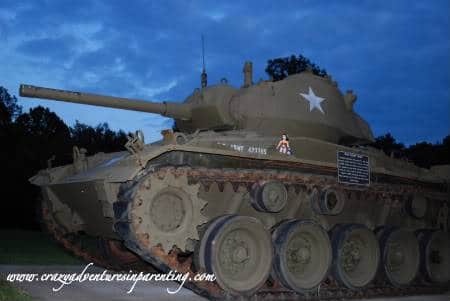 She absolutely had to try out the 105mm Howitzer M2A1. Typically towed on a 6×6 2½ ton truck and manned by a crew of eight, this baby once packed a powerful, accurate punch weighing 42 pounds with a range of 12,200 yards during WWII. Be careful, Mona!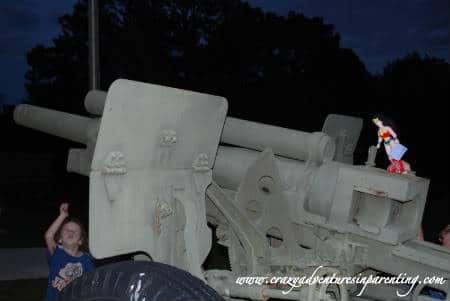 We meant Mona no harm, but she got pretty emotional at the sight of the 9-11 monument. The sheer enormity of names listed before her, depicting the soldiers, families and civilians honored who made the ultimate sacrifice and whose support will forever be remembered. It is such a beautiful monument, and she was proud to visit it and honor them during her stay, as were we.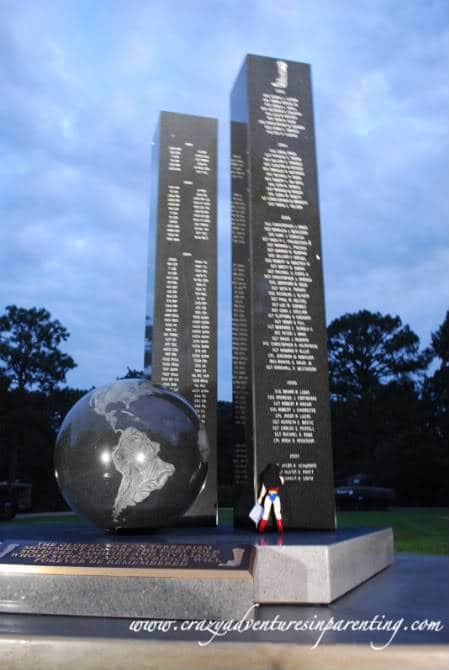 Moxie Mona wanted to do something fun from here, so we went to see Alligator Lake, a quiet recreation place located on Fort Polk. We had a blast playing at the park, celebrating her stay with us! She loved watching people fish and ride on the paddle boats there.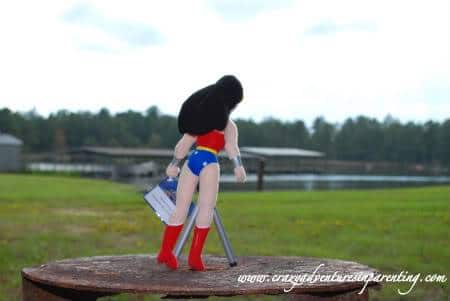 After quite the whirlwind tour of the base, she shared a drink with my toddler, hugging the family and thanking us for making her feel so welcome, and she flew off to visit her next blogger on her tour. Thank you so much Moxie Mona for stopping by, we will miss you!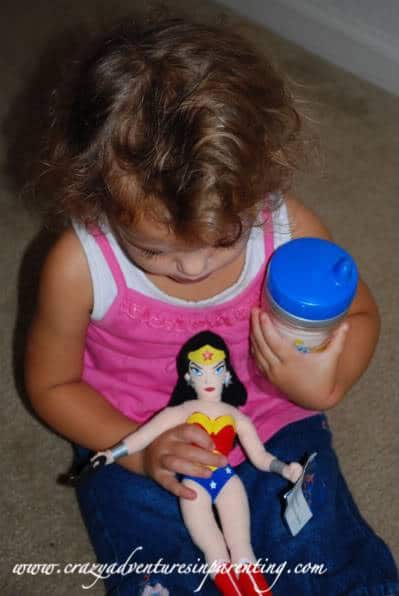 Who will her next blogger be? Stop by Moxie Media's founding members, Better in Bulk, Mayhem & Moxie, Mama's Losin' It, Scary Mommy, and Seven Clown Circus, to find out!

Never miss a thing! Subscribe today for all kinds of crazy parenting fun!