If you're a friend of mine on Facebook, you may have read about my "accidental dinner experiment" the other night. You see, we meant to make two traditional Chicken Pot Pies for dinner (yes, we make two to feed our family of eight). However, with only one stick of Crisco when the recipe called for one-and-a-half (for a total of four pie crusts, we double the double-crust recipe), I either had to nix the pie crusts altogether, or come up with something else for the top. Hence, my accidental experiment.
I decided to go ahead with a traditional pie crust on the bottom, but what would I put on top? Aha! Bisquick to the rescue!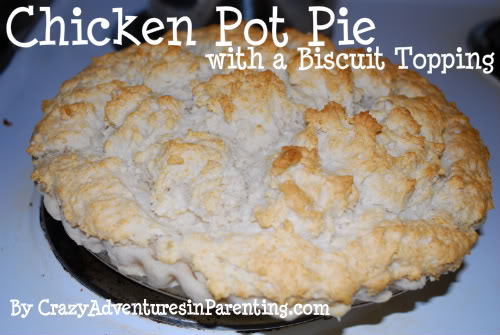 (Remember, the following is to make TWO Chicken Pot Pies, don't forget to half the ingredients if you have a smaller family than I do. You might consider still making 2 pies, though: even if you can't eat two pot pies for your family's dinner, consider the second pie a "make ahead" meal for later in the week, just wrap it and refrigerate for a quickie dinner you just pop in the oven and go.)
It was sinful. Heavenly, even. I hope you decide to make this for your family with the cool weather moving in, a perfect Autumn meal! Enjoy!
Never miss a thing! Subscribe today for all kinds of crazy parenting fun!