If you're a friend of mine on Facebook, you may have read about my "accidental dinner experiment" the other night. You see, we meant to make two traditional Chicken Pot Pies for dinner (yes, we make two to feed our family of eight). However, with only one stick of Crisco when the recipe called for one-and-a-half (for a total of four pie crusts, we double the double-crust recipe), I either had to nix the pie crusts altogether, or come up with something else for the top. Hence, my accidental experiment.
I decided to go ahead with a traditional pie crust on the bottom, but what would I put on top? Aha! Bisquick to the rescue!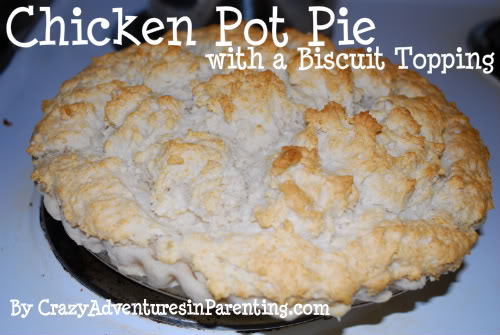 (Remember, the following is to make TWO Chicken Pot Pies, don't forget to half the ingredients if you have a smaller family than I do. You might consider still making 2 pies, though: even if you can't eat two pot pies for your family's dinner, consider the second pie a "make ahead" meal for later in the week, just wrap it and refrigerate for a quickie dinner you just pop in the oven and go.)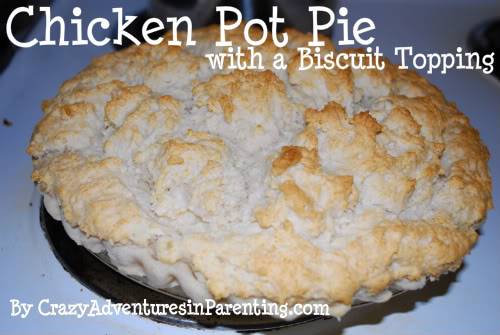 Ingredients
Filling
2

pounds

skinless

boneless chicken breast halves - cubed (or, as we find is cheaper, one whole chicken steamed in the crock pot all day, meat pulled apart)

2

cups

frozen mixed vegetables

4

potatoes

already baked and cubed

2/3

cup

organic butter

2/3

cup

all-purpose organic flour

2

tbsp

Mrs. Dash

1/4

teaspoon

black pepper

1

teaspoon

celery seed

2 1/2

cups

Swanson organic chicken broth

1 1/3

cup

organic milk
Pie Crusts from scratch (will make 2 pie crusts)
Biscuit Topping (will make 2 batches of biscuits)
Instructions
Whether you simmer a whole chicken in the crock pot all day, and pull it apart, or cube and cook the chicken breasts, prepare the chicken in a large skillet sprayed with cooking spray while pre-heating your oven to 425.

Once you're sure the chicken is fully cooked, add the mixed vegetables to warm them up. Cook this over medium heat, vegetables should only be added at the end, enough to warm them through, do not over do.

While chicken is cooking, bake your potatoes in the microwave (or however you prepare them).

Prepare your pie crusts by slowly cutting in the Crisco into the flour, using a pastry cutter or two forks (I like the fork/knife combo myself).

Once the Crisco resembles course crumbs and pea-shaped bundles, start sprinkling in the water a tablespoon at a time until the dough is moist enough to hold together. (I tend to make it just a tad doughier than normal, just because of the flour you will roll it in later.)

Flour your countertop and roll out large enough fit your greased and floured pie pans.

Keep an eye on your chicken/vegetable mixture during this time, as it should be finished cooking while you make your crusts.

Take it off the heat and place a medium saucepan on.

Melt down the butter, add the flour to this mixture and whisk until well blended. Immediately add the milk, broth and spices.

Whisk until it begins to bubble and thicken, like gravy, and turn the heat off.

Prepare your biscuits by mixing together the Bisquick mix with the milk in a bowl once blended, do not overmix.

Place the chicken/vegetable mixture at the bottom of your pies on the crusts. Cube the potatoes and place over the chicken/vegetable mixture, spread out. Pour over the gravy, shifting the chicken and potatoes around a bit just to ensure they're covered, and that the gravy doesn't pool on top.

Begin to spoon the biscuit mixture on top, keeping special care to "wall in" the gravy by the crust (forming a seal).

Once a circle around the crust is formed, I made biscuits on top, allowing holes in between to "air" out the insides of the pie (similar to slits in the crust).

I baked on the middle rack in the oven until the biscuits were brown and the gravy steamed through, about 20-30 minutes.
It was sinful. Heavenly, even. I hope you decide to make this for your family with the cool weather moving in, a perfect Autumn meal! Enjoy!
Never miss a thing! Subscribe today for all kinds of crazy parenting fun!