Some days, before the crust is out of the corner of your eyes, or the coffee pot is even turned on, your children will tug at your pants as you wobble from room-to-room trying to make sense of the daylight.
Some days, before your ready to function, noses will need to be wiped, shoes will need to be tied, and your eyelashes will have to part to enable you to do so.
Some days, before your husband kisses you goodbye, you will sneak that extra kiss, despite your wretched morning breath, he doesn't seem to care. (Or perhaps he just hides it well.)
Some days, you will be slower than ever, you will have to work faster to get breakfasts into bellies, lunches stuffed into backpacks, and children buckled for morning drop-offs.
But every once in a while, in the hustle and bustle of the typical school morning, you have a break of the norm. A break that allows you to, no matter how tired or in need of coffee you are, smile ear to ear, despite that crust in your eyes. You just can't help it.
This was my morning. "Rodeo day" at school – they could dress up to be cowboys.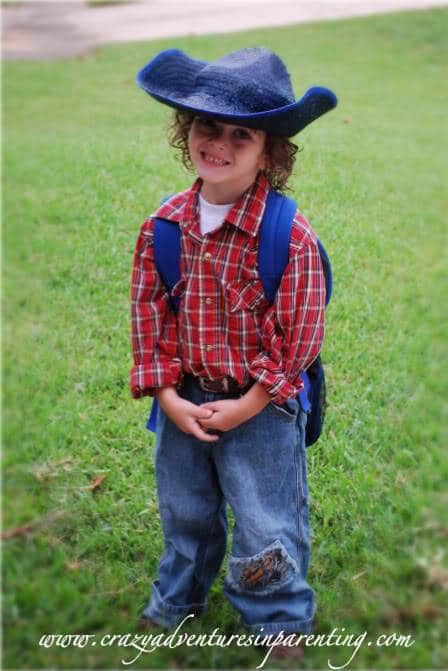 (That was the best we could do)
Oh. My. Stars. My smile. My heart. It is so big.
Never miss a thing! Subscribe today for all kinds of crazy parenting fun!