It was Super M's first flag football game last weekend.
His first ever.
My goodness, is he the teeniest player on the planet? (Bushy, curly-haired kid in red in the center. I would've put an arrow, but it would've been bigger than he is, for crying out loud. And, I didn't want to jack up the cuteness that is this photo. Criminy!)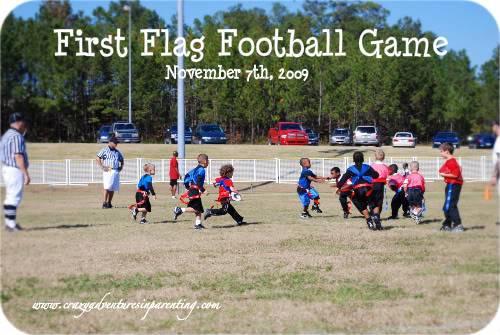 See how small they were, they had to tie their little pinnies on their backs so they'd stay on. Goodness, they were so friggin' cute.
This week he got a new "job" for the team – he's now the center. The center is the one that snaps the ball and hands it to the quarterback.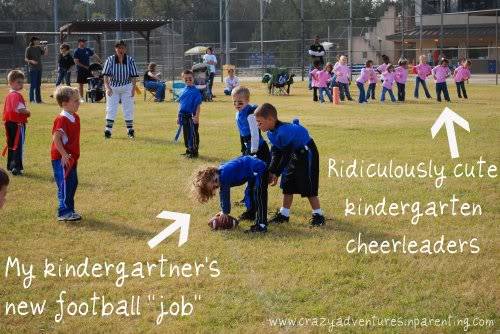 And yes, there were cheerleaders. Kindergarten cheerleaders. Holy crap, I was dying from Severe Cuteness Overload™. Seriously.
(P.S. The reason they're all wearing something different is because their uniforms haven't come in yet.)
(P.P.S. Their uniforms are all due to come in this week, and we'll be out of town for their next game for Thanksgiving week.)
(P.P.P.S. Out of town, you ask? Yes. It's a surprise for the kidlets. Shhh, don't tell.)
(P.P.P.P.S. Should you hear on the news "Mom Dies from Cuteness, Film at 11" it's me.)
(P.P.P.P.P.S How many freakin' times can I say "cute" in one post? Sheesh.)
Never miss a thing! Subscribe today for all kinds of crazy parenting fun!