It's in the quiet hours of the evening, when the kids have all gone to bed, and the lights are off, and it's just hubby and myself that I sit and reflect and really take my day, my life in. We still have the tree up, we still see the flashing colors sprinkling the ceiling with pointy shadows, coloring our white walls with red, blue, green and blinking joy.
Unfortunately, Baby Dude, has become attached to the tree, too. Now is about the time we'd take it down. However, it's his favoritest thing in the whole wide world. So much so, no matter what, he has to be by it, even when he sleeps.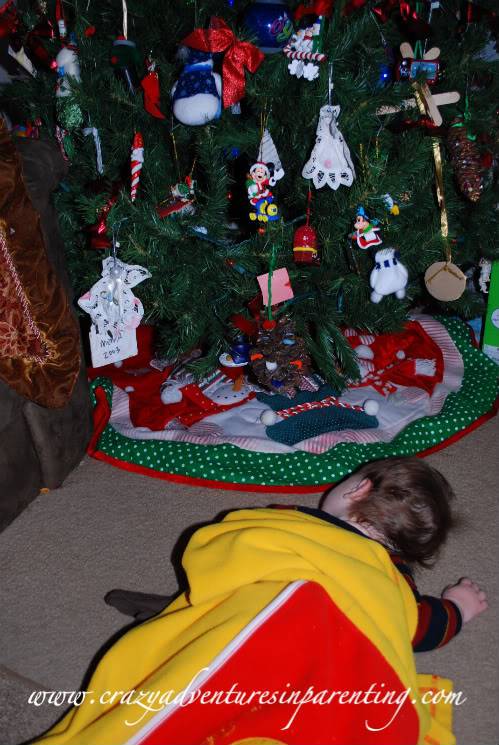 I'm screwed, aren't I? Seriously?
All he wants is to sleep on the floor RIGHT THERE. Do you know how bad that sucks? That leaves good ol' mom forced to sleep on the good ol' couch, or floor, right beside him. Ouch.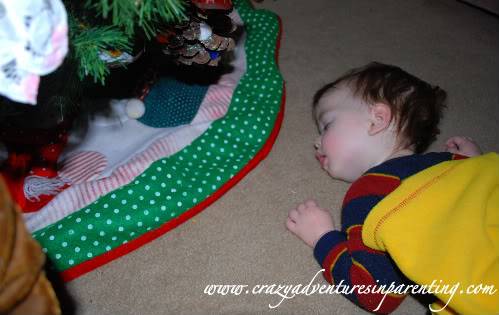 It's a good thing he's a good cuddler. But my bed.. she's a-callin'. I love my bed. I miss my bed. And no matter how hard I try, it's the tree and floor he wants.
I'm afraid to take it down. For realz. What if he goes into convulsions? What then, do we put it back up? Year-round tree? "Hey kids, what do you think about cutting out hearts and making it a Valentine's tree?"
Easter Tree? Dye eggs and hope they don't fall and smash into the carpet? I could see us making a Memorial Day tree with flags. A July 4th tree with sparklers sounds dangerous, though. Ooh, ooh, a Halloween tree would be cool, we could make it dress up in a costume. Wonder what size it might wear.
Oh God. Am I seriously trying to think this out? Crap. I need an intervention.
Never miss a thing! Subscribe today for all kinds of crazy parenting fun!