If this is your first time reading and you're wondering what
To-Do Tuesday
is all about, click to check out the
first post
to find out more.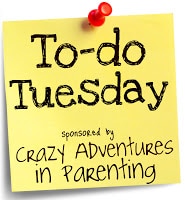 (Side note: I can't believe we're two weeks away from it being a year's worth of To Do Tuesday. Wow!)
You're going to have to pardon my interruption, here, but I'm gonna lay it out there for you. I hope you don't mind.
I really don't know what to write anymore. Well, at least right now, anyway. There is so much silliness that's happened, so many crazy fun things the kids have done, parenting stuff I'd (normally) love to share with you. Tons of goofy adventures involving my kids, our "normal" life, kind-of things like I generally share. But I just can't bring myself to click "publish" on any of it right now, because it all seems too simple, too unimportant.
And what I do want to hit "publish" on is almost too much, too difficult. If I put it in print, hit "publish" then it's there, out there, and real. And I'm afraid.
My mind is going a mile a minute, and there's something looming in the wings for us, potentially dark, and there isn't much to say about any of it just yet, so I can't quite formulate words for the not-knowing.
So instead, I sit. Muffled. Tongue-tied, as it were. Holding back from hitting "publish." Unable to speak, or type. There's really not much else I can do, I guess. Other than apologize.
I'm sorry.
I feel like I'm letting everybody down right now, including my family.
In the meantime, I've been putting my frustrations to work at home, delving into projects, keeping my mind focused, my "angry cleaning" at an all-time high. I should take pictures of all I've accomplished, and what more I'm working on. Soon, maybe. Soon.
I've also been tending to sickly kidlets. All three of my boys have this horrible coughing thing happening, complicated by asthma and allergies. More doctors appointments to attend.
Oh, did I mention hubby is gone this week to a class? Yeah. So I'm flying solo, too. My life = so not fun right now.
So, I hope you forgive me if I continue to be scarce for a little while longer. I don't really want to be, because writing is my outlet, my release, but with everything going on, with my conflicted feelings about being tongue-tied, and now, especially with the Blissdom Conference coming up later this week, which will make it hard to stand by and watch from the sidelines as my good friends come together, hug, spend face time laughing and carrying on without me, just like last year, and I couldn't be there now, even if I wanted to (which of course, I want to). It's just all too much piled one on top of the next. I hope you understand. Forgive me?
No list for me this week, just taking everything a day at a time
Today's motivation – live for today, everyday, breathlessly so, because there may not be a day like today tomorrow, or even a guarantee that they'll even be a tomorrow. So do it, balls to the wall, dig in and live it like it's the Championship game and you're about to win it for your team. Every. Single. Day.
(And now, the obligatory To-Do Tuesday verbiage)
—

Would you like to join us this week for To-Do Tuesday? Start with just a few things. Don't over-do it your first couple of times. You'll grow to become a list-a-holic later, start small now, though, k?
Just so you know, you can join us at anytime, it doesn't have to be on Tuesdays – the list will go up every Tuesday for you to link to, but you can make your list and link to us at any point in the week!

Remember, with "To-Do Tuesday", we're attacking our to-do lists each week, blogging about our lists and what we've got going on, and sharing it with each other to help keep each other accountable. Everyone should come back here to link up in the MckLinky as the central "To-Do Tuesday Hub" so we can visit who's participating and offer encouragement to each other throughout the week. Don't forget to add the "To-Do Tuesday" button to your post, linking back to this post!

Let's continue to cross items off our list as we go and help support each other in completing our lists! Don't forget my useful HTML tutorial on how to effectively "cross-out" or √ "check off" your items on your to-do list!

Joining us? Please add your link below (to your To Do Tuesday post, and not the main page of your blog)
Never miss a post! Subscribe here for all kinds of crazy parenting fun!