For my oldest daughter's birthday, I made her and her friends an Oreo Cookie-Shaped Cake. It was a two-layered chocolate fudge cake (two chocolate layers for the double cookies), made with a layer of whipped vanilla icing in the center for the "cream-filled" part. I used a single boxed cake mix, and baked it in two 9-inch pie plates (you can use two cake pans, too). To truly seal the deal, I quartered actual organic oreo cookies and placed them on the top. To make the oreos stick, I lightly frosted the part of the cookie that would be laying on the cake, and placed it on. Presto! Instant cookie-art for the cookie cake! Yum! (Although, these adorably artful cookie parts on top made it extremely hard to cut and serve. I think next time I might drizzle chocolate over top and crumble the cookies on top.)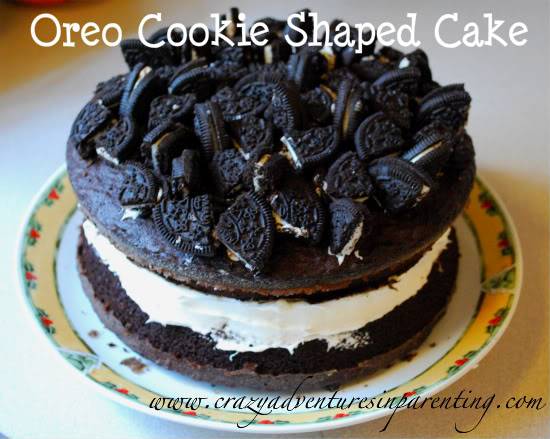 Because I didn't have enough round cake pans for another cookie-shaped cake, for the second cake I used a bundt pan to create a Cookies and Cream Oreo Cake, slicing it in half to frost the center to create the creamy layer, then slathered some more whipped frosting on top, mixed with the crumbs from the cake, to create a cookies-and-cream look to the frosting. Yummy, right? Instead of crumbling or cutting cookies, I laid them out whole, on top. Made for easy, proportionate slicing, too.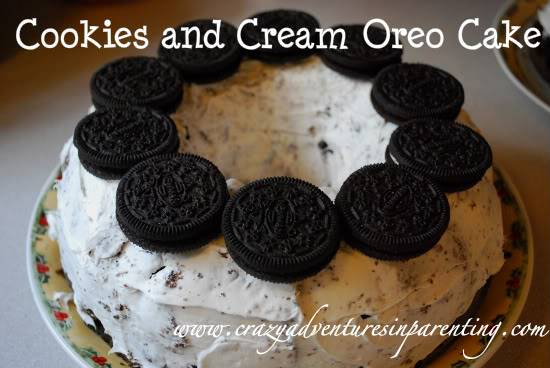 For another cookie-inspired dessert idea, you might want to check out my Chocolate Chip Cookie Sandwiches with Breyers® Ice Cream video I made with my son, in which we made a colossal mess. Heh. (Disclosure: I used to work with Unilever to create content for their Family Dish website as a brand ambassador.)
What do you think of my cookie creations? Have you made anything like this before? If so, what did you make?
Never miss a thing! Subscribe today for all kinds of crazy parenting fun!