Gatorade invited me and other Sports Moms out to their beautiful Chicago HQ over a month ago to tell me all about their new "G-Series" product lines, to include "Pro" and "Fit" and my new favorite, Gatorade Naturals. I was already familiar with their "G2" products, using them myself for workouts, and was eager to learn what more they had come up with. But Gatorade Naturals, oh my!
It was love at first sight in their "Product Room:"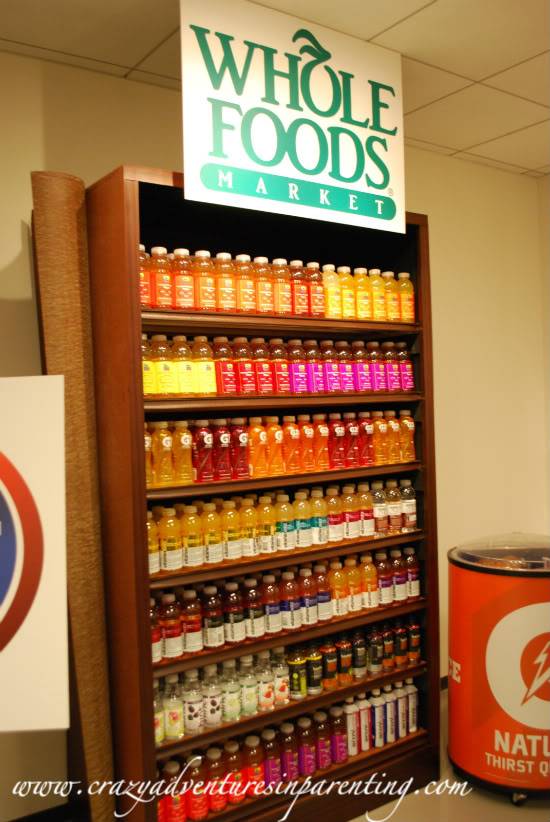 Yes! Sold at Whole Foods! Woohoo!
I am always super-mega concerned about hydration for my family; for myself (with running and fitness) as well as my husband (usually out in full uniform in southern heat), and especially for my children (playing sports and getting enough to drink in school). I will be completely honest, you all know I don't like the artificial gunk in foods nowadays, and I was prepared to ask the heavy questions in Chicago when I was pleasantly surprised and happy to hear Gatorade was already all over it with their new G Series Fit and Naturals products. Hello, all-natural gorgeousness!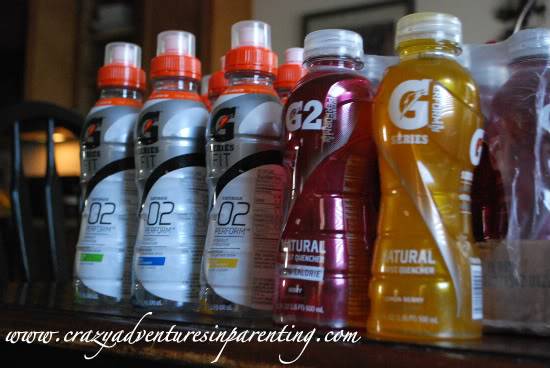 Lovely product sent and on my dinner table. Yeah, baby!
(Tidbit: We were able to sample all the current Gatorade products, and hands down, the Gatorade Naturals was every Sports Moms' favorite.)
The Sports Mom event was chock-filled with wonderful information and experts, and I wanted to share some important tidbits with you, especially given the heat throughout most of this sweltering summer. Did you know?
76% of mothers to children in sports think their children are properly hydrated, but
70% of teens show up to practice dehydrated (Whoa, people!)
Protein is needed for muscle recovery 30-60 minutes after exercise completion
More than half of children report they don't eat properly in relation to practice (consuming pre- and post- game fuel)
Almost half of athletes are simply unable to eat surrounding game time
I'm that kind-of mom that always has that bag of snacks on me at all times, and I'm always ensuring my children have extra in their lunches they bring to school, but drinks can be a big problem with small lockers and little time between classes. It concerns me about how much they are able to drink while at school, or away at practice. Most coaches, to include my husband, have been wonderful about keeping kids hydrated AT practice, but getting kids to drink throughout the school-day, notsomuch. As my children get older and take sports much more seriously, it's good to have all the facts. For instance:
Hydration starts four hours before practice/exercise starts (during school)
Eating prior to exercise improves performance (200-300g carb consumed within 3-4 hours prior to exercise improves performance)
Consuming 10-20g of protein post-exercise is best for muscle recovery
And seeing that information, how many children do you know already do this? I know I wasn't aware this was important, but I am now. And I'm going to do my best to pass on this information to my children's schools and teachers, to be sure they are going to be able to drink as much as they can during school, so they are able to remain hydrated for their practices after school.
For much more detailed information, visit gatorade.com/moms. I love how they've devoted a whole site to us, Sports Moms, to help with our children's hydration and nutrition. You can also read the story on famous Sports Moms Stephanie Hamm and Wanda Pratt (mothers to Mia Hamm and Kevin Durant respectively).
Disclosure: My trip and incidentals to visit Chicago was paid for by Gatorade, but my opinion and experience as a concerned sports mom and about the products discussed is all my own.
Never miss a thing! Subscribe today for all kinds of crazy parenting fun!