It's still a work in progress – we waited until the sod took root, and the plants started to smile a bit more, before we took an outdoor shot. Still so much to be done, though, but it makes me smile to see all we've done in almost a month so far.
Here it is, our first time, just big enough, huge yard, red fenced new home:
We have three separate garden areas for now in the front, with nothing in the back just yet. Back yard pictures will be taken as soon as we have some gardens made pretty there. As you can see, I love color and bloom.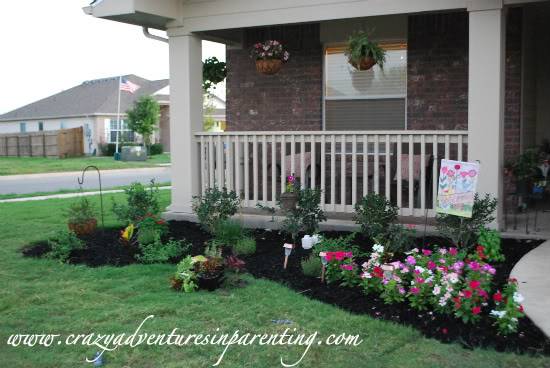 And there's more to plant, as you can see, sitting there, awaiting a permanent home.
I love sitting on this porch. I love having a porch, period, but I love these chairs, the shade, and being surrounded by plants.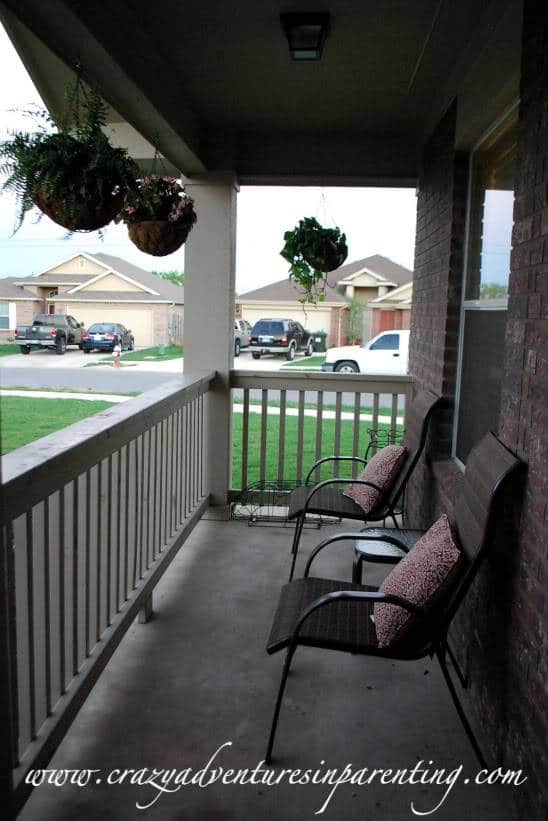 Chairs, table, and pillows all from Bed Bath & Beyond
Our lot is a corner lot, and HUGE. Our lawn wasn't doing too well here in the corner, along the sidewalk, so we dug it up to make a small corner garden. We just planted this a couple days ago. Still fledgling plants, they should be full and thriving soon. Elephant ears, Mexican Heather, Vincas and more.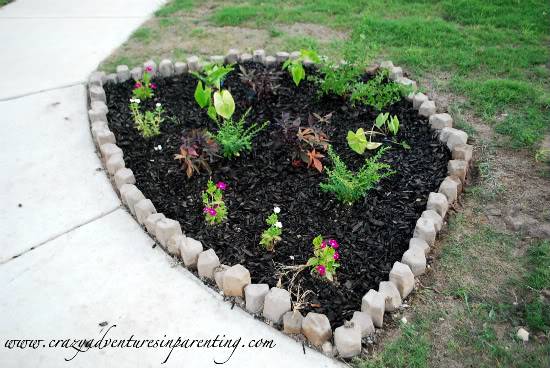 All plants purchased from Lowes, Home Depot and Walmart.
Our front door has this cathedral glass cut-out on it, which shines beautifully at night (as depicted here), and sends into the room beautiful rainbows in the morning.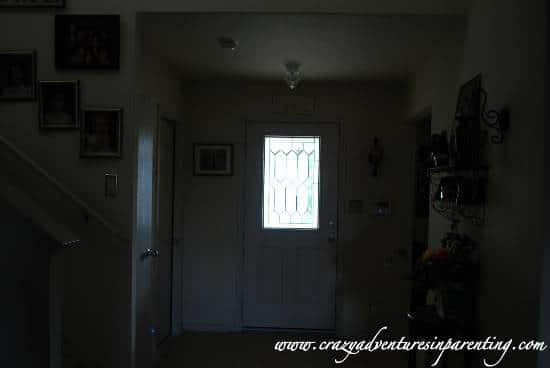 Early morning in my home. House is quiet, light is cascading through the window, rainbows on the walls. So lovely.
That's all of the inside you'll get for now, just a small little taste of what we've been up to. Welcome to our home and front yard/entry way. I will be posting more soon, definitely stay tuned. I'm loving every minute of owning our first home!
Never miss a thing! Subscribe today for all kinds of crazy parenting fun!