Once upon a time, in college, I had a friend in my band of friends I'd regularly hang out with. We would go out on the weekends, and do the ever-popular "diner-run" just after our night escapades, and without fail, he'd always order a Cream Cheese Omelet.
Now friends, I'm a cream cheese-a-holic. I love me some cheesecake, and will eat Philly Whipped Cream Cheese by the spoon (or container, whatever). But cream cheese in an omelet? Um, okay!?
And then I tried it. And it's ADDICTING!
Now I love me some regular omelets, but that usually involves washing and cutting and making things bite-size. Making a Cream Cheese Omelet allows me to create a quickie omelet super-fast and super tasty.
Until it became discovered by my cheese-lovin' toddlers, who completely ate one of mine the other day. (I told you it's addicting!) Now, when I make one, they have to have one, too. And my youngest loves it so much. Really much. Like, TOO much.
See?
Who knew? 2 eggs + 3 teaspoons whipped cream cheese = love?
Cream Cheese Omelet
2 organic eggs, whipped in a bowl
tsp butter + organic cooking spray
3 tsps whipped cream cheese
In an omelet pan, preheat pan, spray with cooking spray, and add dollop of butter. Rotate pan so the butter coats the pan, and wait until it begins sizzling, then add your eggs. Once eggs begin to cook through, forming bubbles and the outsides are cooked, flip with a spatula, carefully, and immediately add your three teaspoons of cream cheese on one side. Fold the egg over the cream cheese; smoosh the egg down onto the cheese inside, and flip. Smoosh again, turn off the heat, then slide gently onto a plate.
Serve, and be prepared for the oohs, ahhs, and many kisses. I cannot promise you that they will be clean kisses, though.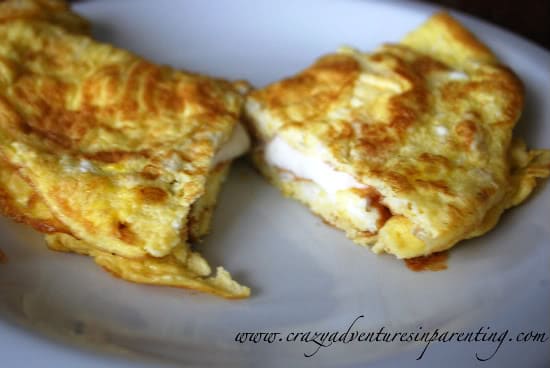 Never miss a thing! Subscribe today for all kinds of crazy parenting fun!