Welcome WOAI-TV viewers! Thanks for tuning into my segment on San Antonio Living about fun tailgating gear for families. I hope you enjoyed it! For those regular readers who were unable to tune in, see the segment below!
And yes, to quell your curiosity, I am indeed the mother to six children, currently expecting our seventh crazy blessing in March of 2012. The stories and pictures I share here on Crazy Adventures in Parenting showcase my often humorous take on parenting, depicting the lighter side to this parenting business, and highlighting other topics important to me, such as staying active, eating healthy, and not losing my freakin' marbles. You can find out more about this site, me, and my family from here. Stick around a while and take a gander at our everyday craziness, will ya?
These tailgating products were quite a lot of fun to get to know and implement, and sure have come in handy for our family. Helped keep our kids out of the rain at our kids' soccer games this past weekend.
Here's the more detailed information I promised you, as well as ordering info for the products I showcased on the show.
Sizzle-Q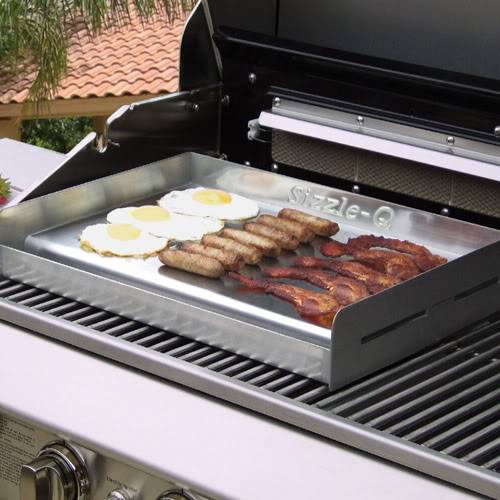 Image courtesy of littlegriddle.com
The Sizzle-Q is an all stainless steel barbecue griddle able to fit on any grill, allowing the avid tailgate chef the opportunity to expand their grilling options to more than just burgers and dogs. With the Sizzle-Q portable griddle, you can now cook eggs, bacon, pancakes for breakfast, or perhaps quesadillas and sauteed veggies for lunch, even delicate fish filets, pizza and more, all on your grill, making you the hit at the next tailgate party. Easily portable, just place the Sizzle-Q on any grill to transform it into a griddle, and lift off to use the grill for hamburgers, hot dogs and so forth. Sidewalls on three sides keep your food on the griddle, allowing for every square inch of cooking surface to be utilized, and the full front grease trough catches run-off liquids to prevent flare-ups. Clean up is simple and easy, no need for a sink. One size fits all grills.
Why we like it: Dude! Pizza on the grill! And eggs! Pancakes, even! Sweeeeeet!
Price: $69.99
Info available at www.littlegriddle.com
Ordering and store look-up here.
You can even follow Little Griddle on Twitter
Drink-N-Plate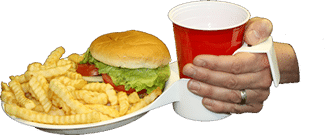 Image courtesy of drinkandplate.com
Drink-N-Plate is probably one of the most ingenious ideas for barbecues, tailgating, social gatherings, parties and more, allowing the party-goer to enjoy their meal and drink held with one hand, freeing up your other hand to eat with a fork, dole out drinks to the kids, pour condiments, and much more. The Drink N' Plate is a combination of plate and drink holder, allowing the entire meal to be carried conveniently and easily. Dishwasher safe.
Why we like it: Now I don't have to wish to have eleventy-billion arms at picnics and barbecues anymore. (Well, at least ONLY at picnics and barbecues….)
Price: $14.95 per pack of 6. Family pack, party pack, and wholesale pricing available.
Info and ordering at www.drinkandplate.com
Thermacell Outdoor Lantern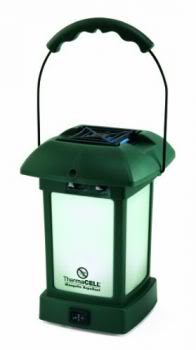 Image courtesy of
thermacell.com
The ThermaCELL Outdoor Insect-Repellent Lantern is the best, non-toxic option for keeping mosquitoes and other insects away. I like it because it allows me to ability to be worry-free about spraying bug repellents around food when entertaining outdoors. It is both a powerful insect repellent device and long-lasting outdoor LED lantern, with both functions being usable separately or together. Providing a 15×15 ft (or 125 square foot) mosquito-free zone, it is 98% effective against thwarting mosquitos, black flies, and no-see-ums. It is also non-toxic, safe and non-intrusive, being DEET-free, silent, portable and odor free, weighing in at a mere 13 ounces. ThermaCELL utilizes allethrin, an artificial version of a natural insecticide found in chrysanthemum flowers. Designed with a frosted globe, the lantern offers two illumination settings. The butane cartridge which powers the mosquito repellent provides 12 hours of power and is located on the interior for aesthetics and ease-of-use. 8 LEDs provide the light from the lantern, which has two settings controlled by a switch that is located on the base of the lantern and is powered by 4 AA batteries.
Why we like it: I freakin' hate flies and mosquitos, and my husband is a human pincushion for those blood-suckers. Bring. It. On.
Retails for $31.99
More info at www.mosquitorepellent.com
Order from here.
Sport-Brella Chair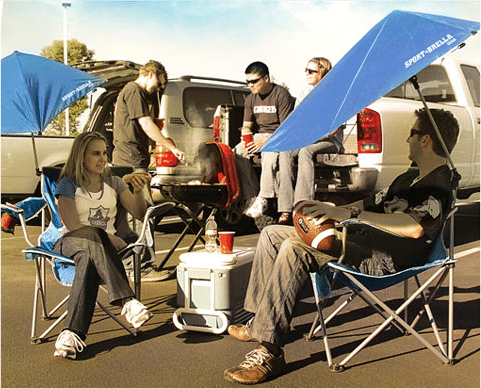 Image courtesy of sport-brella.com
The Sport-Brella Chair is nothing like what you see at sporting stores, as it's not only a portable fold-up sport chair, but it has an mountable 360 degree swivel umbrella which can be moved from one side of the chair to the other and can be swiveled at 3 different points at the push of a button to offer complete coverage from the sun and wind at any conceivable angle. The umbrella opens out to 46 inches wide and has a UPF 50+ lining for maximum sun protection. The Sport-Brella Chair also has a built-in cup holder, attached bottle opener and item pouch for valuables. Folds down instantly and fits into a compact carry bag.
Why we like it: It's comfy. It has a bottle opener for hubs. And a place to store my phone since little fingers don't mess with it. Momma's happy.
$39.99
Info and ordering at http://sport-brella.com/sport-brella-chair
Sport-Brella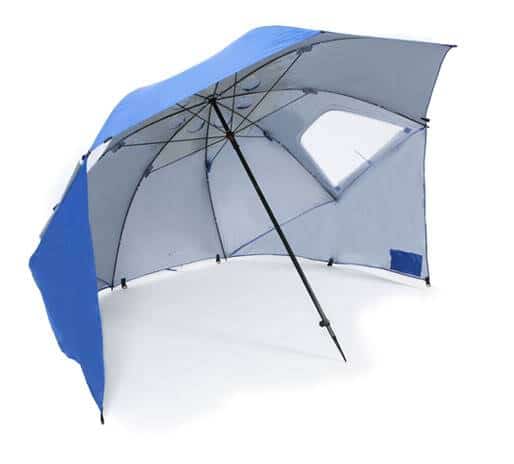 Image courtesy of sport-brella.com
Think of the Sport-Brella as a portable yet large 8 ft. wide group umbrella that gives you the ability to shield yourself and loved ones under instant protection from the sun, rain and wind. The fabric offers a 50 UPF protection from the suns rays. The Sport-Brella's umbrella action open mechanism allows it to be set up in just a few seconds, and includes top wind vents, and side zippered windows for efficient airflow (to prevent it from blowing away) as well as offering additional visibility. It also offers internal pockets for gear and valuables, and a convenient carry bag that includes tethers and ground stakes for use when needing additional stability.
Why we like it: If I wasn't sporting a pot-belly while pregnant at the moment, I'd totally pop a squat underneath this thing and play "tent" with my kids, too. They have entirely too much using this!
Retails for $59.99
Info and ordering at http://sport-brella.com/sport-brella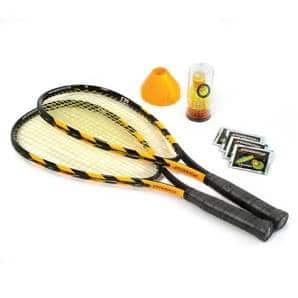 Image courtesy of
speedmintonusa.com
Speedminton combines tennis, badminton and racquetball, for a fun and easy to learn game, as well as a great form of exercise. Completely playable anywhere, anytime, even at night. Use whatever dimensions desired and play with or without a net. Fun and portable like badminton, use the cones to set up your field (if you desire) and go. Comes with two racquets, three birdies, tiny chem-lights for at night and eight cones.
Why we like it: I like to pretend I'm a tennis player in another life, so this helps me fulfill that fantasy, even if I suck at it.
Price: $39.99
Info located at www.speedmintonusa.com
Order from here.
Here was my live segment today. The preggo belly is poppin' out, can you see?
What do YOU think of these? Aren't they cool? Do you have any favorite tailgating/sports products you'd like to share with me?
Never miss a thing! Subscribe today for all kinds of crazy parenting fun!