Alright, friends.. block off a little time in your schedule for some crazy breakfast deliciousness. The recipe for these beauties is a little more time consuming than your regular everyday pancakes, but they are so.very.worth.it. I promise you. Get ready!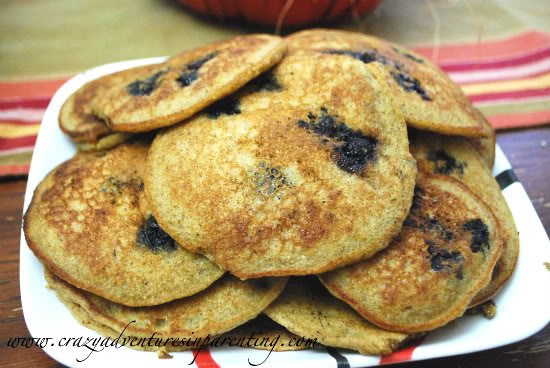 Firstly, let me talk to you about some must-haves for these pancakes.
*Must have #1 – Aunt Jemima Whole Wheat Pancake Mix. I know, you may like to make your own pancake mix, but this mix has it all, and makes it that much easier for you to deliver quality pancakes to your family while still making them homemade. Trust me. Don't buy the regular kind, use Whole Wheat kind, your kids will thank me.
*Must have #2 – Ground Cinnamon. Whether you make regular pancakes or flavored (with chocolate chips, blueberry, or any other kind) you need cinnamon in 'em. A few shakes per batch (so, as you can imagine, when I make three batches, I'm a shakin' fool) but I swear to you on my children that cinnamon makes 'em more lip-smacking and awesome. And you want them to be awesome, don't you?
*Must have #3 – Organics. Organic sugar, butter and milk are a must-have addition for these pancakes. I could go on and on about the benefits of organics, but I won't, just trust me when I tell you, especially for this recipe, it makes a HUGE difference in the taste.
*Must have #4 – Frozen blueberries. You will want frozen because they are juicier and softer, and you can then splash some of that juice into the pancakes to make 'em that much yummier. Plus, they last longer, so g'head and buy a good-sized bag without worrying about it molding anytime soon.
*Must have #5 – Ground flax seed. This doesn't change the taste of the pancakes in the least, your kids won't know it's in there, but it makes it super-healthy for them, with all the good Omega-3's in there. I keep it on hand in my fridge for all my baking recipes (muffins, breads, pancakes, waffles, etc.)
*Must have #6 – REAL Maple Syrup. Don't use the fake stuff, here, and compromise tastiness, use the real deal. It might cost more, but it's SO worth it for this recipe.
*Must have #7 – Butter with a basting brush. I personally use Smart Balance Organic Spread with oodles of Omega 3. I don't like using spray with pancakes, I prefer basting this on there, to give the pancakes a nice, crisp, golden brown texture on the outside.
Alright, now that we've got these must-haves out of the way, let's get it goin'!
Blueberry Pancakes Awesomeness
Makes 1 batch, appromixately 8-10 pancakes. I make 3 batches for my big family, to eat and freeze for leftovers.
(Directions as per the back of the Aunt Jemima Box)
1 cup Aunt Jemima Whole Wheat Pancake Mix
1 cup Organic reduced-fat milk
1 Eggland's Best egg (I prefer these for their extra Omega 3)
1 tbsp canola oil
In addition, I add:
1-2 tbsp ground flax seed (at least)
1-2 tbsp ground cinnamon (at least)
Frozen blueberries (thawed in a bowl, with more standing by, just in case)
Organic sugar
On deck I have these partners-in-crime:
Powdered sugar in a sifter/shaker
Real maple syrup
Smart Balance Organic Spread with a basting brush
Rubber spatula, to scrape down the sides of the bowl
Spatula to flip and serve pancakes
Electric table-top skillet (I find these cook pancakes better than stove-top ones)
Measuring cup with water
Directions:
+Place frozen blueberries in a bowl to thaw while you prepare the pancake mixture. Have the bag of blueberries standby on deck, just in case more is needed. Sprinkle about a teaspoon of sugar on top.
+Mix together pancake mix, milk, egg, oil, flax seed, cinnamon and about 2 teaspoons of sugar in a batter bowl (with spout) and whisk until combined well.
+Heat up the electric skillet to about 350-or-400-degrees (or medium-high on the stove).
+Check consistency of batter before you start pouring pancakes onto the skillet – work out any lumps with a whisk, and add some of the water from the measuring cup if the batter is seemingly too thick.
+Add about 1 cup (or more, if you like 'em heavy) of the thawed blueberries to the batter, mix gently.
+Add 1 tsp of butter to skillet, spread with basting brush completely.
+Begin pouring pancakes onto the skillet, spreading out the blueberries. Make sure each pancake has about 4 or 5 blueberries. The blueberries float in the batter bowl and will likely pour out with the first pancakes, so if extra blueberries need to be added, especially for the latter pancakes, grab more from your bowl, and roll the blueberry in the batter before adding to the pancake. I find rolling it in the batter encapsulates the blueberry into the pancake as it cooks, instead of exposing the blueberry, forcing it to explode and ooze when on direct heat.
+Once bubbles have formed all round, and holes can be seen, flip pancakes with a spatula. Notice the golden brown coloring.
+After a minute or two, once the side down is as brown as the top side, remove pancakes from the skillet and onto a plate.
+Reapply butter with a spatula and proceed to add more pancakes to the skillet. Again, ensure each pancake has 4-5 blueberries, well-spread out, and add more after rolling in batter as needed.
+Keep tabs on the thin/thickness of your batter, especially if you make many batches as I do. Over time, adding blueberries might thin it out (with their juicy-ness) and you might need to add a little more Aunt Jemima mix. Adversely, if the mix is getting too thick, water or the blueberry juices from the bowl may be needed. (I personally like a slightly more runnier pancake mix, makes more pancakes that aren't too thick, and, as a result, it absorbs more syrup when served.)
+Once finished, to serve the pancakes, sprinkle each pancake with sifted organic powdered sugar, drizzle each pancake with a little syrup (a little goes a long way, here) and serve.
+Pancakes, once cooled, can be frozen to reheat in a toaster oven as needed (no need to buy the freezer-section boxed variety)
Grab a folk, friends. And get ready. This is really something special..
Mmm…
Never miss a thing! Subscribe today for all kinds of crazy parenting fun!