He's the only one that didn't play on a team this soccer season, being too young. He dressed up every game and played in spirit, though. "Where's my sotter twoze (soccer clothes)?" he'd say, as he watched his older siblings dress Saturday mornings.
When the season ended, all our children had parties with snacks and playing and… trophies with medals. He didn't play, so he doesn't get anything.
However, as luck would have it, there was a child who paid to play on my husband's team but never showed. As hubs dipped into his baggie of medals, to hang each around his players' necks, he discovered the extra one at the bottom, the one they secured for the player that never showed, a medal that had no owner.
And my husband got an idea. A big idea for a not-so-big person.
At the end of their team's trophy/medal ceremony, he wanted to hand out "one more" award to someone. Their special sidekick, who always applauds his hardest for their team. Their mascot and pint-sized cheerleader, as it were.
Baby Dude's name was called. "C'mere!" my husband called to him.
He ran up, excitedly, to see what his daddy had for him. My husband scooped him up, and gently placed the medal around his little baby neck, while his smile beamed so brightly, so proudly. And this mom may not have gotten a good picture because she was too wobbly with emotion.
Until he posed, with pride, with his brother and sister, later.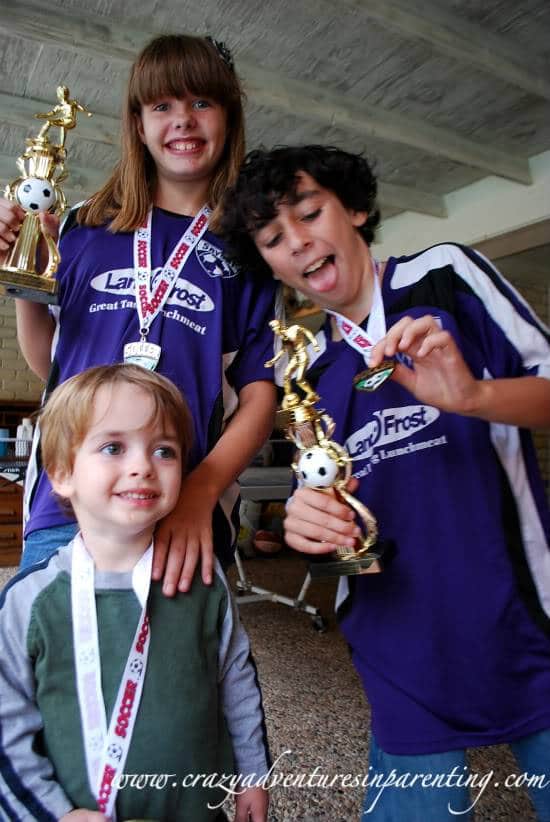 Three proud children. One dorky child.
And he clutched that medal in his hands, inspecting it. And this mom knew, just as daddy knew, that this meant the world to him. (And to us.)
This won't be the last one he'll ever receive, given his penchant for kicking the ball already and getting out there with his siblings – he's got a long life ahead of him of playing soccer. But this first medal? It just might very well be the sweetest.
Never miss a thing! Subscribe today for all kinds of crazy parenting fun!