They didn't ask too many questions when I gave them the task to "look for Disney stuff." The only questions each of my children would ask me was, "Is this okay?" when they'd show me what they found. They commanded the job with such authority, navigating aisle after aisle searching for Disney stocking stuffers.
"Do you think this is nice, mommy?" My son asked me.
"Oh yes, baby, I think that'll do just fine."
They didn't seem to mind at all that they weren't getting any of these items for themselves. In fact, they never asked, but it was apparent they knew. Except my almost five-year-old who wanted the Rapunzel stocking we had picked out. "Why are we buying all this Rapunzel stuff, mommy? Is it for me? For my birfday?"
"No, sweetheart. It's for another little girl. A girl who didn't get much for Christmas."
She didn't say much after that. None of the kids did. They now realized the importance of what we were doing and got to work 1000% harder than they did before. Unfortunately, there was lots to find that couldn't be fit into the stockings we were purchasing, so it was hard to say no when their hearts wanted to so badly. We were all wishing it was more than a stocking stuffer celebration.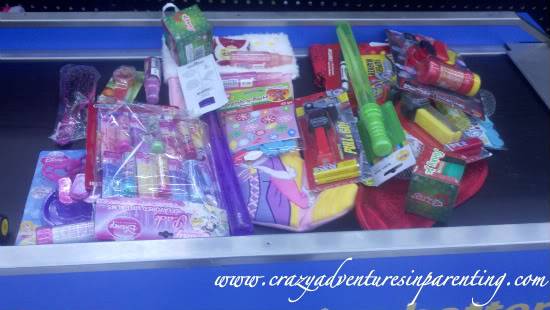 All our goods on the conveyor at check-out. My goodness, I hope it all fits!
Once we got home, my middle schoolers got to work. They efficiently removed tags and prices and configured the stockings so that all the goodies we purchased would fit properly, shaking the stockings to ensure they could squeeze it all in.
Once they were all finished, they wanted to get back in the car to give their stockings away RIGHT.THEN.AND.THERE. It did my heart proud to see them want to give so badly.
—
In an earlier post, I told you all about the ways our family were already giving back this holiday season. I was excited to participate this month with Champions for Kids, and I believe we'll be continuing on doing their SIMPLE Service Projects with them monthly.
To remind you, Champions for Kids is trying to mobilize millions of people to help children from within their own community, all over the nation. More than 17-million children in the United States are at risk for hunger. One in five children is poor, with half living in extreme poverty each day, leaving millions of children who do not have the basic resources they need such as eye and dental care; school supplies, warm clothes, and food.
Champions for Kids offers several different programs to get people involved. I've joined them by participating in their SIMPLE Service Projects; a monthly program filled with fun ideas and ways to engage millions of people to improve the health of children in schools across America. This month's SIMPLE mission was a Disney Stocking Stuffer Celebration.
If you're interested in learning more, you can follow Champions for Kids on Twitter or "like' them on Facebook to keep track of all they're up to. If you want to see what others have done for this month's Disney campaign, use the hashtag #DisneyCFK on Twitter to check it out.
What ways have you given back to your community before?