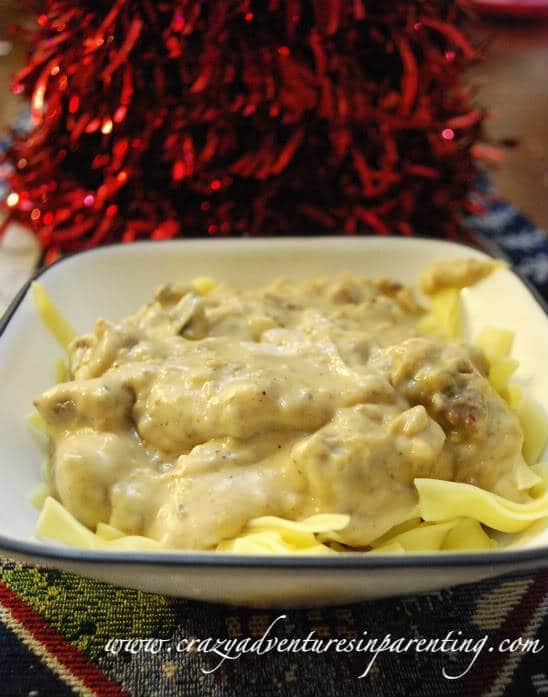 Easy Homemade Beef Stroganoff Recipe
When we were coming up with what to eat this week, we wanted to eat something a little different, something easy but tasty. Beef Stroganoff was one of those recipes you grew up with as a kid, and immediately both my husband and I knew we had a winner on our hands.
I adapted Paula Deen's Beef Stroganoff recipe and changed it, making it my own, particularly since I don't use canned cream of mushroom soup, and also, because our family is large and more steak and beef broth were needed to make this "properly."
The best part about this recipe is, you can have little helpers "help" you cut up the mushrooms, since they are so soft and pliable to begin with. My daughter used a not-sharp "kid's" knife to slice the mushrooms into my Tupperware Quick Chef Pro slicer.
Easy Homemade Beef Stroganoff Recipe
It made me happy that there were *actual* mushrooms and onions in this dish, and they were cut so small and sauteed so well, the kids had no idea, and ate it all. Yay for hidden veggies!
My kids lost their minds over this dish. My son wants this for his birthday meal next week. My oldest actually said that this trumps my lasagna, which has not only been her favorite since she was little, has been on her "birthday menu" for years and years. TRUMPS MY LASAGNA! Dude! For this Italian born and raised momma, that's huge!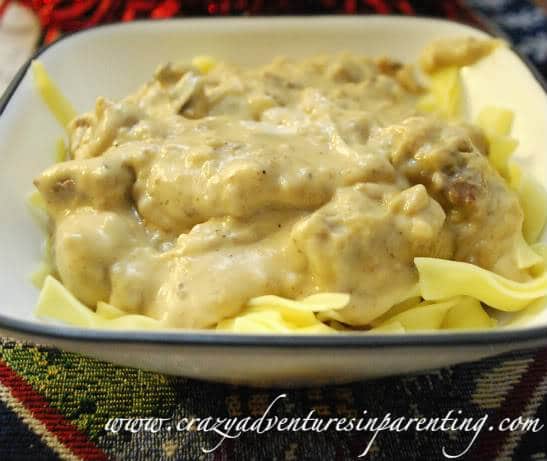 Ingredients
2

pounds

cubed round steak

cut into thin strips

Mrs Dash table blend

garlic powder, onion powder

2

tablespoons

olive oil

2

tablespoons

butter

1

medium onion

minced

8

ounces

fresh mushrooms

minced (we used less)

1

28-ounce box Swanson All-Natural beef broth (will be used in soup below)
Creamed soup
Salt and black pepper

1

cup

sour cream

Cooked egg noodles

we used two packages

Creamed Soup Recipe

3

tbsp

butter

4

tbsp

flour

1

cup

beef broth

from box above

1

cup

milk

seasoning to taste
Instructions
Slice your onions and mushrooms (with a little help, if desired).

On a covered skillet or large frying pan (with a cover), add the olive oil and butter, and brown the steak whole on both sides for a couple minutes each. (This seals in the juices and makes the beef cook tenderly.)

Remove from skillet, slice steak into strips and season with seasonings, and then toss the steak in a bowl with flour until completely coated.

While slicing the steak into strips, add the onion slices and mushrooms to the pan drippings and saute until onion is tender.
For the Cream Soup
In a small sauce pan by melting the butter. Once butter is melted, add the flour, and whisk until blended well and small beads form. Add broth and milk, whisk again, letting simmer until it thickens up. Add seasoning to taste.

Sprinkle the onion and mushrooms with a tablespoon of flour, then placed the floured steak back into the pan with the prepared cream soup and 1 cup of beef broth. Season again.

Stir then cover, cooking over low heat for about 30 minutes.

Every ten minutes or so, add more beef broth, mixing into the thickened gravy mixture, thinning it out a little, and add a dash more seasoning. Should use the remaining broth in the box by the end of the simmering time, to make it more gravy-like.

Once 15 minutes has passed since steak mixture began simmering, begin preparing egg noodles.

Once stroganoff is finished, stir in the sour cream right before you serve, and blend well. Serve over drained and cooked egg noodles.
I'm guessing they really, really, REALLY liked it.
Never miss a thing! Subscribe today for all kinds of crazy parenting fun!