My newest post from my "Things That Make Mom Go Batshit" series.
The kids' I.O.D. illness has gotten substantially worse. I had to brace myself last night when fumbling through the last-minute laundry basket to sort clothing out.
(Side *mom's mental* note: Yes, I totally said "last-minute laundry basket." I mean, what the hell, kids? I do laundry every Sunday before the next week of school. Three loads were finishing up. As if I wasn't already going nutso from the sheer enormity of laundry you kids produce on a weekly basis, you sneak-attack me and bring down the oh-so-forgotten Green Hamper of Doom™ down to my laundry room on a Sunday night, on this poor, unsuspecting mom, just when I think all is well and done? Chock-filled with laundry from the past week they didn't bring down. To include almost every.single.solitary.pair.of.jeans my two sixth graders own. WHATHEHELLKIDS!?)
I peeled each item from the basket, one by one, only to discover my daughter's I.O.D. was out in full-freakin'-force. Underwear still in her jeans. Pants completely inside-out. Seams a-showin'. Completely reversed. After three sets of jeans like this from her, and two from my son, I lost it. I yelled, out loud, "ELEVEN YEAR OLDS SUCK AT TAKING OFF CLOTHES! JUST SAYIN'!"
My husband laughed at me. He then called down to the kids to come down to get a "talk" from me about it. They shuffled, slowly, dragging their feet into the kitchen, rounding the corner to face me. They were met with the Angry Mom Eyes™, resembling something probably like this: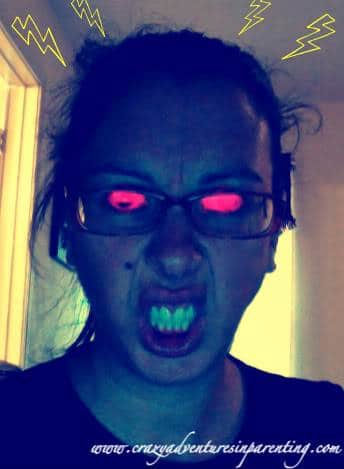 Also known as Mom Goes Thermonuclear, Film at 11
"KIDS!? DO YOU KNOW HOW TO TAKE OFF YOUR PANTS?"
"Yes….." they mumbled from under their breath.
"NO! NO YOU DON'T! Because if you DID!? You would NOT have pants that look like THIS!"
And without looking, I pulled out the next pair of jeans, being completely inside-out, underwear stuck at the crotch, and smoke coming out of my ears.
"IT IS NOT THAT HARD TO TAKE OFF PANTS. HERE! LET ME SHOW YOU!"
And I moved the basket over, and began to instruct them. My daughter's hand immediately went up to her mouth in disbelief, that mom was about to pants herself in the freakin' laundry room. OH YES, KIDS! I AM! BELIEVE IT!
"YOU PULL YOUR PANTS DOWN, KNEE LEVEL, SEE?!"
They didn't nod. They stood there in shock. Mom's pants were down, like she's going to the bathroom. I could see they were visibly shaken. "THEN, YOU TAKE YOUR HAND, AND YOU BRACE YOURSELF, OR SIT DOWN, OKAY!?"
Again, crickets. Just stares.
"THEN, STARTING AT THE ANKLE…" dramatic pause here as I balanced on one foot, pausing, to show them what an ankle actually is, "YOU THEN PULL OFF YOUR PANTS FROM THERE, SEE? ONE AT A TIME! NOW, IS THAT HARD, KIDS?!?!"
I got very, very slow head-shakes from side-to-side. I wasn't havin' it. "WELL!!?! DO YOU UNDERSTAND?!?"
"Yes, mom." they responded in unison, voices cracking, fearing for their lives.
"Okay then. You may now return upstairs and continue doing whatever you were doing. But SO HELP ME GOD if I find pants this way again."
And then I shot them the "OR ELSE" face, like this:
And I believe I may have gotten through to them. We'll see, though.
Does I.O.D. run rampant in your house, too?
Never miss a thing! Subscribe today for all kinds of crazy parenting fun!