With each pregnancy comes the lotion "rubbing" from my children on my belly. It's become a tradition – mom needs lotion on her belly, they get to massage me and rub the baby, and everyone wins.
Over the years, though, it's progressed from a baby belly kind-of thing to become an all-encompassing, all-over-the-body kind-of thing, to include my feet. I made the mistake of letting them use my no-longer-sold body butter from Body Shop this time….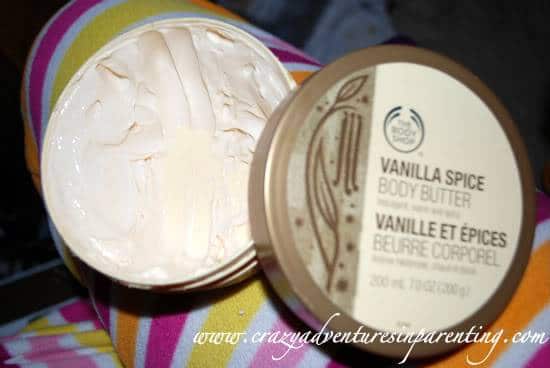 What's left of my favorite lotion!
I, then, made yet another mistake of letting them do it two days in a row.
I am now slick, like oil. They slathered my feet so horribly thick, I have two sets of socks on, in hopes the warmth will eventually permeate my skin and it will seep in. Yesterday, my belly was so coated with lotion, even after my attempts to rub it in, it seeped through my t-shirt! Even I, myself, could not get it into my skin properly, no matter how hard or wide I massaged.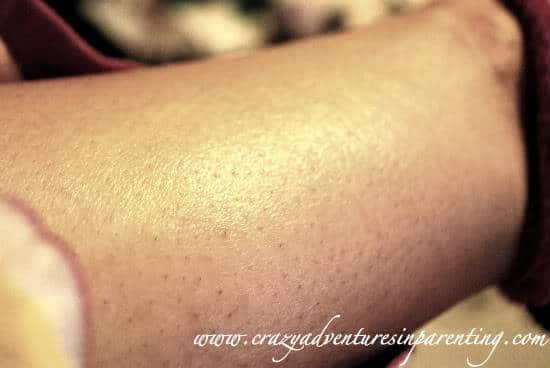 My super-shiny leg. Holy hell, I bet I am waterproof!
And yet, their little baby fingers weaving over my tired legs, belly, feet and back felt too scrumptious to pass up, they are my little baby-run spa getaway, making a tired mommy relaxed, even if I have more on my skin than I do in my container, now.
They love me, and want to do something nice for me. And love them so much for that. I could go thirty years without dry skin, because of them, and I wholeheartedly appreciate their love. And massage-y fingers.
Never miss a thing! Subscribe today for all kinds of crazy parenting fun!