Peanut butter fudge + Ritz Peanut Butter Sandwich Crackers = HOLY DESSERT TO DIE FOR, BATMAN!
Holy smacks, friends! I finally did it! I finally didn't screw this one up! I finally got the chocolate fudge to the right consistency (by adding peanut butter) and I did the (seemingly) impossible!
(And if you choose to make this, you are going to LOVE me for doing it!)
Behold, dessert of wonder! I bow to you in all your peanut buttery awesomeness!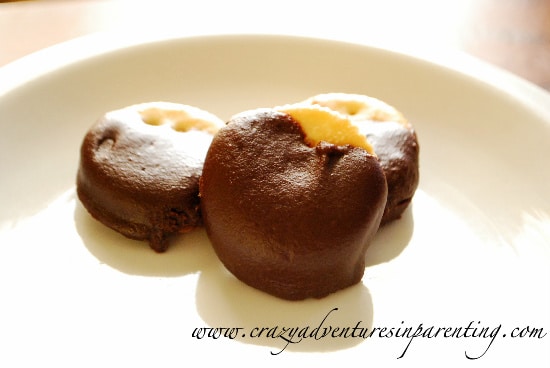 Peanut Butter Chocolate Fudge Covered Ritz Sandwich Crackers
Peanut Butter Chocolate Fudge Covered Ritz Sandwich Crackers
To die for chocolate and peanut butter dessert.
Ingredients
36 peanut butter Ritz sandwich crackers
1-2 heaping tablespoons of peanut butter
1.5 cups of chocolate chips (approximately half a 32oz bag)
1 tsp vanilla
3 tsp butter
parchment paper
Instructions
Set up a double boiler (a microwave isn't going to cut it) and put water on to boil. (I, personally, don't have a double boiler, so I used a metal bowl that sat over a pot of boiling water. It worked perfectly, I just needed an oven mitt to hold the bowl.)
Melt all the ingredients into the bowl, stirring until smooth.
While holding carefully (and bravely, you tend to burn yourself a little, but it's worth it), hold the crackers into the melted chocolate, swirl around a little, and place on parchment paper on a plate to cool/set.
Repeat until all crackers are covered in awesome and you're stomach is grumbling.
Here comes the hard part - you have to let them cool. (I know, I know, you want to snarf on 'em all right now, I know. But you can't.)
Once cooled, place in the fridge so that the chocolate hardens enough to remove from the parchment paper. (SWEET TORTURE, I know, but after 15 minutes, you'll be good. You can do it, you can hold out for it.)
Are your fifteen torturous minutes over with? Are you ready? Seriously ready for it? The salt and sweet and crunch and OH MY SWEET BABY JESUS LAYIN' IN A MANGER, it is goooooooood.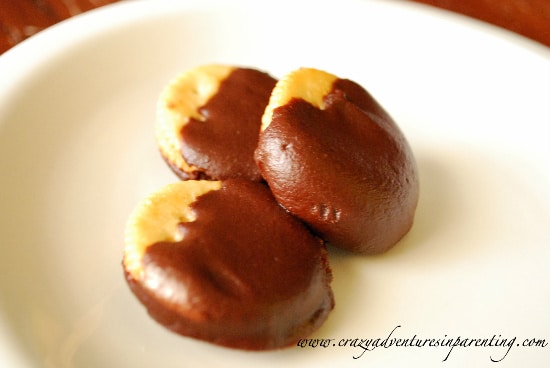 Try it. You'll love it. Pinky promise.
P.S. Check out my other delicious homemade recipes here, or laugh with me at my dessert failures. (Or laugh at me, it's okay.)