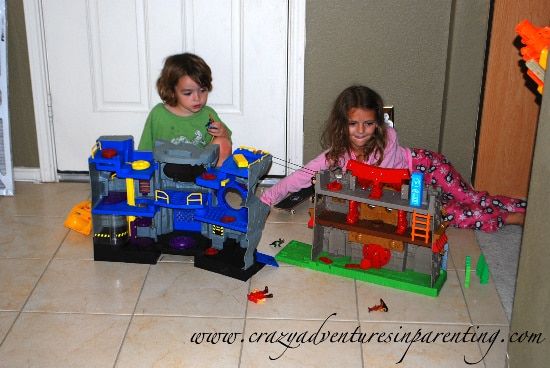 For two days, my children have taken their toys to the cool, new tile entrance we have. They've plopped their toy trains and Imaginext castles, Barbies and toy cars, laughing with delight and squealing to decibels my teeth would rather not experience again, all while I bounce/rock/burp/shoosh/massage a newborn to sleep.
"Guys! Can you be quieter, please? And move your toys back into your rooms?"
"But mooooooooooom," they whine louder than they played, "we like it here!"
And, as if on cue, my cool three year-old starts belting out in song. "Das duh way, uh huh uh huh, we wike it, uh huh uh huh."
My five-year-old chimes in with him. They start giggling while singing loudly for me.
Sigh.
Who can argue with cool toddlers like that?
(P.S. What do you think of the new tile and wall color? More "after" pictures to come, as soon as we're 100% finished!)