It's been a whirlwind thirty days of newborn goodness. My arms as of late are dead weights, though, as her cheeks and thighs fatten up and the gas issues consume her baby stomach and my free time. She loves the Moby wrap, but I am finding it inconvenient outside the house, given the rising temperatures.
I struggle to right myself into normalcy, but, despite my desperation for more coffee, some rested arms and a nap, I can't imagine it any other way.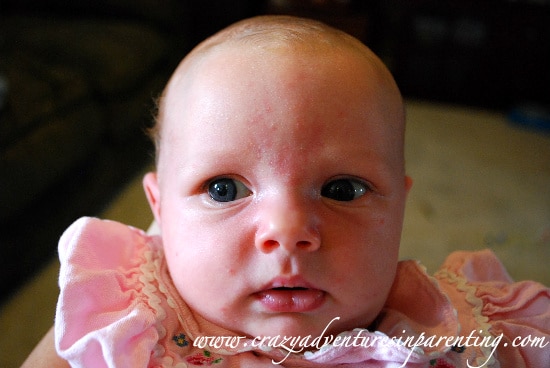 The pink and purple explosion has taken over. And dressing her up? OHMYGOODNESS! I can't help it.
I am SO RIDICULOUSLY EXCITED to break out the girly clothes for her, and not just newborn pajamas, to get her all dolled up in pretty ruffles, lace and flowers. Warm weather might be difficult with the Moby, but with the sundresses and cute outfits? YES, PLEASE!
But back to babywearing.. what should I do? I have a sling or two, and they are helpful, but she likes being upright, as in the Moby. Do you think a Mei-Tai would be best? One with a hood? I was thinking about a wrap conversion, maybe? Babywearing mommas, what else can you suggest for us heading into this hot summer?