My seven-year-old, Super M, had his school's "field day" yesterday. Thankfully, with all the military moves we've endured, and the school changes and differences in school curriculums, no matter where we've moved to, every school our kids have attended have held a "field" or "fun" day in which the kids get a day to be KIDS, and HAVE FUN. Some schools have water activities, some schools do olympic-type events with medals and ribbons, some have bouncy houses, while some have a combination. But no matter what they do, it's always a blast for both the teachers and the students to have a "fun" day off.
At this elementary school, they not only offered water fun, but a chance to get a special school shirt and water bottle for the event (nice quality, too). He went to school in his new shirt and bathing suit, proudly strutting into school with his change of clothes for afterward. After their water activities, there were booths where they could win prizes, enjoy snacks, and meander to and fro with their friends. To say he had a blast is an understatement; he came home THRILLED with his self-proclaimed best.school.day.ever.
Also, apparently, he came home a little tired, too.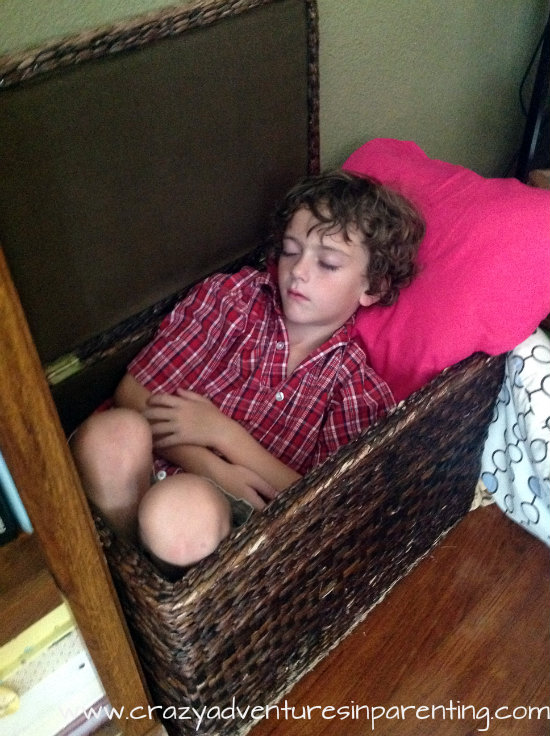 I'm still not sure why this blanket box is so enticing. Baby Sis has enjoyed napping in it, too.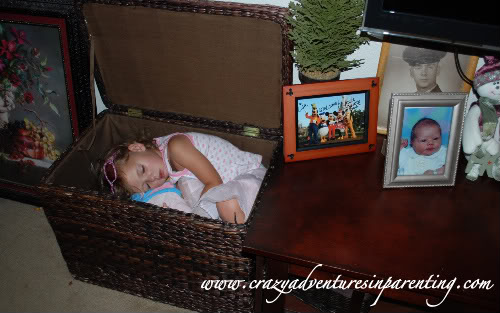 Crazy, right? Ah, well. He earned that nap.
—
(If you haven't noticed, my kids have a knack for this sleeping anywhere business. Check out more hilarious photos by browsing my kids sleep anywhere series!)
Never miss a thing! Subscribe today for all kinds of crazy parenting fun!