Two years ago, I had arguably the worst Mother's Day ever. My husband was away, I was sick, and the kids completely forgot the day altogether. Not only did they forgot about it, they didn't even bother to help their ailing mother, either. It was so odd in it's awfulness how it all went down that day. I suppose you could call it the Anti-Mother's Day.
You can imagine that, when I got sick last week, I feared a repeat of two years ago. My husband is, yet again, away for Mother's Day, and all I could imagine was the same scenario playing out in the same way. God help me, I'd been dreading Mother's Day since.
Instead, in the past few days, I've seen the kids whispering to one-another. I've heard things like, "I've got the bacon," or "You do that!" I know something is in the works, and it excites me to see them this excited. Maybe it was a lack of direction two years ago, but they all seem super-motivated to make the day special for me this year.
The funny thing is, everyday being their mom is a special one. (Even that crappy Mother's Day.)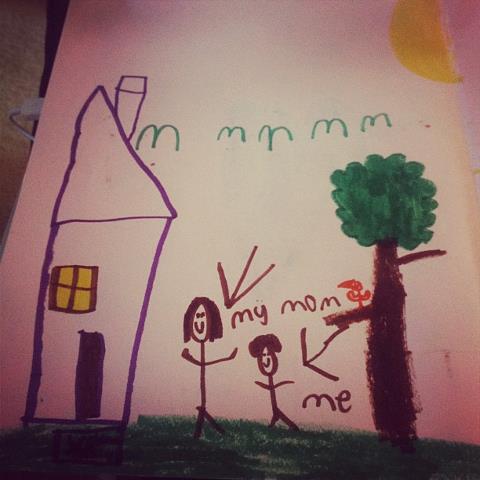 I don't need fancy trinkets or glittery jewelry (although I will say I adore the mother's ring I received many Mother's Days ago). Give me a good, heart-felt card with a lot of kid-scribbled signatures on it, with crayon-colored pictures plus secret art surprises from school- those make my day. I love it when they try to cook for me, too, even if it is only PB&J and chips. I can't stop smiling by all the love, attention and hugs I get. That is what makes the day for me.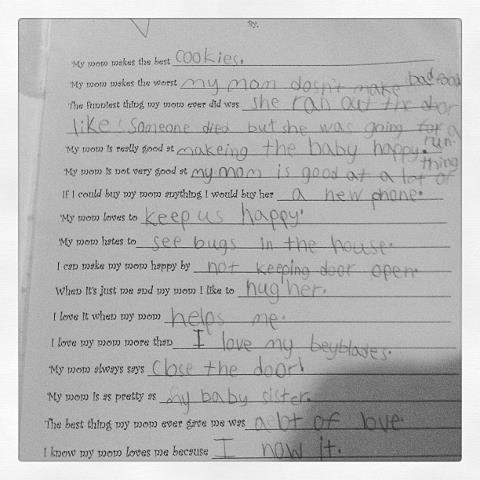 That card above is one of those "things" that make us mother's smile. They are some of the most interesting, hilarious, truth-telling gifts any mother could get; ones worthy of being put in the "save forever and ever" box that we can look back on, becoming permanently etched on my heart forever.
This year, despite being husband-less, I plan to make the most of my Mother's Day with them, with a little help from the folks at Hallmark, using something even more special that their brilliant minds at work – their voice.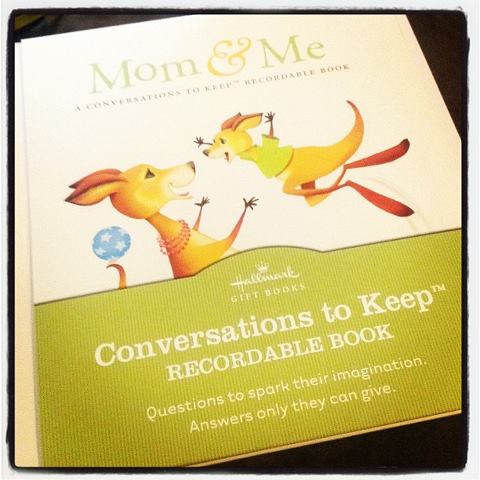 I.Could.Not.Be.More.Excited.About.This.
In a whirlwind trip to nearby Austin two weeks ago, I visited a lovely Mansion hotel for a breakfast reception. I was running late, (we couldn't find anywhere to park), and was immediately met with the ear-to-ear smiles by my dear friend and one of my favorite moms, Kim of Prairie Mama. After many hugs and baby squishes between the both of us, I got to ogle at some of Hallmark's newest products, and they lovingly gave us a goodie bag to take home. One of those products they gave us is the one I plan to use today with my kids.
As a military wife, I already knew how fanfreakingtastic their recordable storybooks are. Children can enjoy listening to their deployed parent read them a story anytime, anywhere. I have a soft spot in my heart for a company that changes lives like that. Turns out, they weren't finished.
I couldn't control the tears as I poured through the pages of this recordable survey book. Now I get to cement in time my kids' voices answering these questions for me. I'm one of those REMEMBER ALL THE THINGS parents, and this is the tippy top of the icing on the cake for a collector-of-memories mom like me. So special.
Win it!
Would you like to win one of these Mom & Me books for yourself? Leave a comment to enter. You can earn extra entries for sharing this, one entry per share. Leave a comment for each. Contest ends May 21st 10pm CST.
Do you get mushy over cards like these, too? What's the funniest thing your child has ever said on one of these? What is your favorite Mother's Day memory?
Hallmark lovingly gave me the book, and a smidge of other prezzies to take home, but did not ask me to write this post. I just wanted to show them some love, in appreciation for their awesomeosity. Thank you for helping make my Mother's Day special.