It's SUMMERTIME! Summer means lazy days, sleeping late, swimsuits, frozen treats and most importantly VACATION!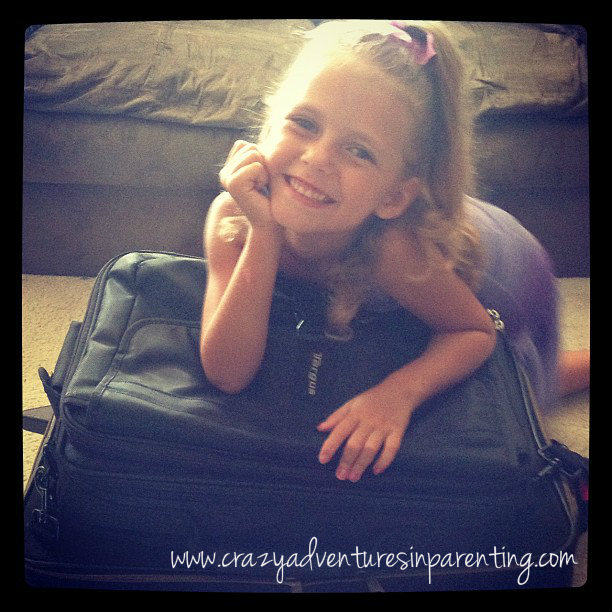 We love traveling. I know some folks might frown at the idea of traveling with kids (particularly with SO MANY, like us), but we love traveling with ours. That sense of adventure in setting out for a voyage and taking our wee ones away to experience something new that's fun and adventurous, even WITH so many kids, I feel so honored to be able to show them so many places while they're still small and learning about the world.
There's an excitement that builds when traveling. Sleeping over some place different is always exhilarating. Our family loves to travel and have become quite good at doing it, but sometimes we miss it so much in between trips, we'll venture out and stay locally and have ourselves a "staycation." Recently, our little "staycation" was Father's Day weekend at the Omni La Mansión del Rio Hotel located right on the famous riverwalk in downtown San Antonio.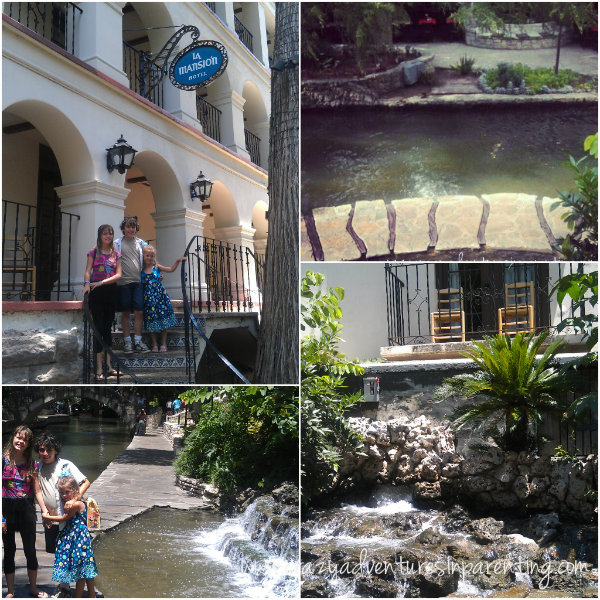 I sent my husband and a few our of kids to stay at the Omni for a little pre-Father's Day fun and adventure utilizing their new Camp Omni promotion. My husband has been traveling a lot lately (and again next week) and they've missed spending time with him.
Just after checking into Omni La Mansión del Rio, they had a dinner reservation scheduled at the AAA four diamond Las Canarias restaurant. They had a (mostly) magnificent time with impeccable food and many laughs to boot. My husband kept texting me from their dinner table, between the pictures of the gorgeously plated food to my children's hilarious antics.
"I'm going to kill (our eight-year-old). Fanciest dinner of his life and he's burping like a trucker. And you can tweet the hell out of that."

(Eight-year-old's) quote: 'I've experienced heaven many times in my life, and this was one if them.' The waiter was rolling."
(My apologies to Las Canarias for any crazy we may have brought to their fancy dining room. Ahem.)
Childhood antics or no, Las Canarias was an absolute delicacy. My husband enjoyed a New York Strip while my grilled-cheese-addicted son absolutely loved his Triple Decker Grilled Cheese with Bacon (shown above).
While at dinner, the Omni hotel staff secretly left the kids a couple meaningful things to make their stay really special. The first gifts left were Worry Dolls to help them sleep well while away from home. Read the note attached. I was almost in TEARS when my husband texted me this picture. How tender of a gesture this was!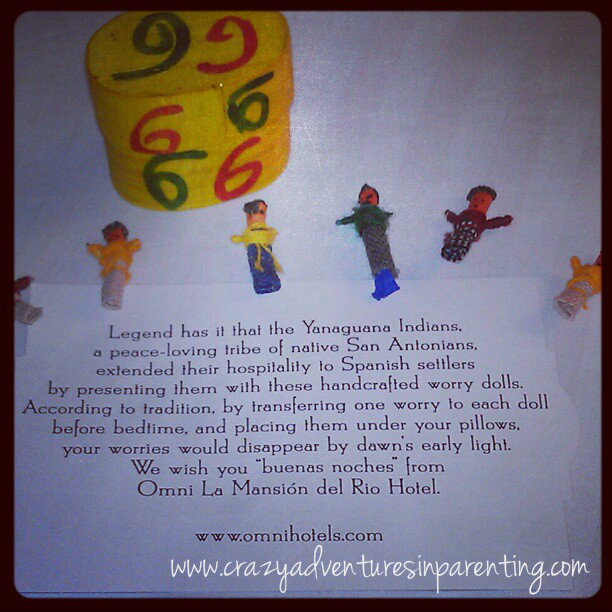 Next, they left them a little cookie night-cap, to help them celebrate more.
My family was absolutely blown away by their hospitality. Camp Omni had truly outdone themselves so far, and it was only a mere couple of hours into their stay there!
Upon arrival, here's what each child is given at La Mansión del Rio with the Camp Omni promotion: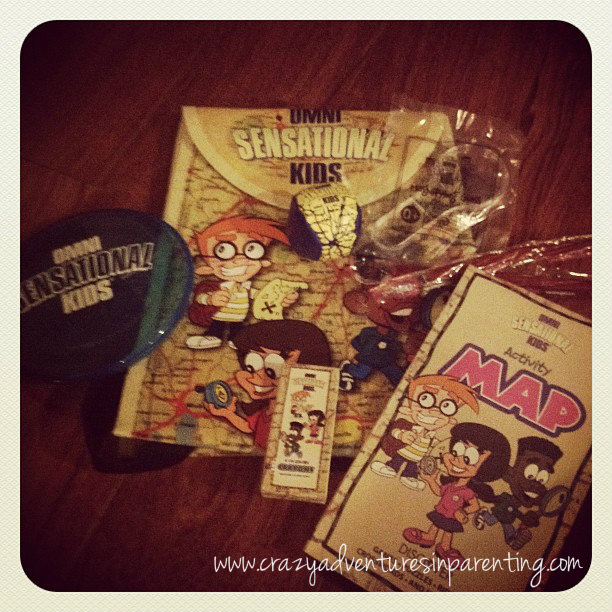 Fun, huh? With Camp Omni each child gets a backpack filled with a camp newsletter or map with a scavenger hunt redeemable for prize upon completion. In addition, kids get a $10 gift card to use anywhere in the hotel, candy, crayons, a magnifying glass, and frisbee. From what I understand, the backpacks/satchels are different at other locations, but each child gets fun goodies similar to this.
On top of everything else, the Camp Omni promotion gives you a 15% discount on your stay of two nights or more. Kids 12 and under eat for free from the buffet or kids menu at the restaurant – score!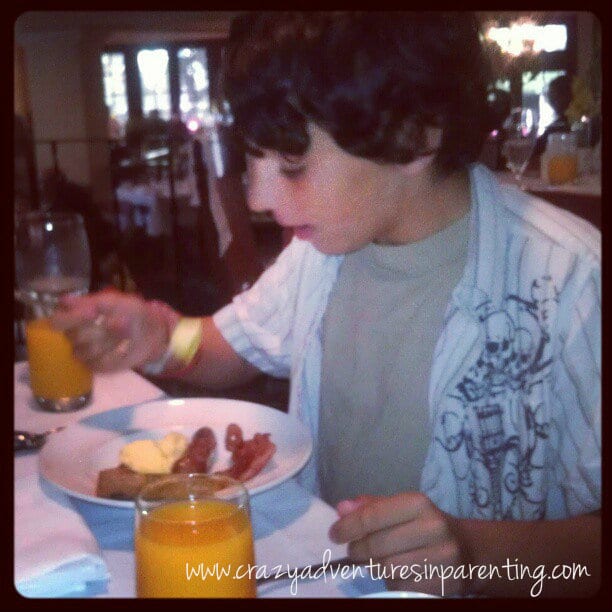 After breakfast, Holly, the hotel's activities manager, gave my kids the grand tour of this historic hotel. (It was once a catholic school 150 years ago!) Instead of merit badges, at this Omni location we were all given medals for having learned about La Mansión del Rio and completing their scavenger hunt.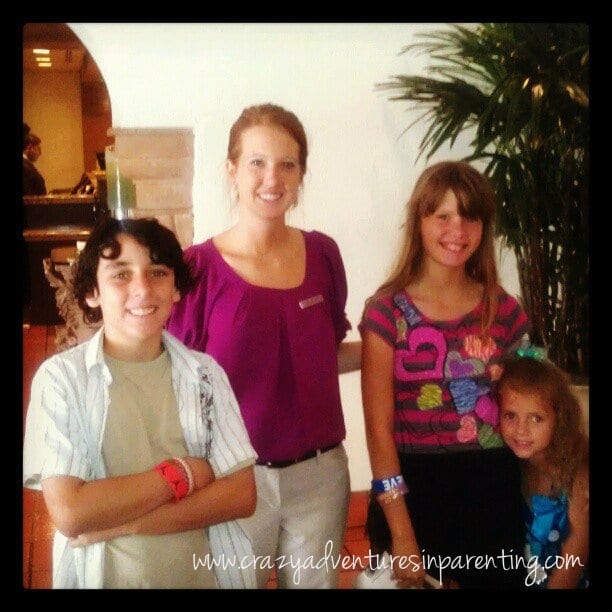 Once breakfast was consumed and the historic tour concluded, it was time to partake in deliciousness of La Mansión del Rio's lovely swimming pool. Such a beautiful restorative spot to help beat the heat in San Antonio. Doesn't it look so inviting and worldly? Oh my!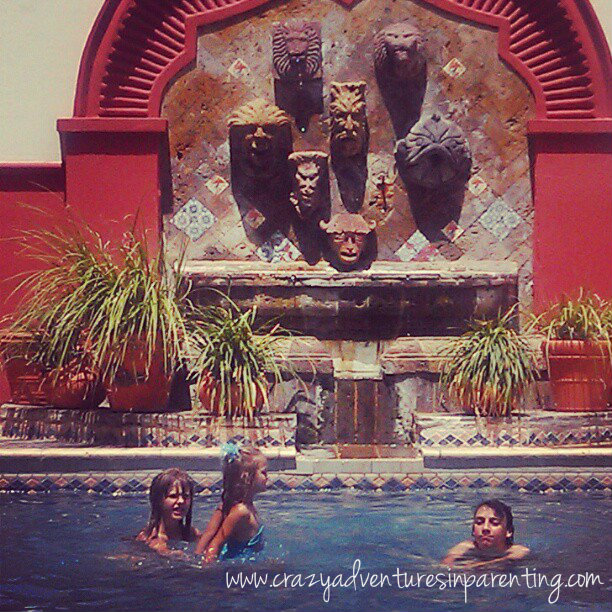 Had my family had stayed over longer, they would've enjoyed Omni's Saturday night "dive-in" family friendly movies and fun pool activities such as hula hoops contest, limbo contest, and Mexican bingo. Could they make it any funner for kids!?
I was so jealous and in awe of how wonderful Omni had treated my family, I immediately became a Select Guest, and booked my very own stay at the Omni Charlotte Hotel this week for Type-A! I can't wait to experience their service for myself!
By signing up as a Select Guest for free, you get complimentary in-room Wi-Fi, pressings, shoe shine, morning beverage delivery and you'll earn a free night after staying just 10 nights. I'm looking forward to more Omni travel in my future.
I encourage you to follow Omni Hotels on Twitter and like them on Facebook. They've got a fun guy running their social media accounts named Jay. Be sure to say "Hi!"
Interested in reading more about
Camp Omni
, perhaps at a location near you? Here are a few relevant links to reviews of other Omni locations by friends:
Omni Dallas by MommaDJane
Omni San Franscisco by CiaoBambino
Omni Atlanta by BlondeMomBlog
Omni Independence Park Philadelphia by Musings of a Housewife
Also noteworthy to me, being a military wife, is Omni's partnership with Joining Forces to give veterans employment. Awesome!
Be sure to keep an eye out on Twitter and Facebook this week. I'll be at the Type-A Conference, staying at the Omni Charlotte and sharing pictures of my stay there.
I wrote this blog post while participating in the SocialMoms and Omni Hotel blogging program, to earn My SocialMoms Rewards Points. The opinions and ideas expressed here are my own.