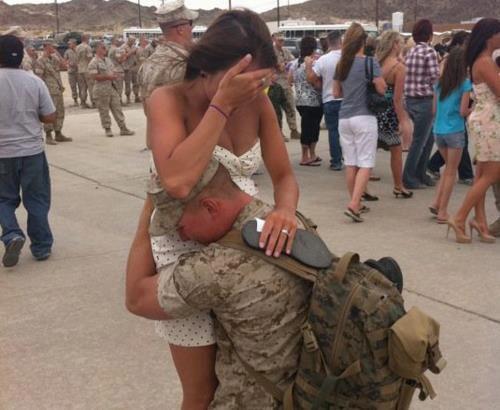 I saw this picture on Facebook, and my eyes immediately welled up. I have been there.
I remember the feeling of wanting to look my absolute best for him, and the nervous prepping involved, fumbling with the hair dryer and shaky hand applying mascara. (I succeeded after my third attempt. Ahem.)
Being dressed up for his arrival might matter to his command, or the other wives/girlfriends, but to him, it won't matter. You could be wearing a paper bag, for crying out loud. Fancy outfit or no, YOU will still be YOU. The person on the other end of the letters, phone calls and emails he desperately clung to while "over there." The person who sent care packages and perfume-scented handwritten letters sealed with a lipstick kiss. You are his home, and the face he wants to kiss and embrace the second he steps off that plane onto American soil.
This is why it doesn't matter how fancily dressed up you are when you meet your soldier off the plane. Your makeup WILL get messed up through tears, your outfit will get crumpled and wrinkled because he will clutch it for dear life, and your perfume will be masked by nervous sweat and his dusty, sandy uniform.
But OH, the EMBRACE, friends. It is one you will NEVER, EVER forget. Much more poignant and memorable than your first date or your first kiss as man and wife; none of it pales in comparison to the deployment embrace. If there were any moment in which humans could produce spontaneous fireworks, this would be it. Your own personal Fourth of July celebration.
Embrace that soldier, honey, and don't let go. You've waited a long time for that feeling. Bask in it until you feel you'll faint from breathlessness. And once you come up for air, and you feel the circulation in your fingertips again, thank him for a job well done from me.