Paper clutter is taking over my life! It's mind-blowing just how much paper the kids bring home to me daily, on top of the junk mail and all the other crazy stuff kicking around. I knew I needed a solution, particularly for the mounds of school-related paperwork that get placed onto surfaces and then scattered and thrown by Tiny Terror aka Baby V. It's about this time I saw this pin on how to use a postal box to create a paper holder:

Source: bornagaincrafter.blogspot.com via Lisa on Pinterest
And then it hit me – what if I created one of these, placed it somewhere, perhaps by the door (maybe?), and asked the kids to place all of their paperwork in one of these paper holders, to be sorted through once or twice weekly, maybe?
And what if I made a clipboard for paperwork that needs to be signed, or for things that are important?
And what if I didn't just use any clipboard, or postal box – what if I made them pretty with cutesy wrapping paper and, perhaps, glitter? YES!
Enter in the wondrous and pretty wrapping paper of awesome. Thank you, Target dollar racks.
With the many boxes from Christmas shopping, I knew I had one postal boxes of these lying around. And I knew I just HAD to create this to solve my paper dilemma.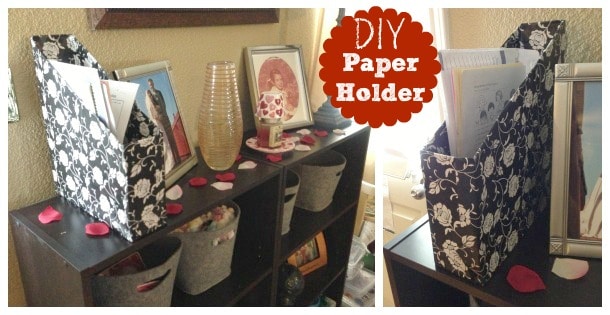 To create these two crafts, gather up the following:
scissors
gift wrap
spray adhesive
postal box
old clipboard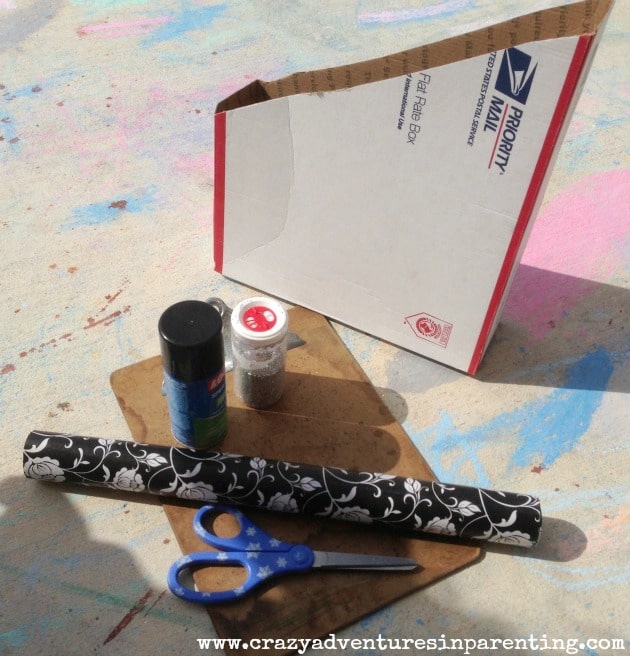 Essentially, you're going to be "gift wrapping" the box and the clipboard, except more carefully because of the adhesive.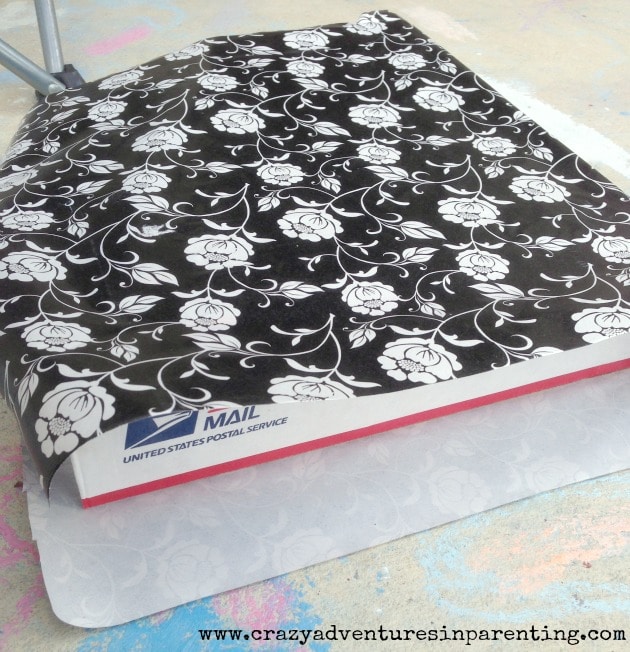 I tried to measure carefully, to be sure there wasn't too much overlap, but just enough to fold and gift-wrap the sides neatly, like below: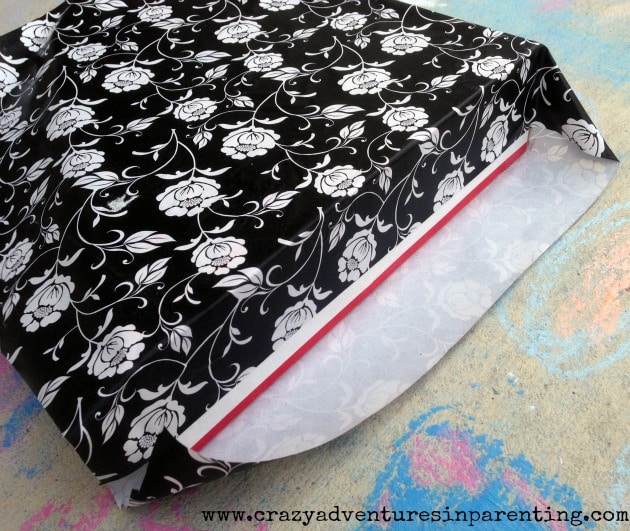 I sprayed just a teeny-tiny bit of adhesive to get the corners to stay perfectly.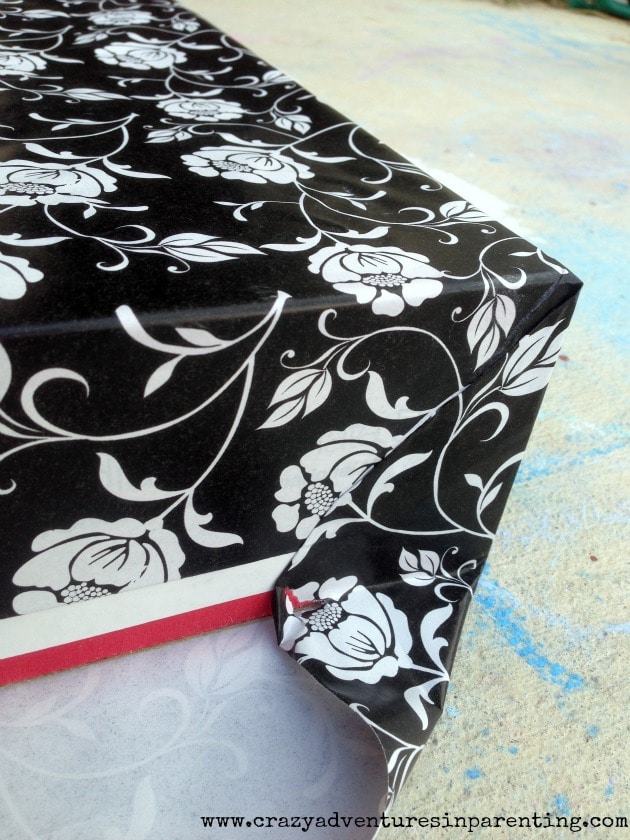 Once the bottom was wrapped up nice, I folded the remaining paper into the box, spraying the paper (and not the box) and flattened it. When folding it in, you'll notice it's angled, since the box is angled.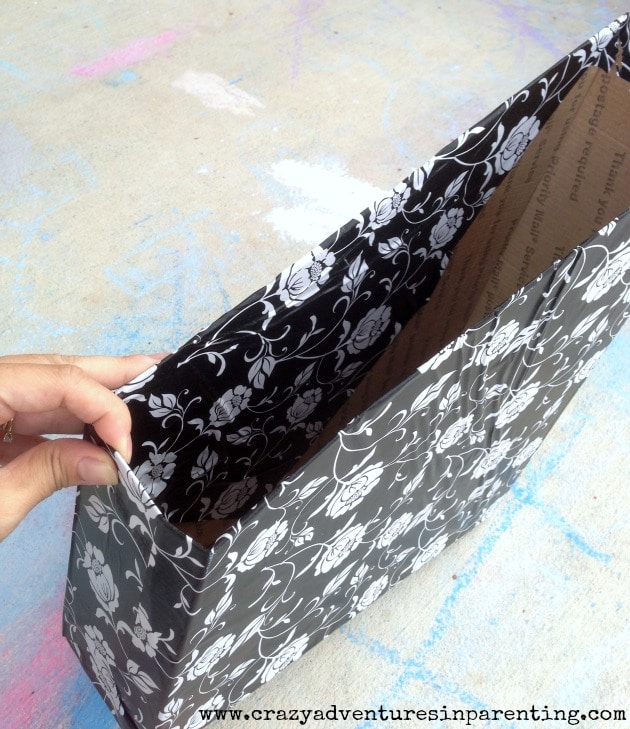 To even out the inside, I added an additional flap of paper to cover the uneven inside from the angle, and then trimmed the corner. I also didn't paper all the way down at the bottom, but you could.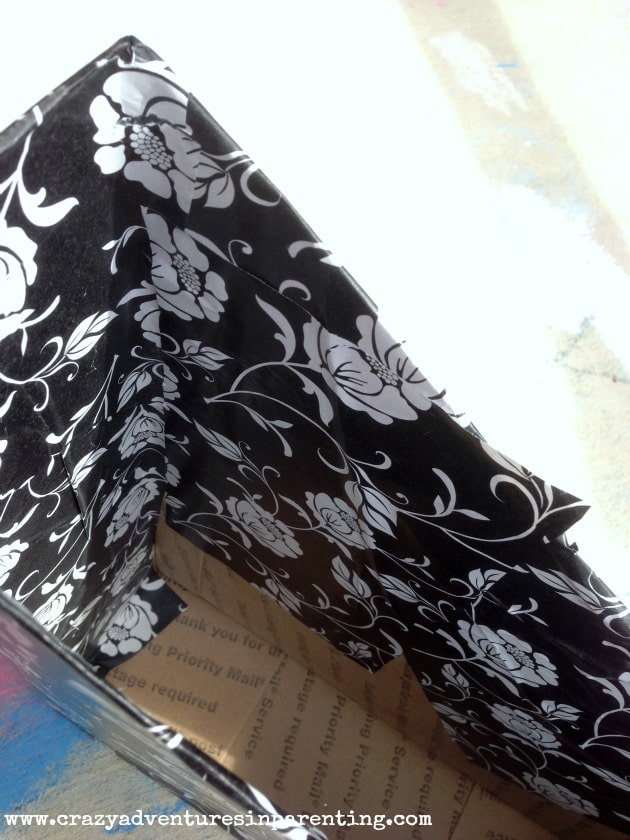 Here's the finished product at work! See?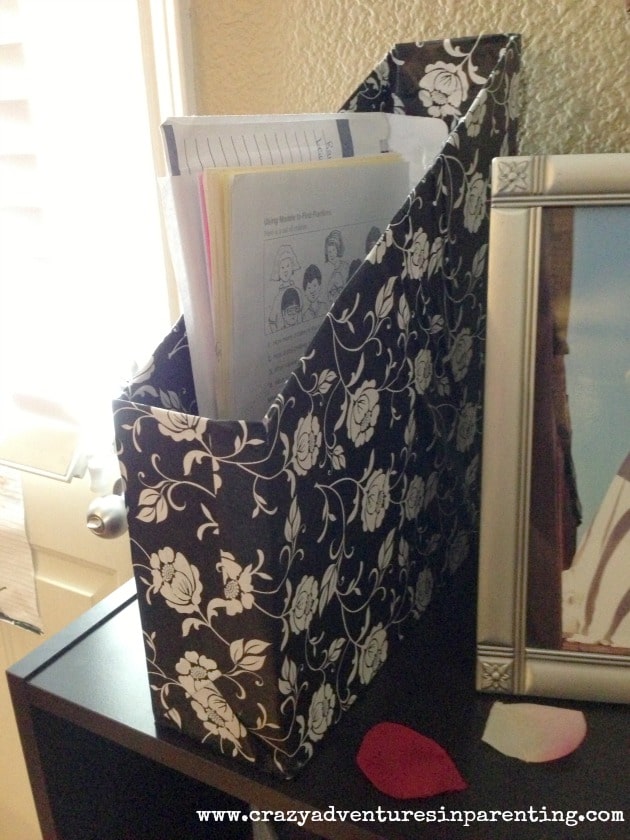 To go along with it, I wanted a clipboard for important paperwork, report cards, things that need attention right away.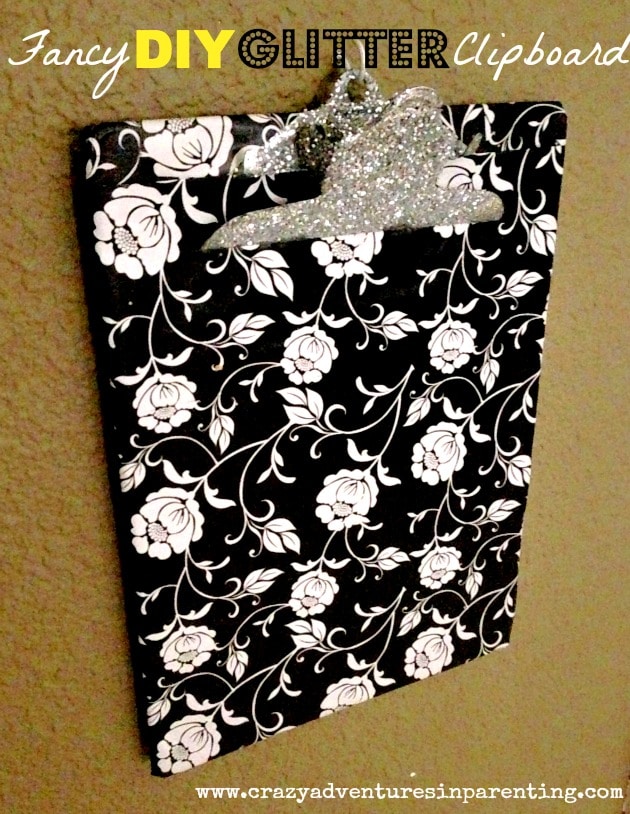 Essentially I did the same thing as the paper holder – I gift wrapped the clipboard.First, I took two small pieces of gift wrap to cover the top sides where the clip is. This will cover the top portions.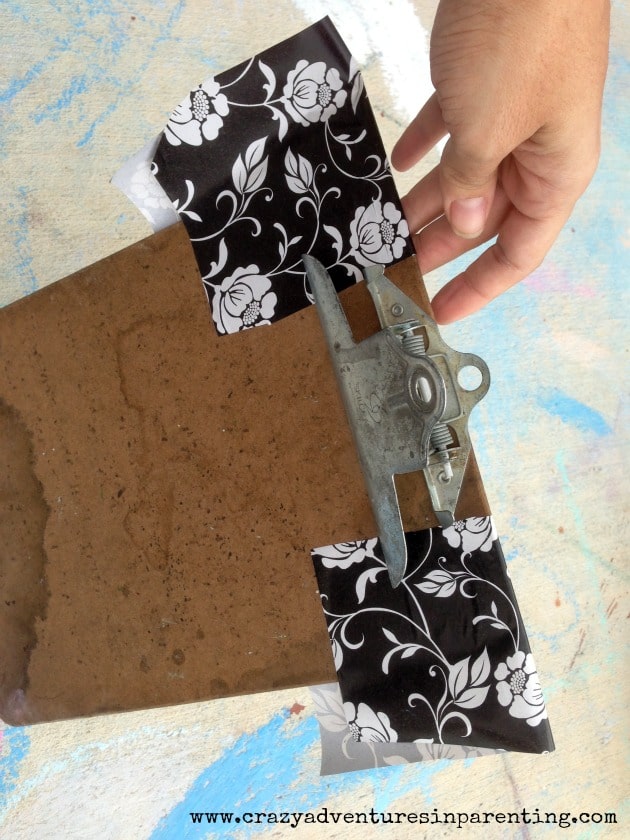 After spraying the two small pieces and folding in place, I measured the paper to go across, width-wise, covering both front and back. I sprayed, folded, and wrapped the ends up, too.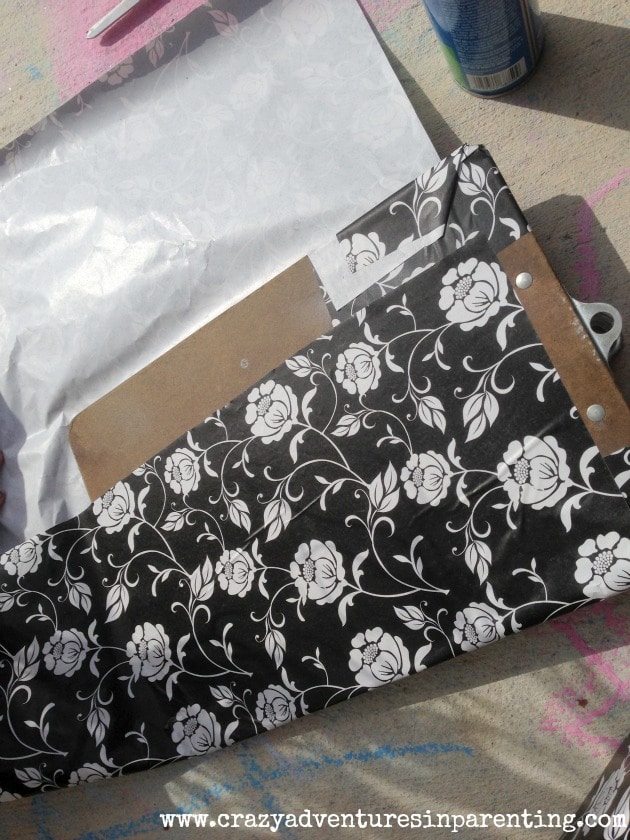 Now, here's where I need for you to NOT do what I did – get a newspaper, wax paper, or something to protect your surface from the crazy glitter. You will have to use the spray adhesive on the metal parts to get it glittery, but you can't control where that glitter goes (especially when your six-year-old is the one shaking it). Do as I say, not as I do 🙂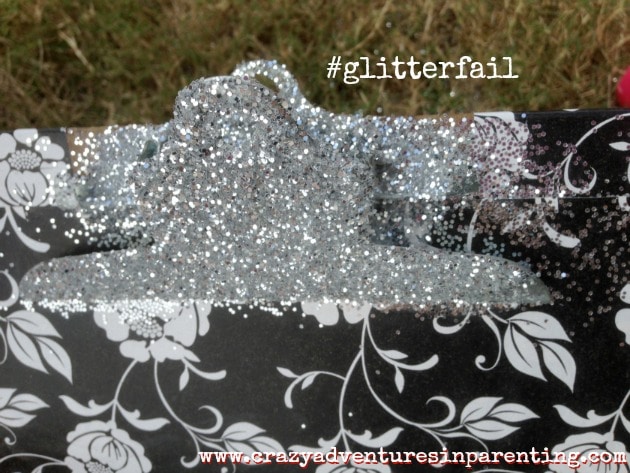 All was not lost, though – after much scraping, brushing, shaking, and hair-pulling (ahem), behold!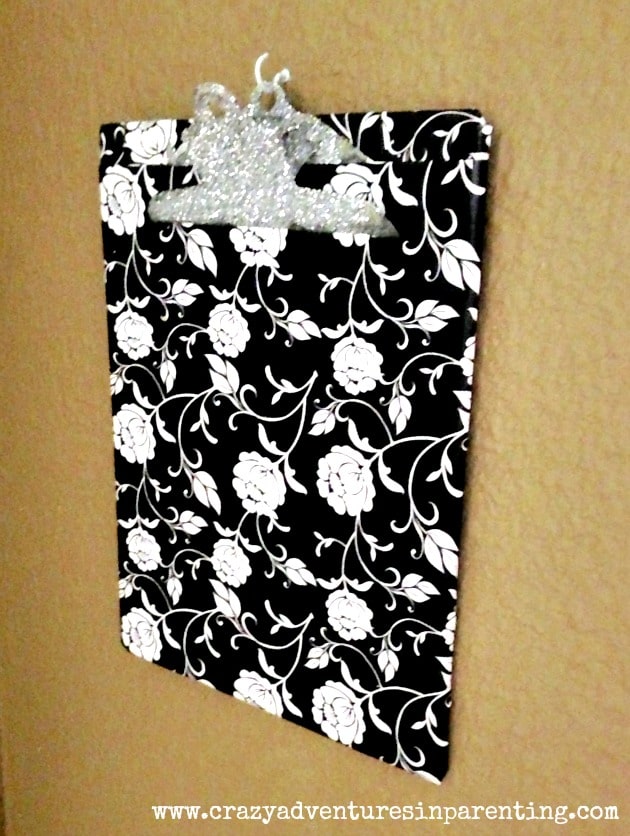 I love how the glitter sparkled up the old metal on the clipboard. You wouldn't have any idea that this was old!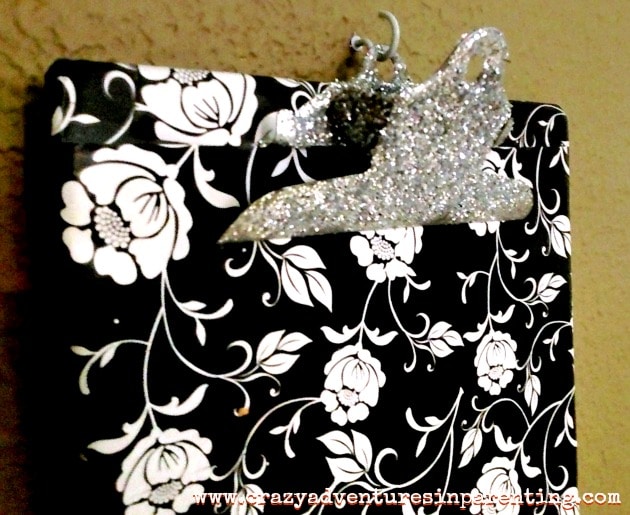 What do you think? Are you drowning in daily school paper clutter, too? Would something like this help you out, too?