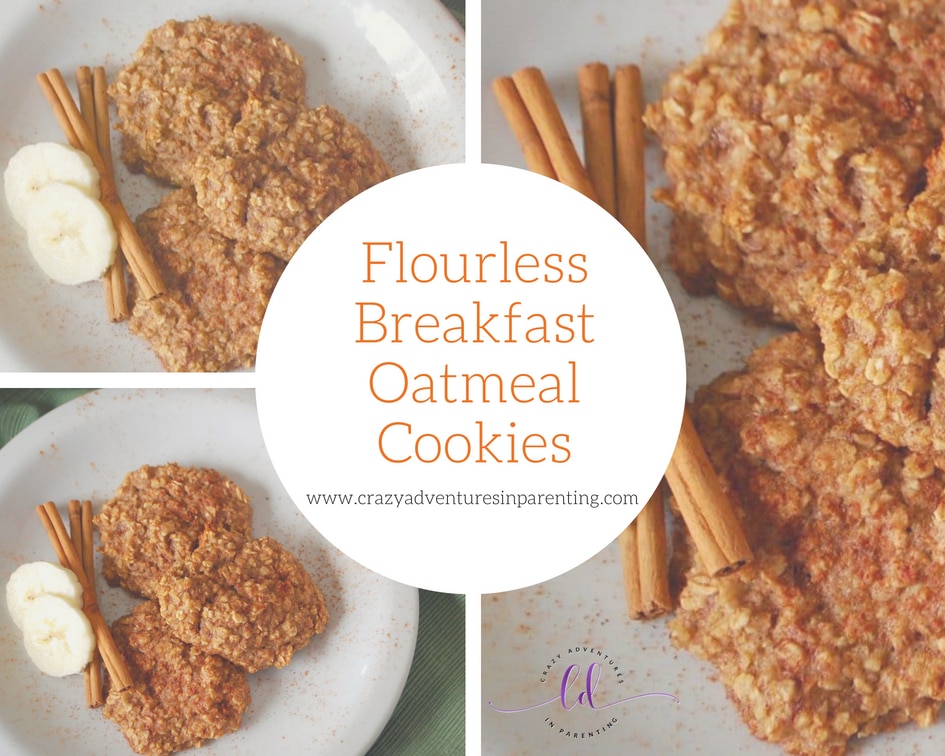 Need an easy way to get your kids to eat something healthy and fun in the morning? Are you running late with no time to prepare anything to eat before work? Do you need a healthy snack in between meals? Are you looking for a gluten-free solution to all of the above? I promise you, this breakfast oatmeal cookies recipe is THAT recipe. It's delicious, nutritious, gluten-free and fun to eat!
"Hey kids! Do you want to have cookies for breakfast?"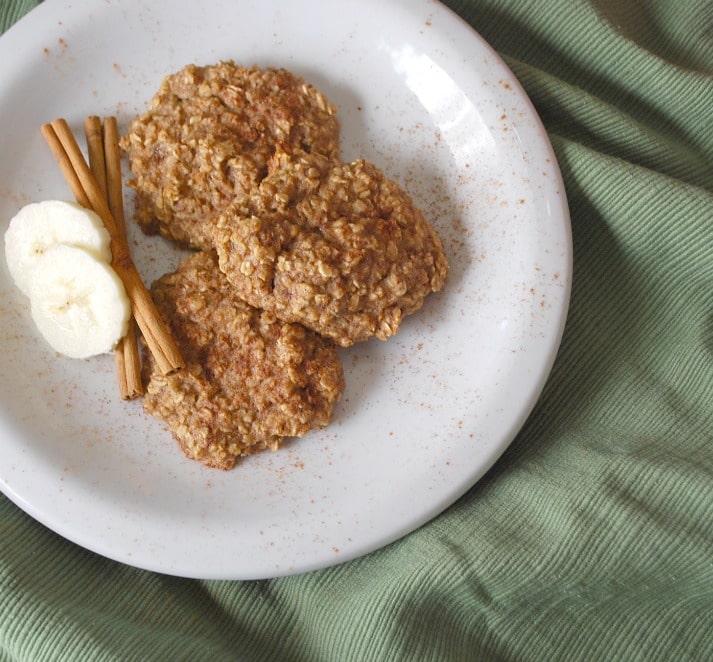 Of COURSE they're going to answer a resounding, "Yes, please!"
And, even better, with this breakfast oatmeal cookies recipe is the usage of Silk PureAlmond Unsweetened milk instead of skim milk, which makes it even healthier, tastier, and lower in calories, Silk PureAlmond Unsweetened is a mere 30 calories per serving as compared to the leading organic skim milk at 100 calories a serving. Score!
These breakfast cookies are not crispy, either. They are a soft, gooey type of cookie because they are baked oatmeal and flourless. Think gooey granola bar as opposed to the harder ones. So delicious.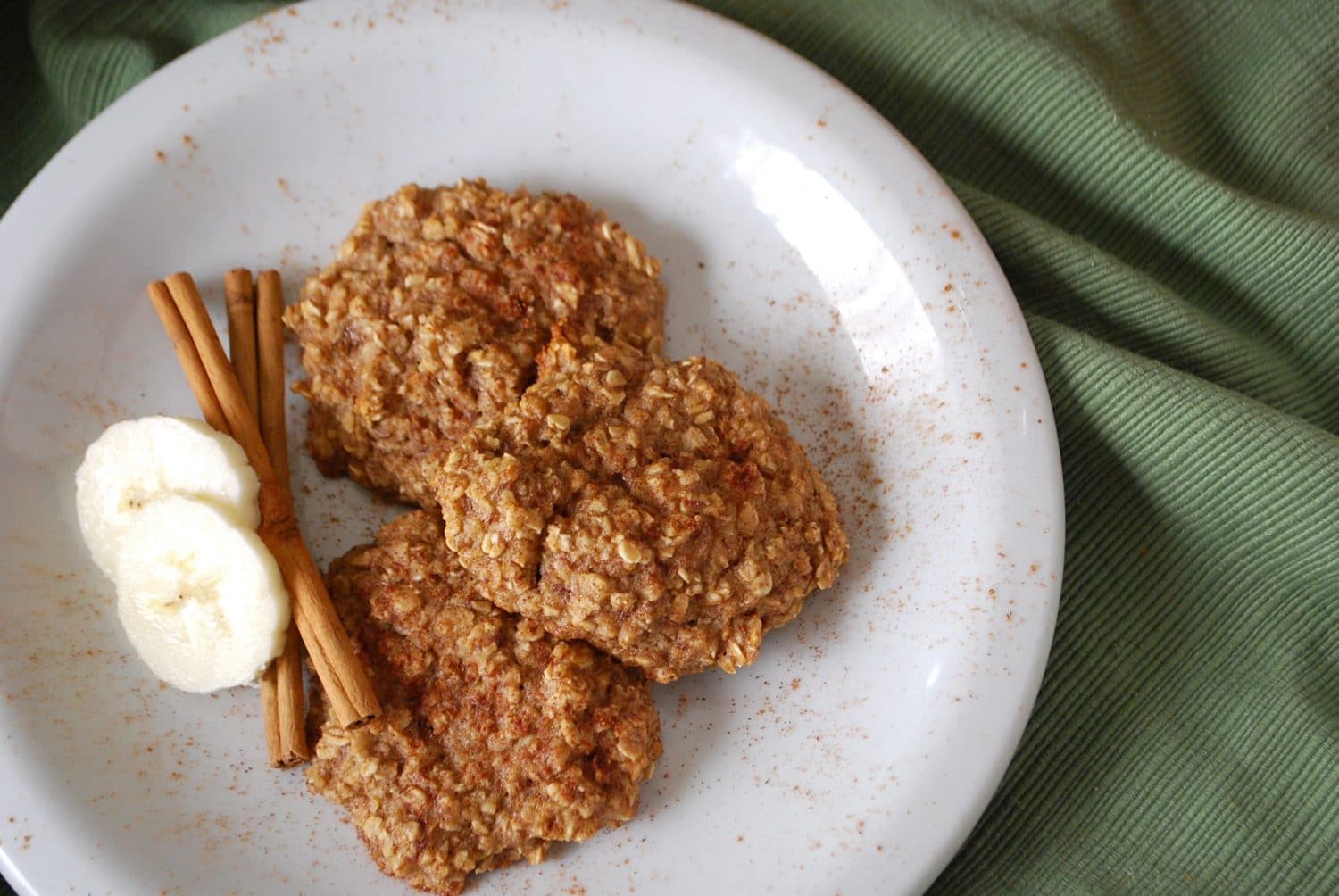 This recipe can easily be doubled or tripled, to make more mornings easier for longer, as these freeze really, really well. They can easily be microwaved or heated in your toaster oven to warm back up.

Also, if you choose to spice things up a bit, you can also add into the recipe some dried fruit or nuts, but understand that anything additional you add to the recipe would alter the nutritional content above.
I can't get over how well these breakfast cookies filled our bellies up. I feel quite confident in serving these to my children before school, knowing they are full until lunch. They also serve as a perfect after-school-but-before-dinner snack for them, too. Healthy and easily tides them over.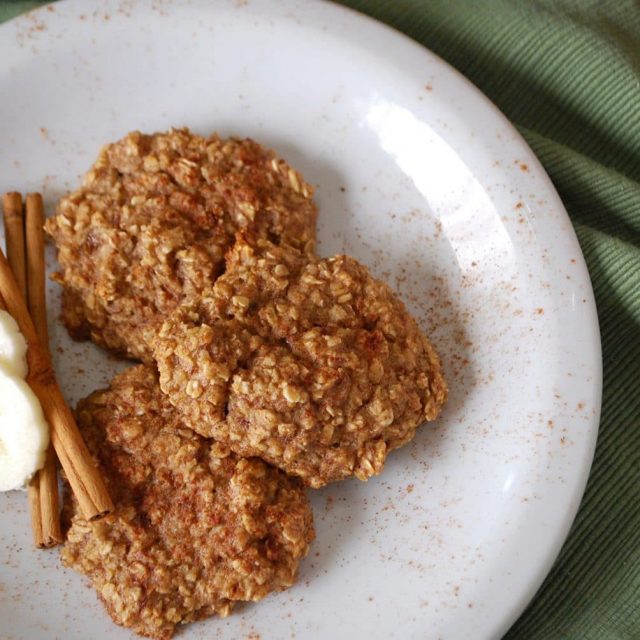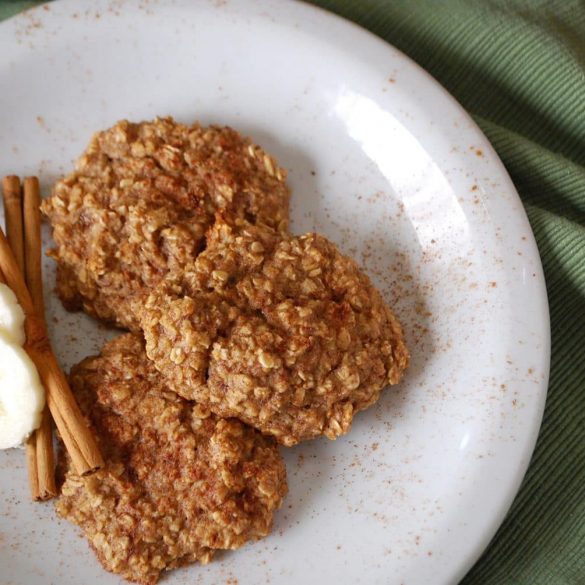 Flourless Breakfast Oatmeal Cookies
I promise you, this breakfast oatmeal cookies recipe is THAT recipe. It's delicious, nutritious, gluten-free and fun to eat!
Print
Pin
Rate
Instructions
Preheat your oven to 350 degrees.

Mash your bananas, and add in the apple sauce, mixing until completely blended (resist the urge to eat this, I know it smells good).

Add additional ingredients, blending until mixed thoroughly, and then let the mixture stand for at least five minutes, so the oatmeal begins to soak up the mixture and expand a little.

Using a tablespoon, spoon heaping tablespoons onto a baking stone or sprayed cookie sheet, sprinkling with additional cinnamon over top.

Bake for 15-20 minutes, changing oven position about halfway through (moving from bottom rack to top, or from top rack to bottom), so that it will cook evenly and thoroughly.

Cookies will be done when browned slightly on top and seemingly sturdy and somewhat firm.

Let cool for five minutes before removing from cookie sheet or stone.
What about you? Have you ever considered serving a "cookie" for breakfast before?
Looking for other Silk inspired breakfast ideas? Check out my Nutella Crepes Recipe or my full recipe index for more ideas!
Disclaimer: I was asked to create healthy recipes as part of a sponsored campaign with Silk and Fitfluential, LLC, but all opinions, recipes, and large family to feed are my own.