When I suggested to the kids that we put pizza toppings inside our homemade hamburgers to make pizza-stuffed burgers, their reactions were similar to:
I KNOW! I felt the same way, kids. Can't be ANYTHING wrong with making a pizza-stuffed burger. Am I right?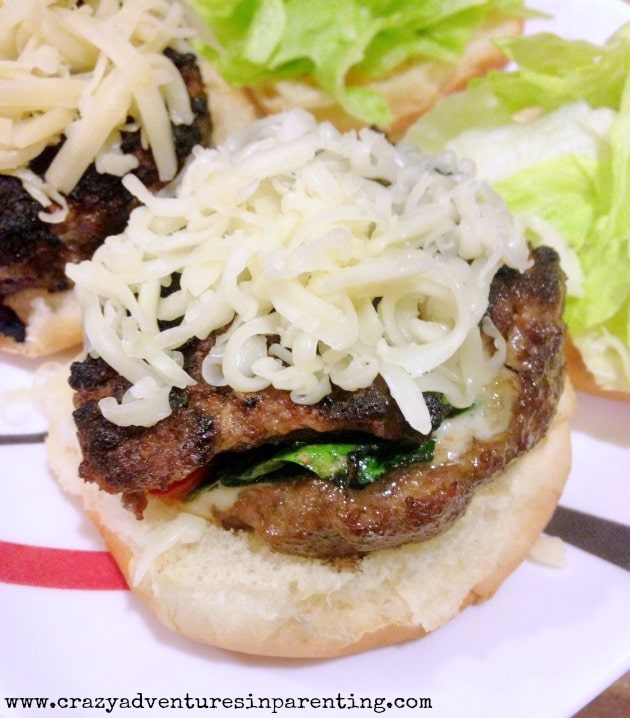 Pizza Stuffed Burgers
Coooome to mama!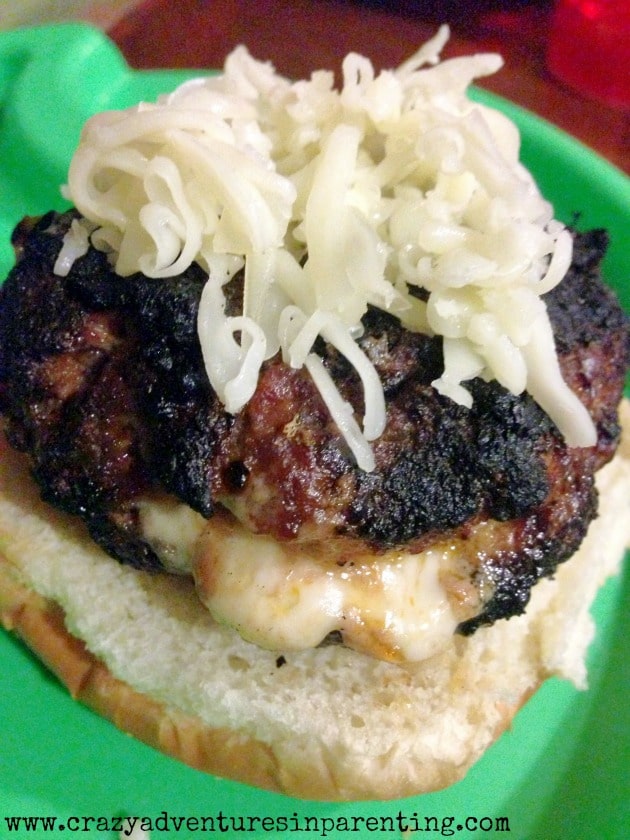 Homemade Pizza Stuffed Burgers Recipe
The awesomest thing about this creation is, you can stuff it with ANY delicious pizza toppings you can think of. Garlic, spinach, peppers, brie cheese, onions, mushrooms, swiss, bacon… the possibilities are endless!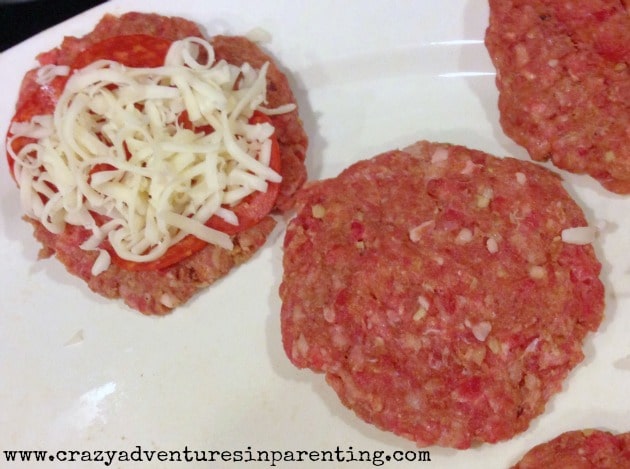 Pizza Stuffed Burgers Recipe
For (most of) us, we used pepperoni and freshly shredded mozzarella. My husband wanted a little something different. he sauteed mushrooms, onions, and used swiss cheese with baby spinach and roma tomatoes.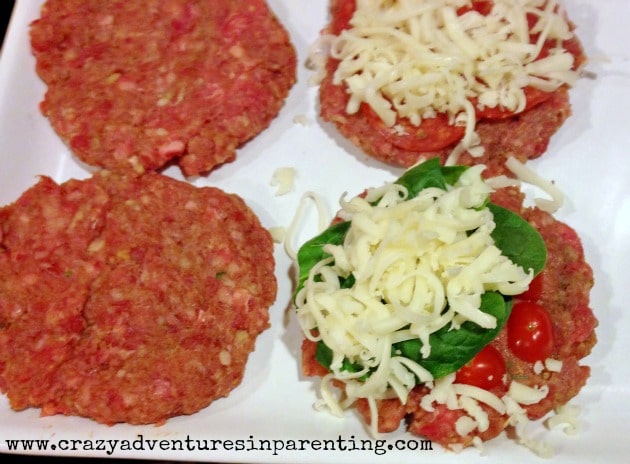 To make eight burgers, I used two pounds of ground beef. You could opt to omit a ground beef for a ground turkey, or use a ground sausage with the beef for a more meaty pizza taste. Heck, you could even brown some ground sausage to place inside! Like I said, the possibilities are endless with this recipe.
I used the Pampered Chef medium scoop to ensure I kept uniformity, scooping out two scoopfuls into my hand for each patty, making sixteen patties. I massaged them flat, widening them as much as I could. Remember – homemade patties shrink up, so do your best to make them as wide as possible.
Once the fillings were placed on one patty, I topped with another patty and pressed the sides together, massaging the meat as best as I could to seal in the fillings with no seam.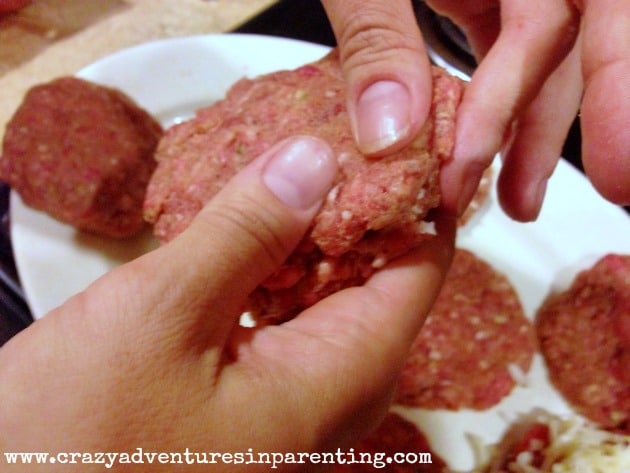 Once pressed together, here's what they looked like. The two burgers with toothpicks are my husband's creations.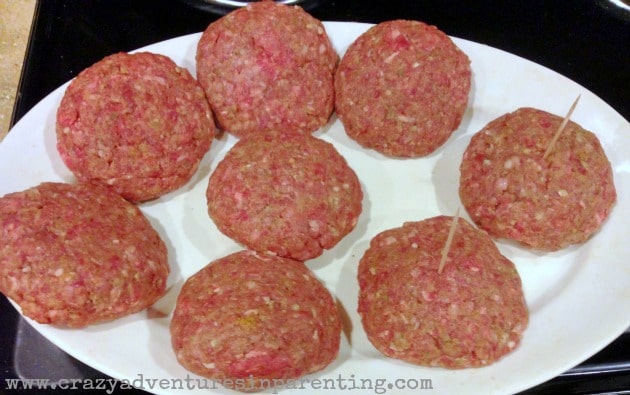 As they began heating on the grill, I noticed that all the meat-massaging hadn't kept the fillings inside, they still split a little on the outside, making the cheese a little gooey. I don't know about you, but I am QUITE alright with a gooey burger. So yum!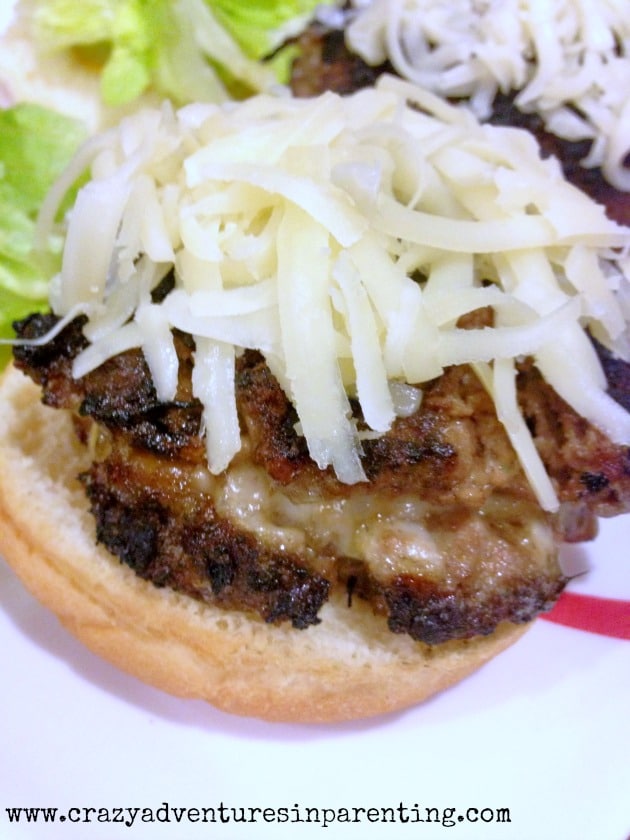 And these burgers were JUICY! And deliciously tall on the bun, too, especially with the burger fixins!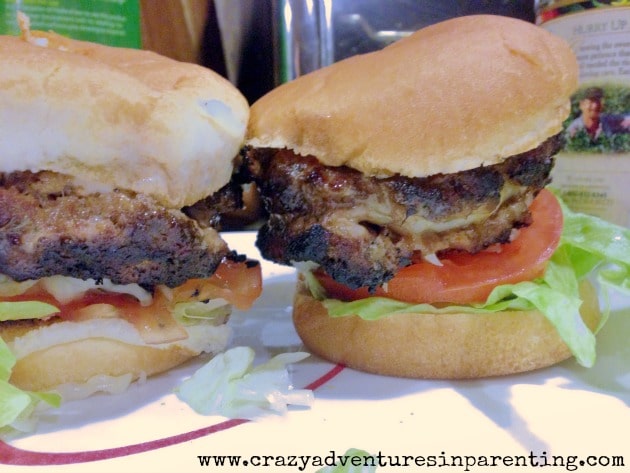 Here's a peek inside my pizza burger. Next time I'm going to fold the pepperoni on its side, to make it take up more room in the pocket. I opted to put mayo on my burger, as I normally would. My children, however, took the pizza-stuffed burger idea to the max, forgoing condiments and placing pizza sauce on their buns. Oh yeah, baby!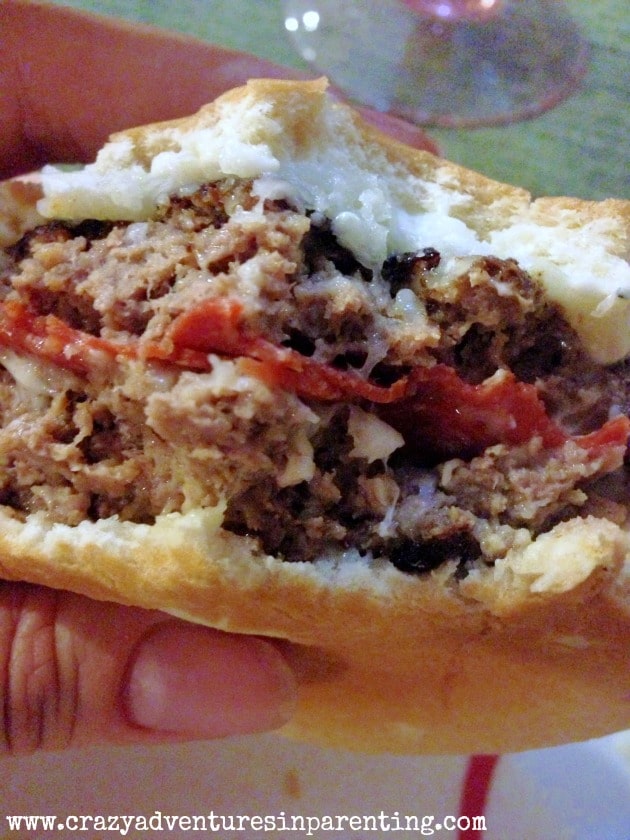 Serve these with some homemade cheesy potato skins and a vegetable. So delicious!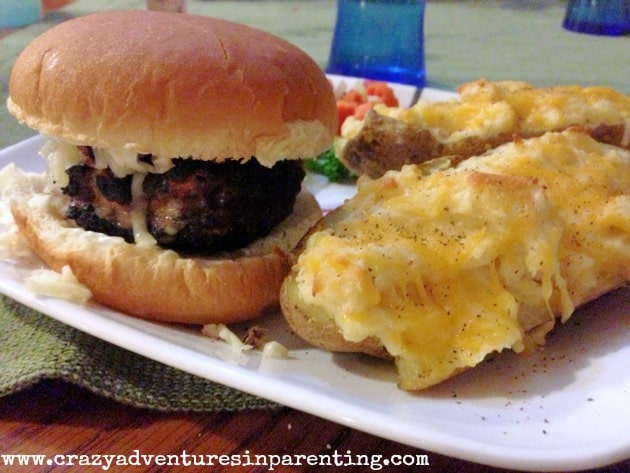 What do you think? Would your kids go ga-ga over stuffing pizza toppings into burger patties like ours did?
CRAVING MORE CRAFTS AND DELICIOUS RECIPES? Subscribe to my newsletter and follow along on Pinterest, Facebook, YouTube, and Instagram for all the latest updates!
If you love this Pizza-Stuffed Burgers recipe as much as we do, please leave me a 5-star review below and help me share this recipe on Facebook and Pinterest! If you do make the recipe, I hope you'll share that you tried it on Pinterest! I love it SO MUCH when readers share their feedback! 🙂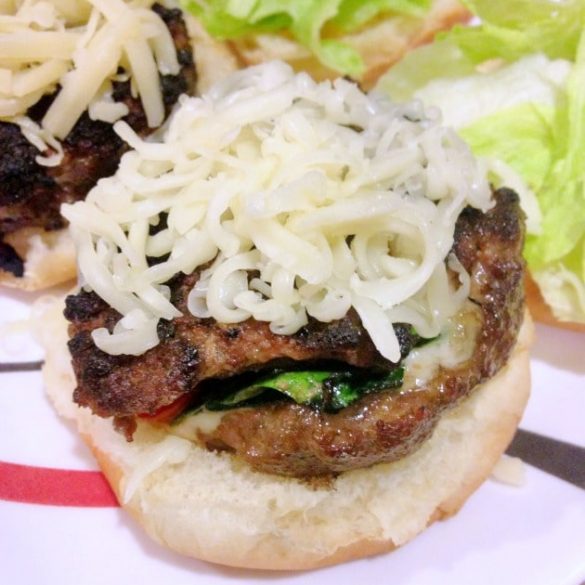 Pizza-Stuffed Burgers
Looking to switch things up for dinner? Try these incredibly juicy homemade pizza-stuffed burgers!
Print
Pin
Rate
Ingredients
Filling ingredients
1

package

pepperoni

1 8-ounce

block

mozzarella

Other desired fillings & burger toppings

like lettuce, tomato, dressing, pizza sauce
Instructions
Mix together the beef, eggs, bread crumbs, garlic, Worcestershire sauce, parmesan cheese, onion powder and other seasonings together in a bowl, mixing until well combined.

Using a scoop or meatballer, place two scoops of meat into your hand and press to form sixteen burger patties; place onto a large platter.

After slicing fillings (if needed), place filling ingredients in the center of eight patties.

Take the eight plain patties and place them on top of the filled patties, massaging together the ends so no seam remains.

Form and press a little further so each finished burger is uniform in size and shape; grill until cooked to 170.

Upon removing it from the grill's flame, place onto a bun and immediately sprinkle with mozzarella cheese.